How women with big boobs can rock strapless bras effortlessly
Strapless bras can be a totally headache for women with large breasts. Here are tips to rock one effortlessly.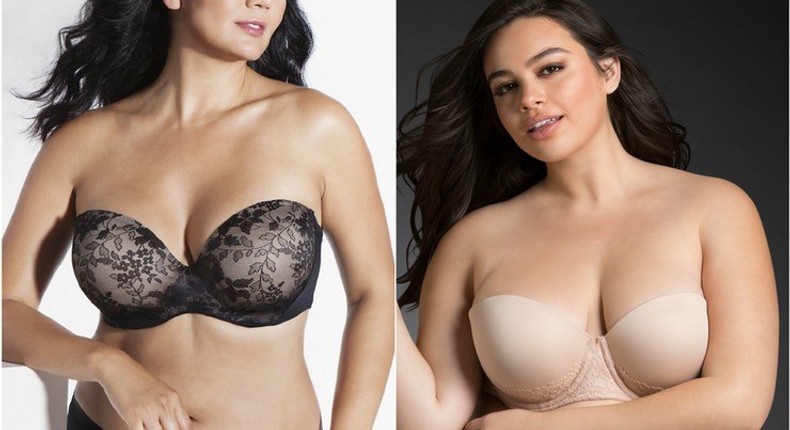 Women with big tits are the only people who understand the stress of strapless bras.
The supporting gears meant to hold the twins up and firm constantly drop and if you are in a public gathering you can be badly embarrassed.
Here are simple hacks that will help you:
Select a bra that is at least one band size lower than your standard bra. This is to compensate for losing the support you would get from the straps.
Make sure that it is as tight as possible but ensure you are comfortable.
Also go a size higher on the caps to ensure the boobs fit well.
2. Do not moisturize your boobs
When wearing a strapless bra do not oil your breasts to ensure that they remain sticky.
If they are not sticky enough,  use elastic features like silicone or rubber on the bra to give it more grip.
To give the breast maximum support, big girls with big boobies must ensure that the band is large enough to hold the twins.
4. Consider long line bras
A long line bra helps to redistribute the weight of your breasts.
When going strapless women with big boobs can use this.
JOIN OUR PULSE COMMUNITY!
Recommended articles
Can you stomach rejection? 8 tips to help when she says 'No' to you
5 activities every adult should know how to do
8 signs your guy really wants to marry you
10 irritating Kenyans on WhatsApp
8 Cars that defined Kenyan drivers [Photos]
Cucumber: The health benefits of this fruit will leave you speechless
Here are signs that you're not the main chick in your relationship
6 reasons why your nipples hurt
5 reassurances your girlfriend needs to hear regularly