This is why Uhuru & Mwakwere should just shut up!
The public is not interested.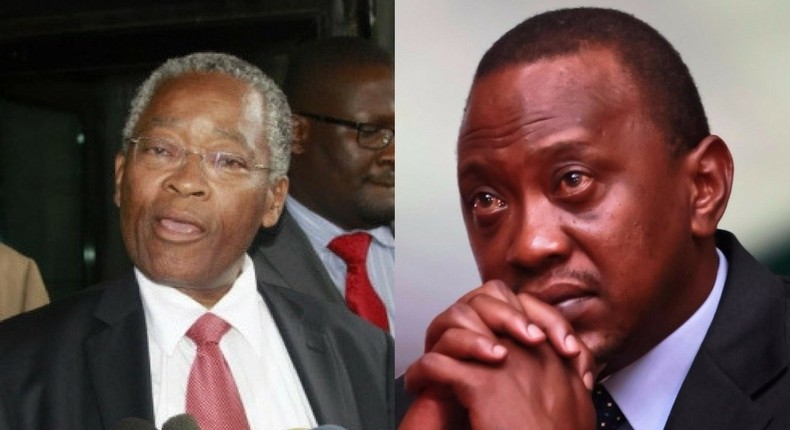 In the last one week, President Uhuru Kenyatta and Kwale aspiring senator Chirau Ali Mwakwere have been trading barbs publicly.
The two leaders have alluded to know and possess documents revealing those behind unscrupulous deals in the mining business at the Coastal region.
They also mentioned that they were aware of individuals behind land problems in the County.
During a public address at the Coast, the Head of State threatened to release a dossier supposedly incriminating Mwakwere.
President Kenyatta told the former Kenyan ambassador to Tanzania to desist from talking badly about Jubilee failure to which, he would shame him publicly.
"I am warning him to desist and do peaceful campaigns or I will expose all his ills. I have all his files and I can open them to the public anytime.
"Stop the propaganda because we can expose you easily since we have your records. Do not forget we have all the records of all previous governments and we know what you are," the President said.
Days later, Mwakwere had similar words for Mr Kenyatta noting that he knew those behind the controversial licensing of the Base Titanium and Cortec Mining.
The former minister went further and told the President to expose him if wished to adding that he had nothing to hide.
"I did not sign the licenses because I was minister for mining for 11 months in 2012. Cortec and Base Titanium were already there.
"I will give evidence to show who did it and on those who tried to expand the land allocation to Base Titanium. I was the ambassador to Tanzania at that time. Nobody threatens Mwakwere," he said.
Seriously, these two leaders know people who were involved in fishy deals but they cannot expose them for the rule of law can take its cause.
Instead, they are using the campaign platforms while seeking votes, to tell Kenyans that they know those who were involved and even threaten to expose (but we all know this is just mere sideshows).
What is even more sickening is the fact that the President told the country last year that he was helpless when it came to corruption.
And now simply because votes are crucial as August 8 is beckoning, President Kenyatta tells the public that he has a dossier that could incriminate a former government official.
On the other side, Mwakwere who is promising the people of Kwale County that he will uplift their lives says that: "We will tell the truth during campaigns. Nobody will stop us from discussing issue of land and minerals".
This is just sad if not pathetic.
If the two leaders cannot forward the names of those involved in fishy deals they should simply just shut up. The public is not interested.
NB: Your honourables if integrity is what you have, report those responsible to the relevant authorities.
JOIN OUR PULSE COMMUNITY!
Recommended articles
New look Tom Mboya statue unveiled after 2 years [Photos]
Muhoozi says Museveni has made military changes after diplomatic storm
Ruto appoints new ADC from KDF Special Forces branch
List of entertainment joints whose licenses have been revoked
Case against Agriculture CS nominee Mithika Linturi dropped
Museveni's son claims his army can capture Nairobi in 2 weeks
Cabinet lifts ban on GMO crops in Kenya
KRA saves Kenyans from further increase in fuel prices
NTSA arrests 2 touts after dangerous acrobatic stunts on speeding matatu