Huduma Namba vs Maisha Namba, here are the 5 major differences
A breakdown of the new Maisha Namba, differences with the Huduma Namba and what happens to your existing ID number, KRA PIN, NHIF and NSSF numbers.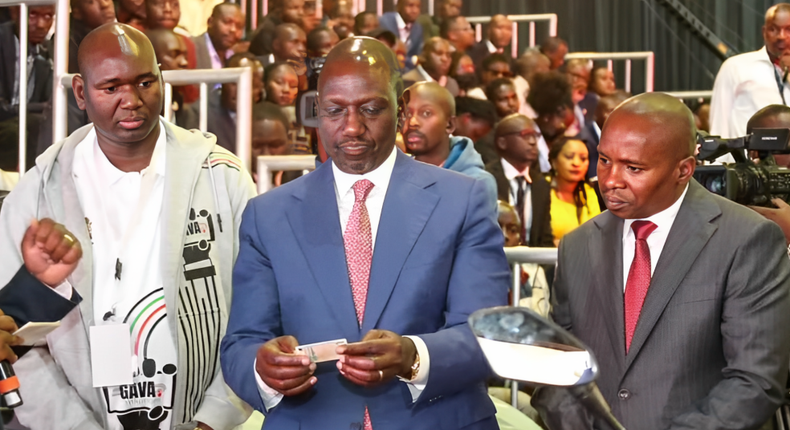 Maisha Namba is a unique personal identification number assigned to every Kenyan citizen upon registration, typically at birth.
This number will be a lifelong personal identity number from birth to death.
Maisha Namba will serve as the birth certificate number for newborns.
It will also serve as the registration number for government services, including enrolment to educational institutions (NEMIS) and health insurance (NHIF), and as the ID number upon reaching 18 years old.
Interior CS Kithure Kindiki meeting immigration officials at Nyayo House on September 8, 2023
Upon demise, the same number will translate to the death certificate number.
Will I need to register afresh as a Kenyan?
A Kenyan will not be required to register afresh. However, the following new features have been incorporated to add value to your current identity:
A Digital Identity to help you to transact digitally (online).
Electronic ID with a chip – to load your data and use it for authentication and validation.
What happens to the ID number?
Your current ID number will be retained and referred to as your Maisha Namba. The ID number will appear on the face of your Maisha card.
What is the difference between Huduma Namba and Maisha Namba?
The rollout of the 3rd generation ID card will not require a new mass registration of individuals.
Instead, it will enhance the capacity of the current civil registration system to issue digital IDs.
The government will, therefore, not initiate fresh registrations for individuals but will use the existing identification information held by various government agencies to streamline and efficiently deliver services.
Pulse Live Kenya
Individuals will be issued a digital ID as a virtual representation of their physical identification documents.
The digital ID will not solely rely on fingerprint biometry like the Huduma card but will seek to widen the pool of biometrics in the national identification system to include iris and facial recognition.
The 3rd generation card will use cryptographic technology to store individual data in the card, an advanced and more secure technology than Huduma Namba, which contains a chip or QR code.
3rd Generation ID card system will support web-based and offline identity authentication by public and private agencies.
This system will, in turn, support digital signature functionality and allow holders to securely log on to e-service platforms and give legally binding digital signatures.
The Huduma programme relied on one registration system (NIIMS) and a master database.
In contrast, the proposed system will develop a master database and different registration modules for each primary registration agency to carry out their legal mandates, e.g., Nairobi will have a national digital identification module/system\
The NIIMS programme was to print all certificates and identification cards. In the proposed system, each department will issue its documents from the master database. e.g. NRB will issue the digital identity.
JOIN OUR PULSE COMMUNITY!
Recommended articles
Raila declares his stand on the National Dialogue Committee report
NYS announces UK job opportunities for its graduates [Requirements]
President Ruto welcomes NBA's new office in Nairobi [Photos & Video]
PS addresses fears of electronic chip implants in digital ID rollout
Ichung'wa calls out 2 MPs for hosting female company in Parliament bar
JSC goes after MP Peter Salasya over threats to magistrate
Ruto reconnects with Grade One pupil & gives him a tour of State House [Photos]
Nairobi residents to experience water rationing despite overflowing dams
Housing Levy ruling: Edwin Sifuna tells Kenyans to halt celebrations