Probe into robbery at Mudavadi's Karen home takes unexpected turn
The robbery was reported by Mudavadi's son, who received information from a house help.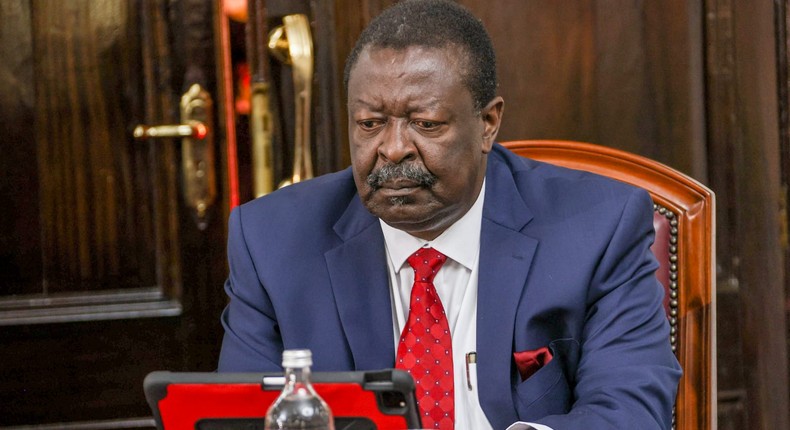 Investigations into the January 29 robbery at the home of Prime Cabinet Secretary, Musalia Mudavadi, have taken a new twist.
Lang'ata OCPD Monica Kimani denied reports of the incident, claiming that Mudavadi's home is heavily guarded and such a security breach could not have taken place.
However, the home where the stolen items were kept is only 10 meters away from Mudavadi's primary residence and serves as a storage facility. It is located next to another house used by household employees.
Prime Cabinet Secretary Musalia Mudavadi
The robbery was reported by Mudavadi's son Moses, who received information from a house help.
Although Kimani refuted the claims that a TV and gas cylinder were stolen, local mainstream media reported that ten General Service Unit (GSU) officers were questioned over the incident.
The CCTV footage of the incident showed two men scaling the perimeter wall and covering one of the cameras with a plastic object to hide their identity. They then stole the property before escaping.
The security of senior government officials like the Prime Cabinet Secretary is usually provided by a combination of government agencies, including the General Service Unit (GSU).
These agencies are responsible for the personal protection of the officials and the security of their homes and official buildings.
"There is a presidential escort commander who is an assistant IG. Those other units whether protecting the deputy president or retired president must be of lower rank for command and control purposes.
"The officer who was there was an assistant IG, I have recalled that officer to be given command and responsibility commensurate with his rank," Koome said.
Japheth Koome addressing the media Pulse Nigeria
He added that the security reorganization was done in good faith and that any leader with security concerns could reach out to him.
The IG emphasized that the same level of security cannot be provided to retired government officials and that active Cabinet Secretaries.
"We can't provide the same level of security to retired government officials and there are active CS's who must be in the office by 6:00 am and leave at 10:00 pm," the IG said.
The security changes sparked speculation among Kenyans and disquiet in the opposition camp.
JOIN OUR PULSE COMMUNITY!
Recommended articles
CAS Omanga given special assignment to counter planned Azimio protest
Watch as Ruto dares Raila to face him directly [Video]
DCI goes after man captured vandalising Tom Mboya Street sign during Azimio demo
CAS appointees to earn more than Principal Secretaries after salary increase
Rigathi issues conditions for dialogue with Raila
Tragic end for teenager who warmed Azimio leaders' hearts
Azimio supporter Nuru Okang'a addresses claims of Sonko's financial aid
Raila makes u-turn on boycott, announces next cause of action
Senator Okiya Omtatah reignites activism mojo, takes Ruto to court