Raila Odinga's CORD 2013 manifesto
He lost to Uhuru Kenyatta in 2013 after a contesting results in the High Court.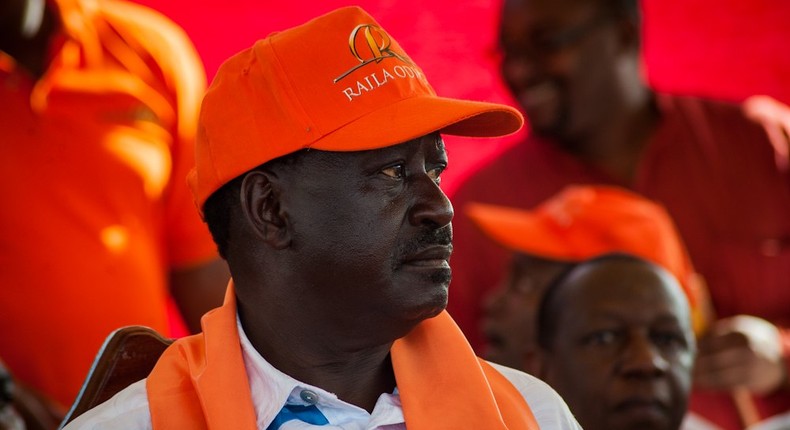 The manifesto dubbed the 10-point agenda, highlighted, among others, the following key areas:
This could be achieved through:
Taking at least one major industry in the rural areas
Restructuring the Youth Empowerment Fund to meet the youth in Kenya.
Open branches of Kenya Industrial Estates all over the country
Give incentives to banks so as to finance industries that create jobs.
This was to be achieved through:
Encourage investment in post-harvest processing and preservation and processing
Promote value-addition in agriculture through the use of taxation
Introduce crop and livestock insurance schemes and free extension services
Subsidise farm inputs to ensure increased yield
CORD intended to make Kenya secure by:
Expanding the use of CCTVs
Strengthen community policing for safety
Developing a strategy to strengthen response to terrorism and militia groups
Create a Directorate of Criminal Investigation, and be independent from the national police.
Introduce checks and balances in county governments to prevent corruption
Reform the police force to ensure the police do not delay or tamper with investigations
Promote full participation of both women and men in governance
Reform the public service to reward ability
5. Poverty & cost of living
Increase savings and investment rates by rejuvenating the co-operative movement
Promote investment over consumption, geared to high-profit taxes and low interest rates
Keep the cost of living as low as possible by ensuring annual inflation is below five per cent
Periodically review minimum wages to ensure low-wage earners are cushioned from inflation
Introduce a pension scheme for those aged 65 and over
Extend cash transfers for orphans and vulnerable children.
Establish a national health insurance scheme that covers everyone
Ensure that counties meet their constitutional obligations on the provision of basic services
Investing
Introducing a modern integrated rail infrastructure that connects Kenyans
Addressing historical injustices on land, such as squatter problems
Empowering county governments to improve, develop and upgrade local roads
CORD was to provide quality education through:
Reduce regional variations in female to male literacy ratios
Review curriculum delivery to hard to reach children
Recruit more teachers to correct the high pupil/teacher ratios in some areas
Link education with the requirements of industry
Establish a national health insurance scheme
Extend health education and concentrate on preventive health care.
Renovate health facilities so citizens are able to access high-quality services
Train more doctors, nurses and other health personnel and improve their terms of service
10. One indivisible nation
End artificial ethnic and factional division of the nation, while respecting ethnic, religious, cultural and racial differences
Streamline and harmonise institutions charged with ensuring national cohesion and unity
Ensure equal access and equal opportunities to all citizens in their different counties, through positive action to rectify imbalances and through social assistance
JOIN OUR PULSE COMMUNITY!
Recommended articles
Former ICT CS Joe Mucheru lands international job
Authorities take action after drowning incident in Juja dam
Raila outlines next steps in fiery speech at Jacaranda rally
How former SONU president wants Magoha honoured by the University of Nairobi
Raila names 5 leaders in line to succeed him upon retirement
Johnson Sakaja celebrates after achieving new milestone on TikTok
DCI takes action following Azimio's poll rigging claims and results
Bus with 42 passengers bursts into flames
DP Gachagua confirms government will fulfill 3 requests made by Magoha's family