6 top county heads sent home over sexual misconduct
Nakuru Governor, Lee Kinyanjui, exposes shocking malpractices by men of power in the county.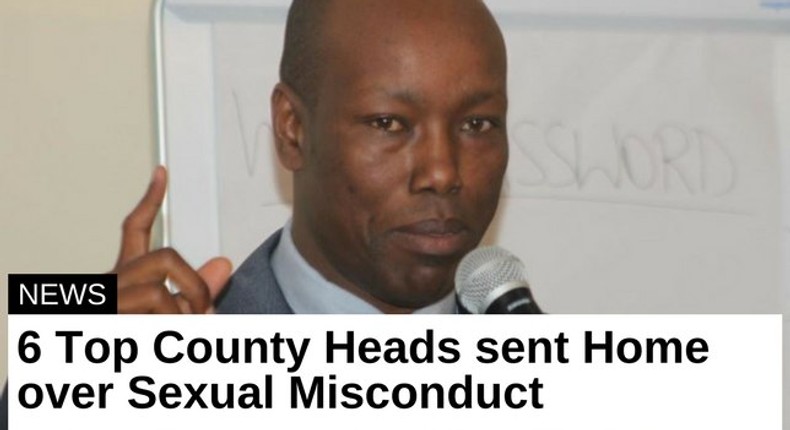 The tide of political evolution with the new elected government can already be felt in various parts of the country.
As Nairobi Governor Mike Sonko is cleaning the city and some members of parliament are supporting a move that could see a reduction of their salaries, it is quite evident that it is not business as usual.
Now, Nakuru Governor Lee Kinyanjui has just exposed various malpractices occuring within the county government.
The governor gave notice to managers in the Public Service Management Board for malpractices he claimed they were popularly known for.
"I hereby put on notice the Public Service Management Board, which has been adversely and regularly mentioned in recruitment malpractices including bribery and sexual exploitation."
Ordering six of the Nakuru's top county officials to take a compulsory one-month leave to pave way for corruption investigations, Governor Lee revealed that a huge percentage of revenue collected was being stolen by those in power.
He said, "I note with much regret that a huge percentage of money collected from the various levy points ends up in the pockets of some of those entrusted with that responsibility."
He didn't blink an eye when calling out the shameful six.
"I have with immediate effect sent the following officers on a one-month compuslory leave to pave way for investigations."
County Secretary Joseph Motari, Director of Finance Wilson Mungai, Director of Procument Eliezar Ngarari, Head of Enforcement Joseph Kiara, Deputy Head of Enforcement Charles Nyanaro and Head of Accounts Dan Odundo.
He also sent all Sub County Administrators, Deputy Sub County Administrators and Ward Admnistrators on an indefinite compulsory leave that could see them lose their offices after Governor Lee's team reviews their suitability for the jobs they hold.
JOIN OUR PULSE COMMUNITY!
Recommended articles
MP shows up with Sh25 million gifts to unemployed youth [Video]
Apostle James Ng'ang'a lands in trouble, investigations underway
How Kiambu businessman lost Sh1.5m entire life savings chasing Sh500K deal
Gideon Moi speaks after Moi High School dorm fire [Video]
History of Arimi's, the beloved milking jelly that Kenyans can't get enough of
Lands CS Farida Karoney's sister succumbs to cancer
Ngirici and Alai's public spat gets personal as he shares his KCSE certificate
Alert - City roads that will be closed over the weekend
Moi University closed indefinitely [Statement]