US president deflects as backlash mounts over travel ban
The new president also moved up a decision on his pick of Supreme Court justice to Tuesday -- two days earlier than planned.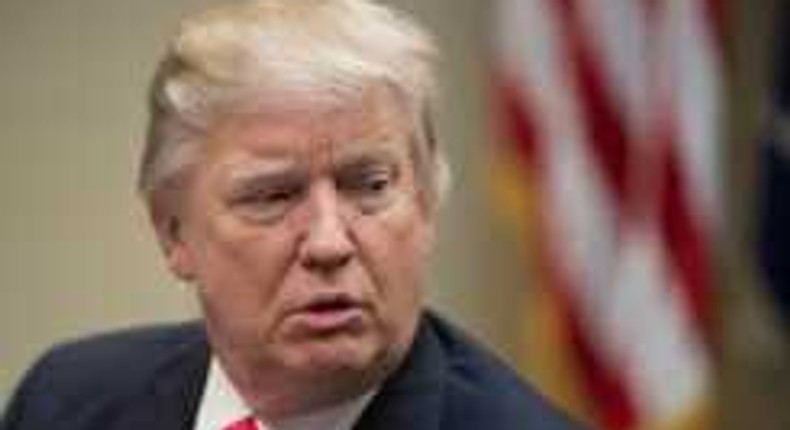 After a weekend of chaos at airports, mass protests in major American cities and a diplomatic outcry, the embattled Republican leader went on the offensive over the temporary measure.
"We actually had a very good day yesterday in terms of homeland security," Trump insisted as he met with small business leaders.
In remarks at the White House and on Twitter, Trump hammered Congress for not confirming his cabinet nominees and accused Capitol Hill's top Democrat of shedding "fake tears" over immigrants detained at US airports.
Trump variously tried to play down the impact of the order he signed Friday and defended the White House's decision not to give advance warning to border guards, diplomats and travelers.
The new president also moved up a decision on his pick of Supreme Court justice to Tuesday -- two days earlier than planned -- as he sought to change the topic.
"Only 109 people out of 325,000 were detained and held for questioning. Big problems at airports were caused by Delta computer outage," Trump claimed.
"Where was all the outrage from Democrats and the opposition party (the media) when our jobs were fleeing our country?" Trump asked.
The order -- which affects nationals from Iran, Iraq, Libya, Somalia, Sudan, Syria and Yemen -- caused confusion among US officials and led to at least four federal court injunctions, requiring new Secretary of Homeland Security John Kelly to step in.
"If the ban were announced with a one week notice, the 'bad' would rush into our country during that week. A lot of bad 'dudes' out there!" Trump claimed.
Eltirmizy Mohamed, a 34-year-old Sudanese doctor, was traveling back to the United States when the order was rolled out.
After three years training at the Atlanta Medical Center, he was returning to Georgia to take up a full-time post, but was stopped while trying to catch a connecting flight in Qatar.
"I have served many homeless and poor Americans," he told AFP in Khartoum. "My plans were to work in a rural area of Georgia where there are many such Americans in need of a doctor. But now I'm stuck here."
Trump, a property tycoon who has never previously held elected office, sees the ban as making good on a promise to subject travelers from Muslim-majority countries to "extreme vetting."
Around 48 percent of Americans support a freeze on immigration from "terror prone" regions, even if it means turning refugees away, according to a Quinnipiac poll released Monday.
Counterterrorism experts warn that the ban would inflame public opinion in the Middle East and make essential cooperation with governments in Muslim-majority countries more difficult, while doing little to prevent attacks.
Iraq's parliament backed reciprocal restrictions if Washington does not change course.
"I think the order is going to make the threat worse" said former CIA acting director Mike Morell, who has been an outspoken critic of Trump.
"It's going to be a recruitment boon for ISIS," he said, referring to the Islamic State group.
Moral outrage over the ban has been amplified by criticism of the White House's competency -- a potentially much more damaging charge for Trump's reputation as CEO-in-chief.
Firms from Goldman Sachs to Google voiced their concern and the Dow Jones Industrial Average fell almost one percent --- below the 20,000-point threshold lauded by the president just days ago.
"This is not a policy we support," Goldman CEO Lloyd Blankfein told staff. "If the order were to become or remain effective, I recognize that there is potential for disruption to the firm, and especially to some of our people and their families."
"I want to assure all of you that we will work to minimize such disruption to the extent we can within the law and are focused on supporting our colleagues and their families who may be affected," Blankfein added.
Google also warned of the impact on staff and the potential to create "barriers to bringing great talent to the US."
"We'll continue to make our views on these issues known to leaders in Washington and elsewhere," the firm said in a statement.
Starbucks said it planned to hire 10,000 refugees worldwide over the next five years, while Airbnb said it would offer free accommodation "to refugees and anyone not allowed in the US."
Although the White House put on a united front in public, behind the scenes, Trump's allies were quick to point blame toward influential aide Stephen Miller.
Miller -- the author of many of Trump's biggest speeches -- is considered a hardliner on immigration and is said to have supported the ban including green card holders and dual nationals.
Those provisions now look set to feature prominently in a case that could make it all the way to the Supreme Court.
JOIN OUR PULSE COMMUNITY!
Recommended articles
Ahmednasir criticises how CJ Koome received Ruto in Parliament
Why Ruto has slashed Sh300 billion from 2022/23 budget
2 Sugoi women stranded for weeks after attending Ruto's inauguration
7 key changes Ruto has made in his Cabinet
Breakdown of ODM's Sh10 billion assets
Ruto sued over Mutyambai's replacement
Raila's demands after lawyer Paul Gicheru's death
Ruto's agreement with top bank CEOs on loan defaulters
What next for top exiting Cabinet Secretaries?