PHIL JONES
How has the 'biggest flop' at United survived 9 managers?
Phil Jones has been at Manchester United since 2011 when Sir Alex Ferguson brought him in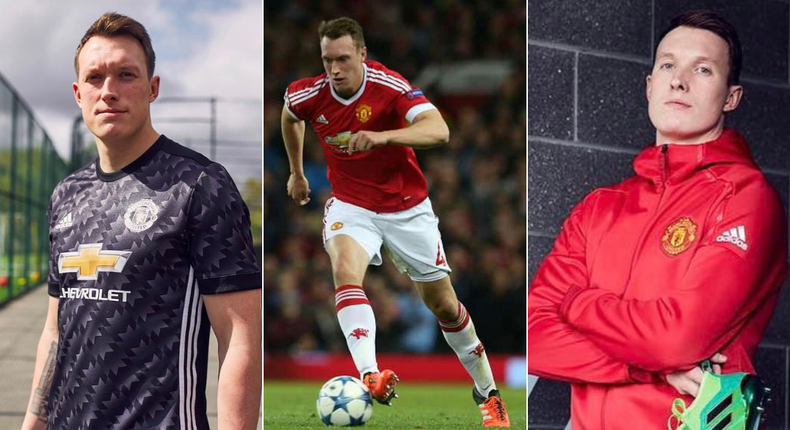 Jones flopped when he joined United and he has been under fierce criticism for making silly mistakes whenever he is on the pitch.
The funny part of his life at Old Trafford is that he has survived nine different managers at the club starting with the ruthless Sir Alex Ferguson.
Phil Jones earns a staggering $5.5 million (Sh683 million) per year for doing nothing since he is always training with the reserve squad.
United usually renews his contract when it is up and they have never thought of offloading him to bring in a new player.
Jones has been coached by Ferguson, David Moyes, Louis van Gaal, Ryan Giggs, Jose Mourinho, Ole Gunnar Solskjær, Michael Carrick, Ralf Rangnick, and now Erik ten Hag.
The majority of these coaches are no-nonsense but they somehow tend to adjust their strictness when it comes to 'Papa' Jones.
AFP
When you have a look at Mourinho's structure, he is a coach who loves players who fight for the team and pay attention to his coaching skills.
The Portuguese never talked about Jones when he was at United no matter what the fans and football pundits said about the defender.
What does Phil Jones have that managers see but United fans can't see? Keeping him at the club yet his salary is huge is just ridiculous.
There are players who will probably depart United but Jones will definitely be at United until the end of the 2022/23 season.
More from category
Sean Dyche happy to land Everton job, will he have an impact?

Joao Cancelo to ditch Man City for German giants

Dani Alves breaks silence after arrest - He shares cell with Coutinho
Recommended articles
Sean Dyche happy to land Everton job, will he have an impact?
Joao Cancelo to ditch Man City for German giants
Dani Alves breaks silence after arrest - He shares cell with Coutinho
Frank Ouna leaves job as Musanze coach
Casemiro names 3 PL clubs that are a threat to Man United
Sembi says there is a lot of work to be done ahead of Club Championships
Chelsea sweats over Fernandez's deal & other transfer stories today
Jonathan McKinstry reacts to Mashemeji Derby draw
Brighton takes action against Caicedo after his Instagram plea went viral