Amber Ray hospitalized, gives update on her health
Amber Ray is expecting a child with her lover, Kennedy Rapudo also gave an update on her preganncy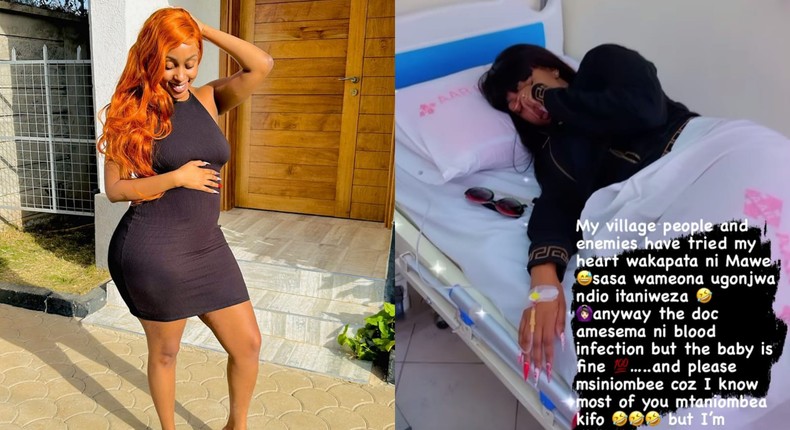 Controversial social media influencer, Amber Ray has given an update on her health after she was hospitalized.
The socialite was admitted after falling sick, and shared the update with her fans, revealing that she has been sick with a blood infection.
Amber Ray who is currently dating Kennedy Rapudo with the pair expecting their first child together explained that her doctors had assured her that her unborn baby is fine.
She however requested her fans not to pray for her, alleging that she is aware most would wish her death but she is divinely protected.
She blamed the situation on her "village people and enemies".
"My village people and enemies have tried my heart wakapata ni mawe. Sasa wameona ugonjwa ndio itaniweza, anyway the doctor amesema ni blood infection but the baby is fine.
Earlier in the week, Rapudo left his fans guessing after deleting photos that he took with his fiancé Amber Ray on his Instagram account.
"Sometimes holding on does more damage than letting go," read the caption in the photo.
Pulse Live Kenya
Does this mean that Rapudo has been suffering in silence until he couldn't bare with the weight of his miseries anymore?
Upon looking at Amber Ray's social media handles, it has been revealed that she was the first one to delete photos that she took with her fiancé Rapudo.
Recommended articles
Former Aziza actor Luwi Capello narrates life-altering accident that affected brain & erased memories
From sin to salvation: Brendah Jons finds peace in Jesus
Anita Nderu takes on new challenge as she heads back to class, reveals future plans
4 professions you should avoid in a partner, according to Oga Obinna
Vivian in mourning after losing her sister
New details emerge on pastor's death in singer Dishon Mirugi's house
Akothee opens up on escaping reality with sleeping tablets
Should celebrities show receipts? Cebbie Koks weighs in amidst Vera & Amber's drama
Daughter of former Nation journalist found dead in the US