I wish I stayed - Flaqo's ex-girlfriend confesses regret on parting ways with him
The mother of one also revealed that Flaqo helps raise her child although he is not the father, she said he does it purely as a friend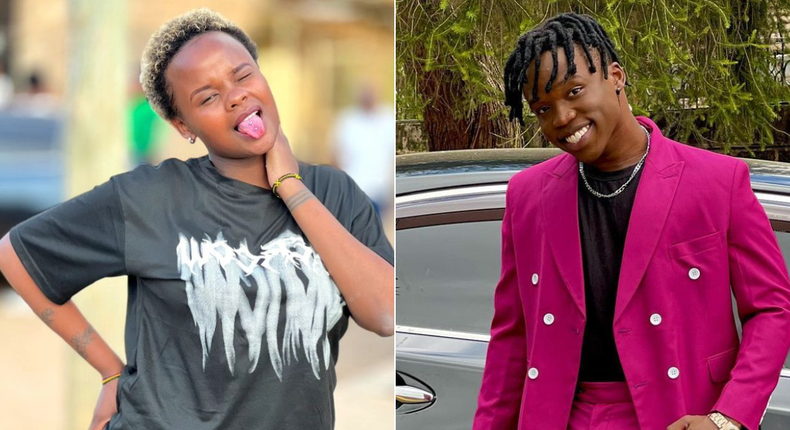 Comedian Flaqo's ex-girlfriend, Anne Tracey, has shared her feelings of regret over their past relationship.
Tracy took to social media to post old photos of their time together, sparking discussions about their history.
She revealed that she first met Flaqo through Facebook in 2016, and their online connection soon blossomed into a loving relationship. She eventually made the decision to live with Flaqo in Kisumu as their love deepened.
"We got to know each other on Facebook and started online dating. I moved to live with him in Kisumu, where he was still in college, and we stayed together for a while," Tracy explained to Eve Mungai in an interview.
However, the challenges of maintaining a long-distance relationship arose when Tracy had to return to Nairobi to continue her studies.
Flaqo's ex-girlfriend Anne Tracy
Unfortunately, this geographical separation eventually had an effect on their romantic relationship. At that time, Flaqo had not yet achieved the fame and recognition he enjoys today as a content creator.
Tracy clarified her decision to post the old photos, emphasising that it was done innocently, like any other internet user sharing throwback pictures. She expressed surprise at the overreactions her posts generated.
"I was just posting innocently as a throwback, but people took it as if I was trying to ruin a relationship or something. I was going through my Facebook photos and came across them, so I decided to share," she pointed out.
Contrary to rumours, Tracy denied any bitterness between her and Flaqo, emphasising that they remain friends and are still in contact.
Flaqo poses during a photoshoot Pulse Live Kenya
However, despite the breakup and her contentment with Flaqo's success, Tracy admitted to having regrets. She wished she had held onto their relationship, believing it might have led to a different and possibly more prosperous life for her.
"I do regret it. I wish I had stayed; maybe now I would be in Dubai. But I am very happy for him," she reflected.
The mother of one also revealed Flaqo helps him to raise her child although he is not the father, she however said he does it purely as a friend
Flaqo has been in a relationship with content creator Keranta and have been dating for three years now.
Recommended articles
MCA Tricky shares his master's grades as he enters final year of study in engineering
John Allan Namu's brainchild marks 8 years, he reveals major lessons learnt
10 male singers who immensely benefitted from collaborating with Sheebah
Kate Actress outshines 9 top African thespians to be crowned Actress of the Year
Sonnie Badu criticises absentee fathers, says they are 'useless'
Wakadinali biggest winners as Spotify unveils most streamed artists in Kenya [List]
Proud mummy moment for Pierra Makena as daughter's talent secures her a movie deal
Iyanya advices happily married couples to keep off social media
Yvette Obura recalls pre-birth struggle as she marks daughter's 8th birthday