Frida Kajala & daughter Paula Kajala arrested over leaking Harmonize's Nudes & private chats
Kajala is Harmonize's ex-girlfriend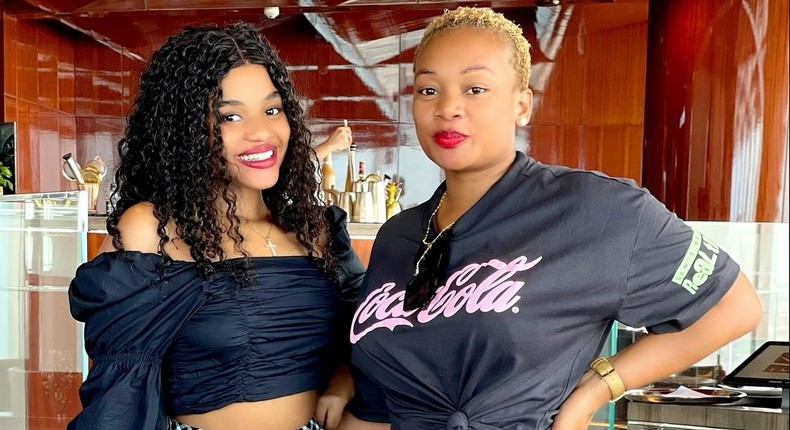 Reports indicate that the two have been apprehended over allegations of leaking singer Harmonize's nudes and private chats to the public and they will be questioned by authorities over the same (today).
The two were being interrogated at Central police station in Dar es Salaam.
The arrest of Kajala and her daughter come days after singer Rayvanny and Wasafi FM Presenter cum singer Baba Levo were also questioned by detectives over leaking Harmonize's nudes and private chats.
Frida Kajala and Daughter Paula Kajala
Last week, the Tanzania government through its regulatory body 'Baraza la Sanaa la Taifa' (BASATA) was forced to intervene with the aim of bringing to an end the war of words between Rayvanny and Harmonize.
BASATA, sounded a tough warning to the two, asking the to refrain from using abusive words on each other and instead focus on making good music or else they will face to full force of the law.
The BASATA statement came at a time Harmonize had threatened to drag Rayvanny, Baba Levo and others to Court, over what he termed as sharing malicious information about him on social media with the aim of ruining and tarnishing his brand.
On Wednesday last week , Konde Boy said that his lawyer is preparing a cyber-crime case against people who took part is sharing his alleged nude video and photos online.
Recommended articles
If there's a video of us saying she's single, please share - Terence Creative
What sparked Eve Mungai's fiery reaction after Commentator 254's baby news
Wakadinali's Domani Munga takes a break due to health issues
Amapiano is just a rebranded version of Ghana's Azonto – Samini
New animated film JESUS (2025) set to break ground in more than 2000 languages
Christina Shusho's Biography: Early life, start of music career, husband & 3 kids
'Twa Twa' Pastor explains reasons parents should not kiss their children
WaJesus family commemorates 6th anniversary with exclusive love series
Mbogi Genje's Smady Tings finally reacts to Jacky Vike's open crush on him