Kabi WaJesus finally introduces daughter Abby to his online family [Photos]
Aren't they just adorable 🥰 - Milly WaJesus reacts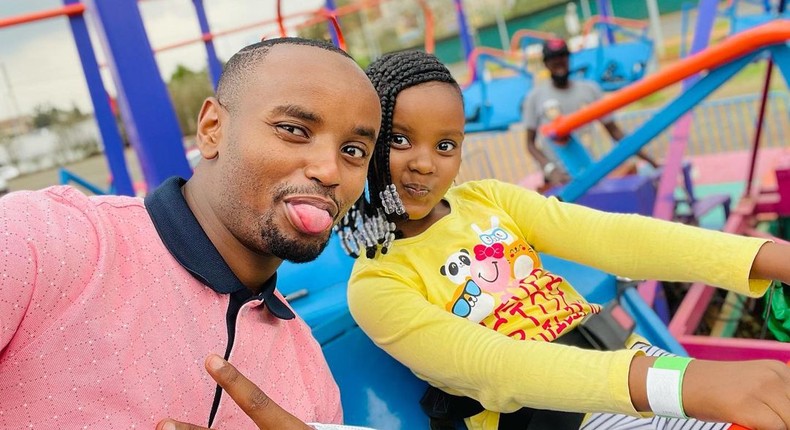 On Tuesday, Kabi introduced Abby to the public through a 4-minutes video shared on his YouTube channel. The caption on the video explains that this was the first time Abby had gone on a date with her father.
"Adorable and emotional as we welcome Abby WaJesus to the Wajesus family/first date with daddy," reads the caption.
Kabi WaJesus finally Introduces daughter Abby to his Online family [Photos]
In a separate Instagram post, Kabi said; "My baby girl @abbywakabiwajesus it was also the best day of my life 🥰🥰 looking forward to this and more,".
Kabi's wife Milly WaJesus also jot down a short and precise message welcoming Abby to the family.
In May 2021, Kabi admitted to have sired a child with his cousin, months after denying and insisting that the kid was his niece.
In a statement, Kabi said that DNA results confirmed he is the father of child named Abby and it all happened before he was born again and was even married.
He went on to state that the interest of the child will come first and he will reach out to the mother and work out a way forward and that he takes full responsibility for his actions.
Kabi apologized for his earlier statement, where he denied being the father of the child.
Kabi WaJesus finally Introduces daughter Abby to his Online family [Photos] Pulse Live Kenya
"Hey Guys and praise Jesus, Some of you might be aware of the matter involving me regarding baby Abby.
"I wish to confirm that Yesterday paternity results were issued that confirmed that I am the biological father of the child. The results confirm that, in 2013 (which was before I got born again and married), I sired Abby. I know this news comes as a shock to many of you who follow and watch us. I also know that my public comments about this matter gave a false impression which i deeply regret.
"Now with the paternity results out, it is a relief as we can now chat the way forward together with the mother for the welfare of our child. I am immediately reaching out to her so that we can discuss and agree on her future," he said.
Recommended articles
Harmonize deletes 'Weed Language' from YouTube days after release
Nadia Mukami confirms break up rumours with Arrow Bwoy
Zari threatens to sue blogger for circulating false information
Mark Masai announces his next move after leaving NTV
Burna Boy set to drop documentary for single, 'Whiskey'
Ommy Dimpoz loses Sh1.5M moments after the death of his ex-girlfriend
Dennis Okari bids farewell after being fired by NTV
Inooro TV presenter marks 7 years in media in a splendid way
Mbusi heaps praises on wife with cute message as she celebrates birthday