Vera Sidika on why she has chosen to give birth in Kenya & not in US (Screenshot)
This is the longest pregnancy of all time- Fan to Vera Sidika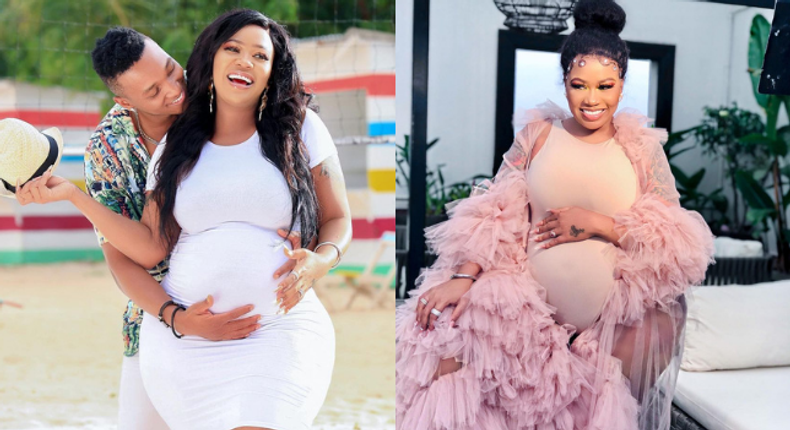 On Monday, Ms Sidika who is 8 months pregnant said that she has chosen to give birth to her baby in Kenya rather than in the United States of America.
The beautypreneur noted that she still has a valid US Visa but choose to stay in Kenya out of fear that she will be lonely once in the US.
"I almost travelled to give birth in USA. Since my 5 years Visa is valid. But this Covid pandemic isn't fun. Then again, we couldn't handle the idea of being Away from family and friends during my pregnancy for 4-6 months.
While pregnant. You need all the love, affection from friends, family. On a regular.
Being in a foreign country where everyone is super busy, working 2 or more jobs to even have time for you. Can be every depressing. Especially in this pandemic. You all just end up alone while everyone's at work. I made the right decision and I have enjoyed my entored pregnancy journey. Nothing beats Home" said Vera.
Ms Sidika went on to confess that her pregnancy has been very smooth despite early warnings from Instagram in-laws.
Vera Sidika Pulse Live Kenya
"How I'm 8 months pregnant and still don't feel pregnant, I feel the same way I felt before pregnancy. The Only change is; my belly got bigger and theres a little human kicking nonstop other than that, I am so shocked. I don't feel pregnant. No morning sickness or tiredness. At 5 months' people said; oh you might be feeling okay now but wait till I get to 7-8 months you won't like it.
Now am here. Since 7 months I have been waiting to feel what they told me I will feel but haven't. I can jump, run, I do everything as a normal non pregnant person. I'm actually loving it. I can't believe my bump will go away soon. All in all, God is God" wrote Vera Sidika.
Vera Sidika Pulse Live Kenya
suriah91 "And the way when you announced I thought in a week time you will be having the baby😍😍. Next time , wait until is due like few weeks ndio u be put to bed"
lovely_meymo "This is the longest pregnancy of all time. I feel like you've been pregnant for like 2years already"
qu.3437 "You are happy I am happy... I wish to meet you one day Vera... You are such a happy soul❤️😍"
shirline_molani "Wishing you a safe delivery mamie❤️🥰 I'll remember to always put you in my prayers 🙏 love from Newzealand 🇭🇲🇰🇪💞💕"
Vera Sidika Pulse Live Kenya
asha.herzog "I' wish you a safe delivery InshaAllah 👑V🌹🤲🏾alafu uenze kutupostia kamguu, kamkono 😂😍😍😍"
qu.3437 "May God protect you and your unborn child In Jesus Powerful Name Amen 👏"
faith_ndinda_ "Wishing you a safe delivery mama❤️❤️may God be with you all through out the journey"
Recommended articles
Eric Omondi secures release for 22 petty offenders from Nairobi West Prison [Video]
Terence Creative & Milly Chebby speak out after shocking act of vandalism
Former Aziza actor Luwi Capello narrates life-altering accident that affected brain & erased memories
From sin to salvation: Brendah Jons finds peace in Jesus
Anita Nderu takes on new challenge as she heads back to class, reveals future plans
4 professionals you should avoid in a partner, according to Oga Obinna
Vivian in mourning after losing her sister
New details emerge on pastor's death in singer Dishon Mirugi's house
Akothee opens up on escaping reality with sleeping tablets