Wahu Kagwi's wedding eve confession: A tale of tears, anxiety & sleeping pills
Wahu Kagwi opens up about the night before her wedding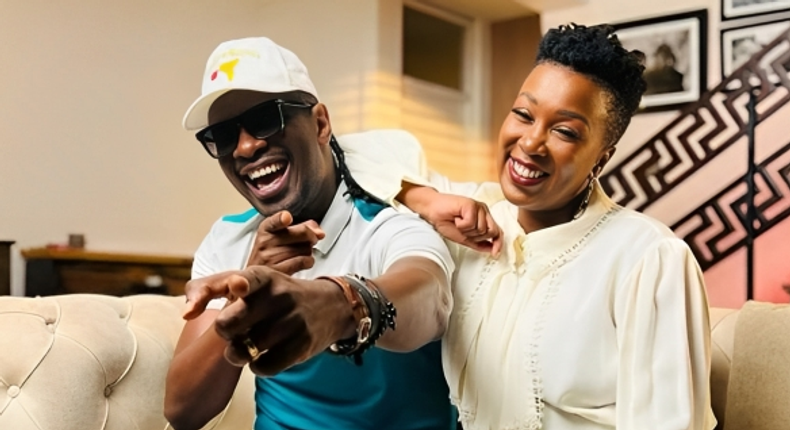 Celebrated Kenyan artist Wahu Kagwi has left netizens in stitches with a candid revelation about the eve of her wedding.
Wahu & Nameless: A journey of love& laughter
Wahu and Nameless, both revered figures in the Kenyan music scene, tied the knot on September 10, 2005, and have been blessed with three children.
Nameless, Wahu and their three children
To mark this special milestone, Wahu shared some behind-the-scenes moments from their wedding, on her social media accounts on August 10.
Recalling the lead-up to their wedding day, Wahu started by revealing a wardrobe malfunction that caused some pre-wedding jitters.
Her wedding dress was not ready until just two or three days before the big day. The stress of last-minute fittings took its toll on the bride-to-be.
"My wedding dress wasn't ready until I think 2 or 3 days before the wedding," she wrote.
Pulse Live Kenya
Moreover, she received calls from uninvited guests who were upset about not receiving an invitation. The pressure became so overwhelming that Wahu broke down in tears during one of her final outfit fittings.
"I remember in one of my final outfit fittings...I broke down into tears... I was receiving phone calls from people who were upset that they hadn't been invited for the wedding as I was doing my final fitting..." she wrote.
Wahu - Planning for my wedding left me anxious
Wahu admitted that the entire wedding planning process left her incredibly anxious. She recalled waking up in a cold sweat after dreaming that her wedding dress was a mere sack with crude designs drawn on it.
Pulse Live Kenya
In the week leading up to the wedding, sleep eluded her as she worried about how everything would come together.
"Speaking of anxiety. I was so anxious about the wedding! Wueh!! I remember waking up in a cold sweat one day juu I had dreamt that my wedding dress ilikua gunia imechorwa tu designs hapa mbele na makaa.
"The whole week of the wedding I was struggling to sleep! Worried about how everything will work out... will I fall off the boat," she wrote.
Pulse Live Kenya
Why Wahu took sleeping pills the night before her wedding
As the night before the wedding approached, Wahu's anxiety reached its peak. Her friend prescribed sleeping pills to help her get some rest.
"On the night before the wedding... My good friend who had just recently graduated from med school prescribed to me sleeping pills...let me tell you Maina...
"All I remember is looking down at my plate...which was on my laps...and then my eyes feeling heavy...After that... My face fell flat on my food, " she wrote.
Pulse Live Kenya
As she began to feel drowsy, she remarked that her eyes were closing on their own. Moments later, her face fell flat onto her food.
Wahu's friends were thrown into a panic, but they couldn't scream or make a commotion, fearing that the older women in the house would enter the bedroom and ask difficult questions.
She had to be discreetly moved to another room, away from prying eyes. Despite the drama, it was the best sleep she had had in days.
Recommended articles
'Sound of Freedom': Jim Caviesel's new movie is inspired by real-life experiences of an activist
Story behind Dennis Ombachi's tag name 'Roaming Chef'
King Kalala opens up about marriage & dreams of having 7 kids
Nicki Bigfish saves the day for man he intended to prank
Please be thorough with the investigation into Mohbad's death - Banky W
YY Comedian's mum shares untold story of how he suffered burns 7 times
Diamond pleads with Chege to release songs after unexpected reunion on stage
Mercy Masika expresses concern about modern pastors' fashion & modesty
Philosophy Fena Gitu applies in bold fashion choices