We are sorry - Eric Omondi & Jacque Maribe apologize after handshake [Video]
We were wrong - Admits Omondi and Maribe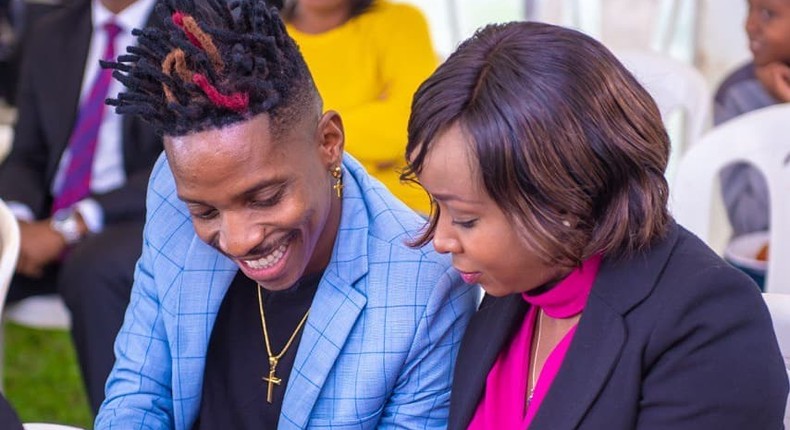 In a video shared via Kabu's Instagram, both Maribe and Omondi apologized to their fans and followers, saying that they were wrong to wash their dirty linens in public.
"This is now bygones… We are sorry, we were wrong and we have a child to raise…we have also learned from this," the two said.
On the other hand, Kabu said that he is happy to see the two back to talking terms and even raise their child together.
"I'm happy now there is a white smoke at last, I just did what I could do because we are friends for a reason. We have talked and until we have agreed now," said Kabu.
Omondi and Maribe have been making headlines for the better part of this week. On Tuesday, Omondi said that he has begged Maribe for 7 years for DNA test, to ascertain if he is the biological father to their son but she has refused.
"Roughly 4 months after the baby was born Jacque called me and asked me if I would help or be part of the baby's life. I asked her for a DNA test so that I could comfortably be part of the baby's life and SUPPORT fully.
"She got very offended and Refused my request. For 7 seven years I have begged Jacque to allow us have a DNA Test and she has continually refused!!! I dont mind supporting the child but if you want me to be fully present and supportive, if you Want me to be a father. Then we have to do the right thing!," said Omondi in part.
On Monday, Omondi, in an interview with Mungai Eve, called Maribe on the phone in the glare of the cameras.
In the recorded phone conversation, she claimed that he was a deadbeat dad and was not in touch with their child.
Recommended articles
Redsan, Wyre & 9 other Kenyan artists who have lit up the reggae music scene
Alikiba's ex tells all on their short-lived relationship & breakup
Nakili Sessions: Njoki Karu's soulful serenade wows Nairobi's music lovers
Kenyan mum prays as party-loving daughter breaks norm by coming home early [Watch]
Michelle Ntalami unpacks lawsuit against Minne Kariuki, MNET TV and D&R Studios
Andrew Kibe's return won't affect Kamene Goro's stance on their reconciliation
Clever bribe that shielded Aslay from teacher's wrath after missing school for a concert
Larry Madowo shares surprise encounter with KDF soldiers at Mt Kenya peak [Video]
Content creator Purplesam appeals for help after violent robbery by fake KWS officers