I coughed blood, my mouth was sore - Jalang'o's baby mama opens up on rare condition she is battling
The condition has no cure!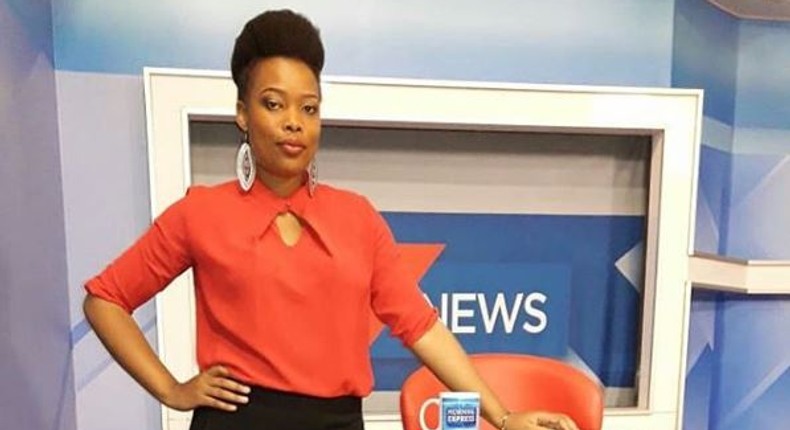 Comedian Jalang'o's baby mama Cheptoek Boyo has for the first time opened up on a rare condition she is battling.
Ms Boyo disclosed on Buzz Central that she was recently diagnosed with Behcet's syndrome, a disease whose cause is not known and has no cure.
She narrated how she started experiencing fatigue in September, up until December last year when she noticed a canker sore. She self-medicated but the condition got worse, prompting her to visit a dentist who cleaned her teeth and recommended mouth wash, but the condition did not improve.
At the beginning of the year, she visited another hospital where the doctor recommended that she took tests on Sexually Transmitted Diseases (STDs) and cancer and all tested negative.
"I was traumatized so I told her let's do the tests. All the tests came out negative. She said it might be gingivitis and put me on bacterial and fungal medication plus a mouth wash. After two days of taking the medication, the sores began to clear. However, once the medication was done, they were back," read part of her story.
Cheptoek was later on referred to an Ear Throat and Nose (ENT) doctor who prescribed antibiotics and steroids which only worked for a few days but the sores returned. This time her eyes were also red. The ENT increased the dosage but this only made her lose her voice while her eyes kept getting worse.
She then booked an appointment with an ophthalmologist who said her eyes were fine and recommended eye drops to clear the redness.
According to the mother of one, the disease had deeply affected her and she could not eat any solid foods. She was also coughing blood.
Pulse Live Kenya
"The sores had affected by throat, I could not eat any solid foods and was strictly on a fluid diet. I wasn't getting any better. In fact, I was coughing blood, I knew I was dying," read an excerpt in Boyo's story.
The ENT then referred her to rheumatologist for tests on autoimmune diseases which all came negative. She was referred back to the ENT who suggested she underwent surgery to get biopsy for further tests and after the surgery she was able to eat well.
Once the medication was finished, the pain came back and this time around she lost her voice, had pain in the joints, her eyes were red and itchy. The ENT referred her to a different ophthalmologist and later on referred her to a rheumatologist.
"By this time, I was tired, in pain and my friends and family all think I am being ripped off and I should change the doctor but I went back. I get there, could hardly walk, my ankles, knees, hip joints were in pain, I was limping and shaking because the pain was unbearable. He gives me an injection and after a few minutes the pain disappears," she narrated.
Pulse Live Kenya
 The rheumatologist then recommended 13 tests which she took and after a week one of the 13 tests came positive. Behcet's syndrome.
"Only for him to say I have Behcet's disease also known as Behcet's syndrome and I was confused! To make it worse he says it is not curable, I will have to be on medication every time I get flare-ups," said Cheptoek Boyo.
According to Google, Behçet's disease (BD) is a type of inflammatory disorder which affects multiple parts of the body. The most common symptoms include painful mouth sores, genital sores, inflammation of parts of the eye, and arthritis. The sores typically last a few days. Less commonly there may be inflammation of the brain or spinal cord, blood clots, aneurysms or blindness.
JOIN OUR PULSE COMMUNITY!
Recommended articles
Amazing transformation of 21-year-old man bullied for being born different (video)
Abel Mutua's movie makes over Sh4M in 5 days
Why do guys still masturbate when they have girlfriends?
5 things you should never do to please a woman
How Janet Mbugua's husband Eddie landed Sh240 million deal with Chinese investors
British MP claims she didn't know her flat was owned by the Kenyatta family
I spent Sh800K - Vera speaks on begging for money to fund lavish Baby shower
Shika Simu yangu bro, we need you - Eric Omondi begs Eddie Butita
Janet Mbugua's husband thrown at the centre of nasty fight at Ole Sereni Hotel [Video]