In his own words, how Kimani Mbugua's mental health struggles began
In 2019, #PulseYouthMtaani featured journalist Kimani Mbugua. He shared, in great detail, his struggle with mental health while trying to navigate the challenges of life.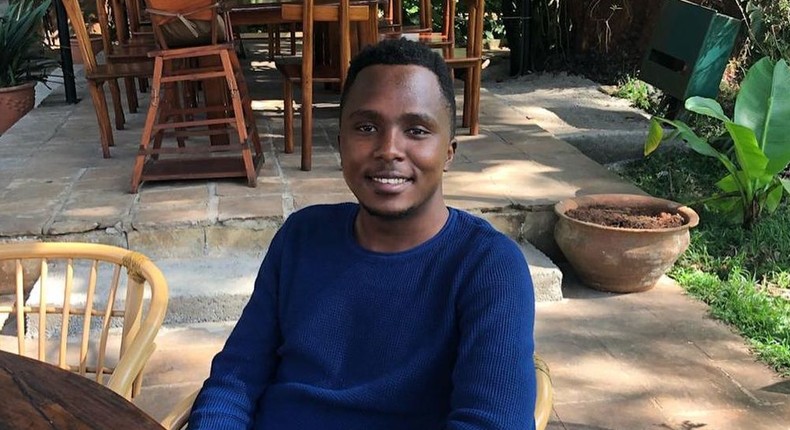 My name is Kimani Mbugua, I'm a journalist and this is my story.
Growing up, I had a strict father who was a teacher and both my parents were religious, so I grew up in a home full of religious books. I remember reading a lot to the point that I struggled to speak Swahili when I joined high school.
Initial signs of clinical depression
My struggle with depression began in 2013 after I had cleared high school and was set to join university. Neither my parents, siblings nor I knew what I was suffering from back then.
The most notable thing about that time in my life was that I never spoke to people. I shut the world out since I felt disappointed with life, nothing was working out.
There had been nothing I found interesting in my life as a 17-year-old and that spilled over to when I joined Moi University around October 2013. Things were even worse considering my family was enduring a difficult phase in life.
My father had lost everything after poor investment decisions which worsened my depression and anxiety.
Citizen TV journalist Kimani Mbugua
I wrote my eulogy while at university
At the university, things escalated, I could not bear being alone at Moi while my parents back at home were suffering which really affected me. All my thoughts were anchored on my family.
Despite having two cousins at the same university, and they were the only people I could speak to at the time, nothing much changed. I felt so alone and isolated from the world although there were people around me.
In early 2014, things took a turn for the worse when I contemplated suicide. I wanted to end it all, the devastating feeling of not making it in life. I went on Facebook and wrote my own eulogy, posted a picture, and told my 'sorry self' R.I.P.
After the well-crafted post, I contemplated three options to take my life - fear took hold of me and I dismissed the first two options and I settled for the final one.
Nothing mattered and I began my attempt. During my quest to end my life, when I was frail and weak and almost succumbing, my cousin visited me.
Isn't your life great? Can you snap out of it?
I have to admit there was a sigh of relief knowing that someone actually cared and came to look for me. I was ashamed of myself so I didn't tell him I was in the process of ending my life. At some point, I wanted to get up but I couldn't get myself out of bed.
Citizen TV journalist Kimani Mbugua Pulse Live Kenya
Every time I remember about that time I break down because I think about what I would have taken away from myself. I would never have achieved what I have today.
I would have taken away a brother from my sisters, and a son from my mom and dad. It would have been unfair to end my life. It really breaks me today.
A lot of people ask people why are you depressed? Isn't your life great? Can't you snap out of it? Cheer up! Dust yourself up and move on. It's not something you can get out of just like that. It doesn't work like that.
Depression isn't something you can say with finality, it will never recur
Even for me, it was not something I could explain. I felt worthless, that could be one of the reasons I can think of. When I posted the picture on Facebook I knew I wanted everything to end.
The reason I share this story is to tell people who are going through this phase that they are not alone. Depression isn't something that you can say with finality, 'It will never recur'. It did come back later on in my life in the form of panic attacks.
Citizen TV journalist Kimani Mbugua Pulse Live Kenya
There is a panic attack which I had and it lasted for 48 hours. I was rushed to the hospital and doctors were trying to run tests to get my body back to normal.
Now I know how to manage it. Some days I get into those moments but I have sought help, especially with panic attacks because they can be triggered by anything. I got out of the worst phase and I'm seeing a therapist.
Anyone, even people with glamorous jobs, can get depression
No one is immune to real-life problems, bad days at work, being in debt or in pain. If you are going through it talk to someone. See a therapist. Find something you like doing. Don't be ashamed.
Help is available, your life is valuable and you are not alone. Should you or a loved one be struggling, please reach out to:-
Befrienders Kenya suicide prevention hotline +254 722 178 177
Niskize suicide prevention helpline 0900 620 800 or +254 718 227 440.
Mindful Kenya Therapy on USSD code *702*30#
Recommended articles
Jada Pinkett Smith says she and Will Smith are 'staying together forever' despite separation
DJ Kalonje talks about his side hustles after 12 years in the industry
Karen Nyamu declares war on 'Aluta Sunday' entertainment joints
Kenzo steps ahead of Cindy as he talks copyright with Museveni
Busta Rhymes describes working with Burna Boy as an incredible experience
Pastor Ng'ang'a surprises hawkers with Sh410K cash donation and business tips
Laika says Harmonize slid into her DMs; paid for Zanzibar, Dar trips
MPs shower TV47 presenter Lizah Mutuku with cash at graduation after-party [Video]
Ruth K recounts Mulamwah's reaction to news of unplanned pregnancy