Why Nicholas Biwott was called 'Total Man' and 7 other interesting things you did not know about Him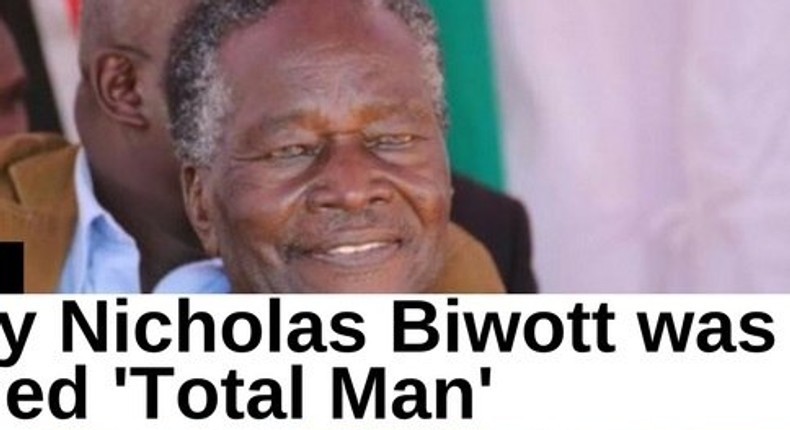 Former powerful politician and controversial businessman Nicholas Biwott on Tuesday died after a long illness.
Plive.co.ke compiled interesting facts about him.
Biwott died at the age of 77 years at the Nairobi Hospital where he had been taken.
The former Minister is famously known as Total Man,  a name he coined by himself as he was giving a speech in Parliament.
During his speech, Biwott noted that it was critical for a politician to be a man, a total man.
At the same time, Biwott also gained the monicker Bull of Auckland after an alleged sexual assault incident in New Zealand.
As the narrative goes, the billionaire was attending Commonwealth Heads of State Meeting (CHOGM) in New Zealand.
One morning when a housekeeper came to his hotel room to clean his room it is said that Biwott either indecently exposed himself to or actually tried to rape a housekeeper.
The incident led to his deportation.
While throwing a jab at Biwott, Siaya Senator James Orengo coined the name Bull of Auckland during one of the Parliamentary sessions in 1995.
"There was a time when the Bull of Auckland or rather a hon. Biwott tried to make a speech from here and he was told to move the Backbench," the Hansard reads.
Biwott began public service as a District Officer in Meru District from 1965 – 1966.
He has worked in the Governments of the first three Presidents of Kenya - Jomo Kenyatta, Daniel arap Moi and Mwai Kibaki.
He held eight ministerial positions: Minister of Regional development, Science and Technology (1982 – 1983); Minister of Energy and Regional Development (1983 – 1988); Minister of Energy (1988 – 1991); Minister of East African and Regional Co-operation (1998 – 1999); Minister of Trade and Industry, Tourism and East African Cooperation (1999 – 2001) and Minister of Trade and Industry and East African Tourism (2001 – 2002).
He was a Member of Parliament for the Keiyo-Marakwet and later the Keiyo South constituency for 28 years (1979 – 2007).
The billionaire is a successful businessman and had major shareholder of Kenol Kobil and ownership of the internal airline Air Kenya.
He had three wives -  Kavista Lessie, Margaret Kamar, Hannei Biwott.
There have been several articles previously written announcing the death of Biwott following his illness.
Since 2014 when he was taken ill, there have been rumours of the former MP dying forcing him to come out and thwart the allegations.
7 Relationship with Retired President Moi
Biwott was the right-hand man of Mzee Moi. He was a feared Cabinet Minister whose word was never questioned.
During the 1982 coup, Mr Biwott helped Moi to deal with the mushrooming opposition in the country.
Biwott was named among 11 suspects in one of the mega corruption scandals in Kenya - Goldenberg.
JOIN OUR PULSE COMMUNITY!
Recommended articles
Former ICT CS Joe Mucheru lands international job
Authorities take action after drowning incident in Juja dam
Raila outlines next steps in fiery speech at Jacaranda rally
How former SONU president wants Magoha honoured by the University of Nairobi
Raila names 5 leaders in line to succeed him upon retirement
Johnson Sakaja celebrates after achieving new milestone on TikTok
DCI takes action following Azimio's poll rigging claims and results
Bus with 42 passengers bursts into flames
DP Gachagua confirms government will fulfill 3 requests made by Magoha's family