Bahati's reaction after Embarambamba mentioned him as one of his Role Models
Sasa ningojeeni kwa matope- Bahati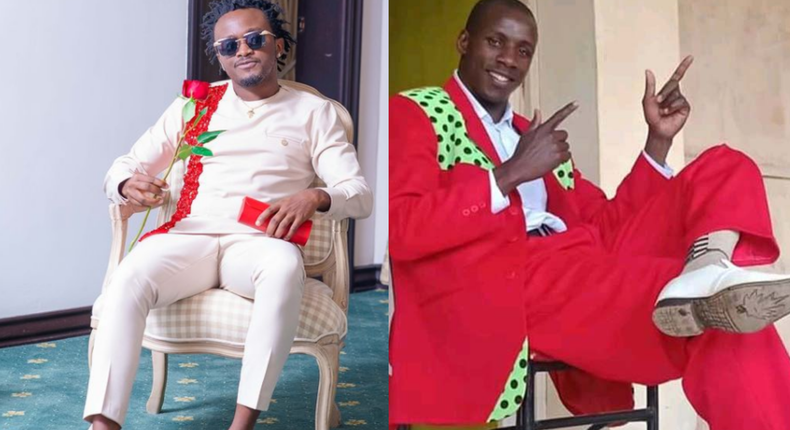 Singer Kevin Bahati is elated after being mentioned by Kisii Gospel Musician, Embarambamba as one of his role models.
Embarambamba had appeared on NTV's The Trend and when asked about who his role model was, he mentioned that he had loved Bahati's songs and that he looked up to him.
In an Instagram post, Bahati disclosed that in a phone call with Embarambamba, the Kisii mucician had allegedly asked for a collabo on one of his songs.
"#Embarambamba Just Called Me he Wants Us to Do #DearEx... Remix 🤣🤣🤣 🤣🤣🤣 SASA NINGOJEENI KWA MATOPE 🙆‍♂️," read Bahati's message.
Get our Top Stories delivered to your inbox
Recommended articles
Youthful MP Peter Salasya searching for a wife with these qualities
Ed Sheeran may have to pay $100m, if found guilty of plagiarising a song
Size 8 casts out demons from possessed girl in Kibwezi [Video]
Bahati is battling depression, Diana has called me twice-Ringtone
Jamal Rohosafi throws shade at ex-wife Amira with cryptic message
My twin - Diamond gushes over look-alike son[Photo]
Crossing boundaries! Diamond working on a song with Indian star [Details]
Nick Cannon welcomes his 10th child, weeks before his 11th is due
Abel Mutua 'fried' as Roast House closes curtains for Season 1