Father duties: Bensoul joins baby mama to celebrate daughter's 1st birthday
This is the first time Bensoul is sharing a photo with his daughter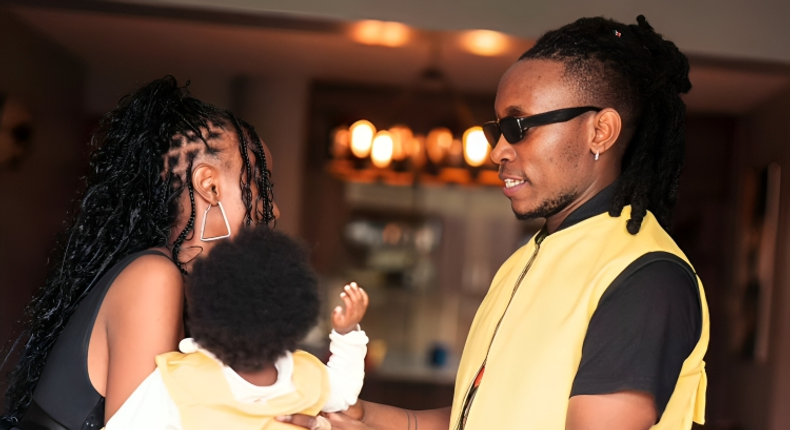 Singer Bensoul and his baby mama Tiffany Muikamba have come together to celebrate their daughter's 1st birthday.
This touching moment was accompanied by a heartfelt birthday message for their toddler, expressing gratitude for the blessings they've received.
In her Instagram post, Tiffany Muikamba wrote, "Dear God, thank you for my little bundle of joy. Seeing her turn one is a real joy. Thank you for taking care of us and always having our backs. Long live our little family ❤️."
The images she shared captured a heartwarming bond between Bensoul and their daughter.
Tiffany Muikamba welcomed their daughter with singer Bensoul in September 2022. At that time, she shared a touching photo of the newborn, holding her tiny hand, and showered her with affectionate praises in the caption.
Tiffany and Bensoul's journey began when they met at the 2021 Oktobafest. Despite the initial speculations surrounding their relationship, Tiffany clarified that their baby was not the result of a one-time encounter.
She emphasised that their child was a product of a meaningful and significant connection that had developed between them.
Bensoul confirms break-up with Noni Gathoni
In April, Bensoul confirmed breaking up with his long-time girlfriend Noni Gathoni. The singer acknowledged that sometimes in life, relationships reach a point where working things out becomes impossible.
However, he stressed that he and Gathoni were not enemies; they remained good friends who continued to support each other.
"Well, love comes and goes. You try to work out things, and you reach a point where it's impossible, and that's life. It just ended. But we are not enemies; we still support each other. She supports all my endeavours. We are good friends," Bensoul revealed.
Pulse Live Kenya
Asked about the reason for their break up, Bensoul said that everything that happened is just part of life. He clarified that it was not because of any baby mama issues as had been purported by online in-laws.
"Si hizo issues za baby mama. Hizo tulikuwa tushasolve, everything was good. Alikuwa msuportive na hizo vitu zote but hizi zingine ni issues tu za life," he said.
Bensoul further revealed that he has never had any issues with her baby mama and that they are peacefully co-parenting.
Recommended articles
'Sound of Freedom': Jim Caviesel's new movie is inspired by real-life experiences of an activist
Story behind Dennis Ombachi's tag name 'Roaming Chef'
King Kalala opens up about marriage & dreams of having 7 kids
Nicki Bigfish saves the day for man he intended to prank
Please be thorough with investigation into Mohbad's death - Banky W
YY Comedian's mum shares untold story of how he suffered burns 7 times
Diamond pleads with Chege to release songs after unexpected reunion on stage
Mercy Masika expresses concern about modern pastors' fashion & modesty
Philosophy Fena Gitu applies in bold fashion choices