Are you a prostitute? Huddah Monroe responds
Huddah claps back at critics accusing her of being a prostitute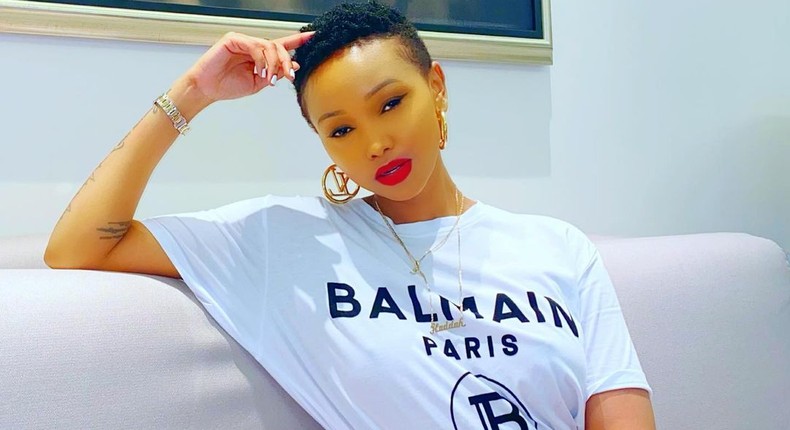 In a Q &A session, Ms Monroe lashed out at critics who accused her of being a prostitute in Dubai, stating that such statements are only made by frustrated and jealous people.
Are you a prostitute? Asked a fan
"That's what sad, jealous frustrated people say when they see young successful woman doing her thing. They hate on what they don't understand. On the contrary what I do with my vagina is none of anyone's business…Think whatever you want"
The Beautypreneur has been staying in Dubai since February last year and she says she is not in hurry to come back home. She even confirmed that she sold her Nairobi House.
"When are you coming home we miss You" said another fan.
"The world is my home. I no longer have a specific place I call home. Anywhere that I feel at peace at. Content. And happy that's home for me".
She added "I no longer have a home in Kenya, I sold it".
Huddah Monroe's post Pulse Live Kenya
In July last year, the Huddah Cosmetics CEO also denied claims of going broke while in Dubai.
ocs_wa_area_ "Bad girl gone badder na huna kitu unateseka pale dubai ... rudi home mamii😢. MR OCS ako sawa wewe hapo ni kudinywa na handouts kibao ... idiot."
In a quick rejoinder, Ms Monroe responded saying she has booked her hotel in Dubai until December and not in a hurry to come back home.
"@ocs_wa_area_ YOU WISH! Niko huku mpaka mchoke! 🤣🤣🤣 Pambana na hali yako Mr OCS!. Si Pia wewe Udinywe alarrr! Kwani hii Kuma ni ya mama yako! SMH! 🤣" responded Ms Monroe.
Huddah Monroe Pulse Live Kenya
In January, 2020, Huddah Monroe confessed that the she used to move around having sex with billionaires around the world in order to make ends meets.
In the rare confession via her Insta-stories, Ms Monroe disclosed that she made the decision of being independent, operating her own businesses because she was sick and tired of sleeping with old men for money.
Huddah Monroe Pulse Live Kenya
Recommended articles
Mulamwah reveals next investment as Kitale mansion nears completion
Diana credits Morgan Bahati with family's success & the memory she holds dear
Kwambox lights up social media after hosting 10/10 show & impressing on Citizen TV
Akothee over the moon after her 'son' graduates
Meet Stephen Opondo: From Atito of 'Classmates' to starring in a Japanese film
TikToker dies days after posting a video about death
Juliani's 'Total Man' & 7 other fresh songs of the week
Breeder's lines on Mungai Eve could give Director Trevor a reason to worry
Marlaw's Biography: Age, financial struggles, music hiatus & comeback