Kate Actress' Biography: Education, acting career, net worth & her close-knit family
Kate Actress became famous after she portrayed the character Selina in the popular Citizen TV show, "Mother-in-law."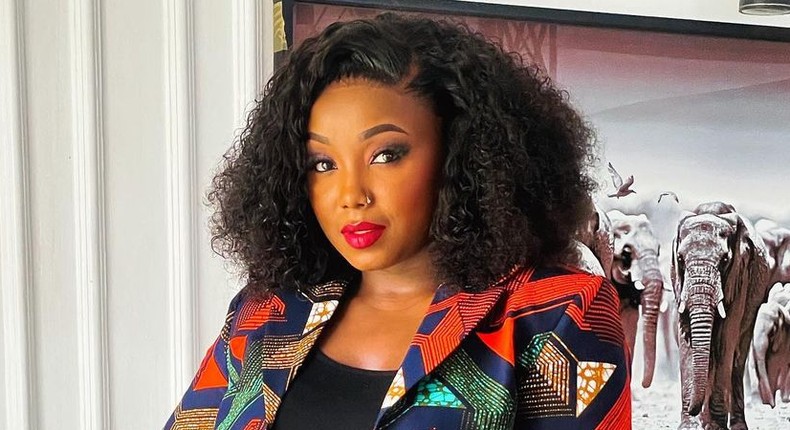 Catherine Kamau, famously known as Kate Actress, is an accomplished Kenyan actress celebrated for her talent in the entertainment industry.
Her breakthrough came from portraying the character Selina in the popular Citizen TV show, "Mother-In-law."
Catherine Kamau's background & education
Catherine Kamau was born on February 3, 1987, in Nyahururu, where she also grew up as the firstborn in her family.
Kate attended Chogoria High School, where she actively participated in the drama club, showcasing her talent.She later completed her high school education at Loreto Convent Msongari in Nairobi.
During her time at Loreto Convent Msongari, she received recognition after winning the Miss Msongari Pagean Award.
Her pursuit of education continued as she obtained a Diploma in Communications with a major in public relations from the Kenya College of Communication and Technology, which later became the Multimedia University of Kenya.
Pulse Live Kenya
However, her academic path took a turn when she enrolled in an accountancy course at KCA University, and realised it wasn't her passion. She later joined Makerere University in Uganda.
Catherine Kamau pregnant at 19 years
Barely two months into her admission at Makerere, Kate learned she was expecting her firstborn, Leon Kamau.
According to her, while growing up she felt sheltered but at the opportunity to move to Uganda, she had the freedom to explore all her amusements.
Pulse Live Kenya
She had to interrupt her studies and return home to care for her child. She faced the complexities of parenting alone, as her son's father was inconsistent in his involvement.
Catherine Kamau's acting career
Kate Actress' acting journey started after her cousin Tina, a cast member of "Mother-in-law," informed her about an opportunity for a dancer on the show.
Her impressive performance not only earned her five times the expected payment but also set her on a path to stardom.
Pulse Live Kenya
She first featured as a dancer and a receptionist. She later took the main role of Selina (Charlie's wife and Olive's step-mum.)
She became one of the most loved characters in the series until she called it quits to pursue other things.
Over the years, her acting career flourished as she took on roles in various productions, including 'Sue Na Jonnie' in 2017, 'Disconnect', in 2018, and 'Plan B' in 2019.
Her role in the 2019 romantic comedy film 'Plan B' earned her the title of Best Supporting Actress in the Film category at the 9th Kenya Film Commission Kalasha Awards.
Pulse Live Kenya
The mother of two has also been part of other film projects, such as "The Grand Little Lie (GLL)," which premiered in October 2021.
Catherine Kamau's businesses & endorsements
Kate Actress' flourishing acting career opened doors to endorsements and entrepreneurial ventures.
She has been a Harpic ambassador for over seven years. She also works with L'Oréal's Kenyan company, Interconsumer Products as the brand ambassador for Nice & Lovely lotions and jelly.
She is also a brand ambassador for Colgate-Palmolive's Sta Soft fabric softener.
Pulse Live Kenya
In May 2022, she ventured into the cosmetics industry, launching her own lipcare line under the label, House of Humba.
Catherine Kamau's 5-year marriage & separation from hubby
Catherine Kamau was previously married to Philip Mwaniki, who is also known for his role as a student in 'Tahidi High'.
The couple tied the knot on November 17, 2017, at Windsor Hotel. Philip, an established producer who owns Phil It Productions, shared a great relationship with Leon, Kate Actress' son from a previous relationship.
Philip Karanja and Kate Actress moments Pulse Live Kenya
The couple later welcomed their first child together in 2019, a girl named Karla Njeri.
They revealed that they had reached this decision sometime before the public statement, but had opted to keep it private.
Pulse Live Kenya
They emphasised that they remain friends and business partners, committed to co-parenting their children amicably.
Catherine Kamau's net worth
Kate Actress has maintained a tight lid on her net worth, keeping it a private matter. Nevertheless, she stands out as one of Kenya's highest-earning actors.
Apart from her acting career, she boosts her income through her cosmetics venture and lucrative brand deals with renowned companies like Reckitt, the manufacturer of Harpic cleaners.
Recommended articles
Clemo reveals root cause of conflict with Nonini following Sh1M court award
Viral Kenyan nanny Rosie finally speaks about relationship with Lebanese employer
Social media erupts as pastor narrates 3 instances resurrecting his mother
Pastor Ng'ang'a's eldest daughter pleads for financial help to cover son's treatment
I was cancelled for saying Ghana influenced Nigerian music – Mr Eazi
Cardi B says she's outgrowing relationships, unfollows husband Offset
If there's a video of us saying she's single, please share - Terence Creative
What sparked Eve Mungai's fiery reaction after Commentator 254's baby news
Wakadinali's Domani Munga takes a break due to health issues