KOT throws Juliani at the Center of Alfred Mutua & Lillian Nganga's separation
Mutua and Lillian are yet to disclose the cause of their breakup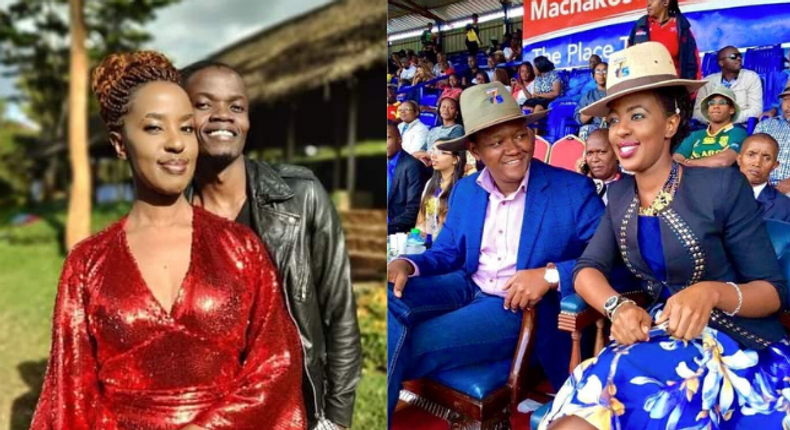 On Sunday, KOT surfaced Lillian Nganga's photos and videos with Juliani, insinuating that he might have something to do with the separation that apparently happened two months ago.
Many argued that Juliani and Ms Nganga's photos looked suspicious, with a section asking the musician to clear the air, on whether the speculations have some truth in them.
The discussion surrounding Mutua's separation with his Wife, made him and Juliani trending topics on Twitter, with everyone trying hard for his/her sentiments to be heard.
On August 15, 2021, Mutua and his now ex-wife issued statements informing their fans and followers that they ended their marriage two months ago.
Ms Nganga claimed the winds of change had blown her way and she had severed her relationship with the governor without going into details.
Governor Alfred Mutua & Wife Lillian Nganga Announce Separation (Statement)
"Winds of change blew my way and two months ago, I decided to end my long term relationship with Dr Alfred Mutua. We had a good run and I am forever grateful to God he brought us together," reads part if her statement.
She also announced her resignation as Machakos First Lady through the same statement.
"I put down the Machakos First Lady cap- and what an honor it has been to be of service!," she said "I will continue to do projects close to my heart, charity work etc through the "Lillian Nganga Foundation' as this has always formed who l am as a person" she said.
Governor Mutua would follow his now ex-wife's post with his on, also announcing that their marriage had ended.
In a carefully worded statement, the governor said that though separated, 'Lillian will be a close advisor as I Govern Machakos County and run for President because I trust her sharp insight and heart'.
"Lillian and I have been a blessing to each other. Two months ago, we decided to slowly disengage. We are in amicable terms and remain very close as friends. We will continue to talk, meet and share ideas constantly.
Lillian has been an excellent First Lady and even though she will do some projects under the Lillian Nganga foundation, we have agreed she can continue with her county projects.
She will be a close advisor as I Govern Machakos County and run for President because I trust her sharp insight and heart. She has always been my number one fan. Our love for each other is permanent but I think at times, space and new directions are important". Said Mutua in part.
Get our Top Stories delivered to your inbox
Recommended articles
Gabu of P-Unit undergoes surgery
Why Willy Paul's new song has been deleted from YouTube
List of entertainment joints whose licenses have been revoked
Kamene Goro speaks after reports of holding secret wedding [video]
Which lie? - Nasra Yusuf responds after Sh59K breakfast bill went viral
Madini Classic breaks silence on breakup during Pritty Vishy's birthday
Nonini invites fans for 40th birthday bash in Dallas
DJ Mo surprises wife in Kibwezi [Video]
Youthful MP Peter Salasya searching for a wife with these qualities