Sanaipei Tande opens up on being offered money by Maina Kageni to have his baby [Video]
I would have given Sanaipei 500K per month for child upkeep if she agreed to have my Baby- Maina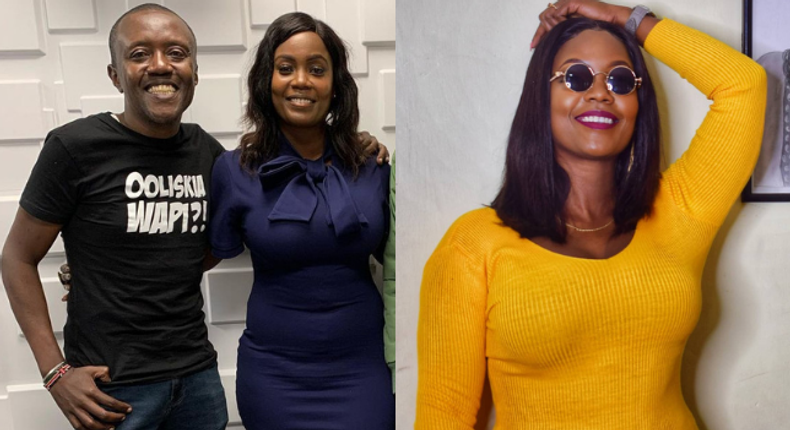 Appearing on Churchill show, Sanaipei confirmed the allegations, with an explanation that Maina approached her when she had just joined Kiss 100.
"I had just joined Kiss 100. I had not secured my own show yet. He told me at that time that if I ever wanted to work another day in my life I had to give him a child. I was only 21 or 22 years of age, just about begin my career," said Sanaipei Tande.
During the conversation, Ms Tande advised young girls who are yet to built their career not to involve themselves in relationships that will lead them to other responsibilities.
"I had not built myself and that is something I tell young girls until now, if you have not built yourself don't involve yourself in relationships that will lead you to other responsibilities and you start depending on that man entirely," she noted.
The former radio presenter went on to state Maina's request has always landed her in trouble with Netizens.
"Every time I post anything on social media, netizens have to tag Maina Kageni in my comment section while constantly pressuring me to give him a baby ooh, give Maina Kageni a baby. In people's mind because I don't a lot about my love life they think that I'm available," she said.
"Mara ya kwanza hakusema kuna Sh500K, na sasa wasichana wananiambia wewe wacha kuwa mjinga but unfortunately for me money doesn't not control me," said Ms Tande.
In January 2021, Maina said that he was willing to give the singer Sh500, 000 monthly as child upkeep back in 2007 but Ms Tande turned down his offer of having a baby for him.
"She is glowing, so voluptuous anakaa poa, why did you refuse to have my baby? I gave you a proposition in 2007. I was ready to be giving you half a million shillings a month, a house kwanza in Lavington, and anything you wanted. Do you even know my mum had told me that if I get a child she will give me that house of hers in Lavington?," posed Maina Kageni.
Maina Kageni Pulse Live Kenya
In September 2021, Maina said that he has always had a crush on Ms Tande and given a chance he is ready to start a family with her.
"Who would you Kiss, date and Marry between; Nadia Mukami, Sanaipei Tande and Tanasha Donna?
With no hesitation Maina replied; "I will marry Sanaipei. I have always crushed on her, I have asked her to have my baby she has refused from kitambo. I will marry her at the drop of a heart anyday. She is my all-time crush and forever".
Recommended articles
10 most promising East African musicians in 2023 [Spotify List]
DJ Lyta shows off his new ride [Video]
I thought it'd get easier, but it doesn't - Martin Kasavuli posts on late mom's account
Daddy Owen drops new music video after 1-year hiatus [Watch]
Amber Ray excites fans with video of growing baby bump
Shaffie Weru makes media comeback with new show [Video]
Actress Jacky Vike lands brand ambassadorial job
Kevin Mboya reveals details of Kwale trip that left him heartbroken
Photo of Wema Sepetu & bae Whozu sparks debates after fans noticed slight bulge