She is my all-time crush- Maina Kageni speaks on Marrying Sanaipei Tande
I would have given Sanaipei 500K Per Month for child upkeep if she agreed to have my Baby- Maina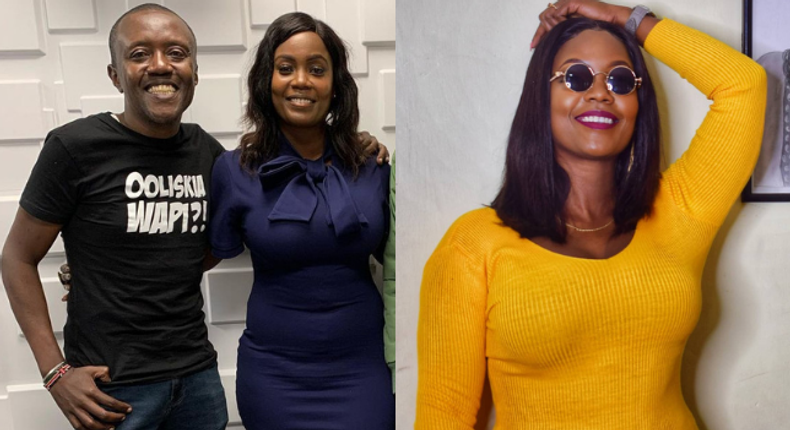 Maina said that he has always had a crush on Ms Tande and given a chance he is ready to start a family with her.
"Who would you Kiss, date and Marry between; Nadia Mukami, Sanaipei Tande and Tanasha Donna?
With no hesitation Maina replied; "I will marry Sanaipei. I have always crushed on her, I have asked her to have my baby she has refused from kitambo. I will marry her at the drop of a heart anyday. She is my all-time crush and forever".
This is not the first time Maina is talking about Sanaipei refusing to have his baby. In January 2021, Maina said that he was willing to give the singer Sh500, 000 monthly as child upkeep back in 2007 but Ms Tande turned down his offer of having a baby for him.
"She is glowing, so voluptuous anakaa poa, why did you refuse to have my baby? I gave you a proposition in 2007. I was ready to be giving you half a million shillings a month, a house kwanza in Lavington, and anything you wanted. Do you even know my mum had told me that if I get a child she will give me that house of hers in Lavington?" posed Maina Kageni.
Surprised by his confession, Sanaipei revealed that she was forced to turn down his proposal as he had left out the important details of the deal.
"But you see Maina you told me if I never want to work a single day in my life, that was the proposition. But I am the type of person who has to work," Sanaipei defended herself.
However, in May this year, Maina said that he has no plans to join the marriage institution.
Sanaipei Tande Pulse Live Kenya
"Sometimes marriage is not for everyone but never say never and I believe that, you know why? Sir Charles Njonjo got married at 54 or 59 na ako 100 sai ..wewe oa tutakuzika 63.
Wewe ndo utajimaliza, coz what married people do is to try and keep u and impress. You try and do crazy, out of this world things that you think she will remember forever, that's how you kill yourself"
First of all, your woman will always have more money than you, because she didn't spend, she saves it. So don't think buying her a Mercedes Benz in impressing her" said Maina in part.
The Classic 105 Presenter added that he loves women and he will always be their defender and voice.
Maina Kageni Pulse Live Kenya
Some are genuinely in love with the radio presenter while some were in it for the wealth given that he owns residential houses in Nairobi and a couple of condos in the United States specifically Miami, Florida.
In addition, he co-owns a modeling agency in Lagos with one of the P Square brothers. Furthermore, he is said to earn a seven figure salary. Things that have afforded him the finer things in life like his 2020 BMW.
Recommended articles
Truth behind Mr Seed & Georgina Njenga's car photos finally out
Zuchu breaks silence regarding fallout with Mama Dangote
Flaqo gifts girlfriend Keranta new car for her birthday [Photos]
Ephantas Safari finally reveals real reason Kawira left their 6-year marriage
NTV's Susan Grace tearfully narrates how stepdad ruined her teenage years
Willis Raburu shares his opinion on new host of 10 over 10 show
Gidi's 'Patanisho' call ends abruptly as furious man accuses him of collusion with wife
Fans question Diamond's statement about Naseeb Junior, his last child
Seun Kuti struts his stuff on the Paris Fashion week runway