Songstress Vivianne gushes over husband as he turns a year older
My life wouldn't be the same without you- Vivianne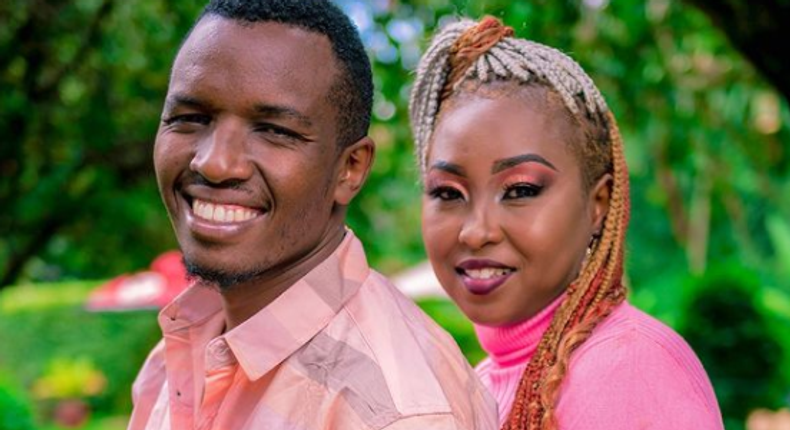 In a sweet Instagram post, Vivianne poured her heart out to Sam describing him as her truest friend.
"Happy birthday babes❤️!My life wouldn't be the same without you! So here's to you!
To your brilliance, your kindness, your courage, your strength even your jokes lol.
Thank you for being my truest friend and lover and today I thank God for the day you came into the world.
Many are blessed to know you but I'm blessed to have you by my side. Fam help me wish @samwestke a happy birthday 🎊🎂🎁,"wrote the musician.
Vivianne and Sam's proposal
Sam West and Vivian have been together since 2016, and held their traditional wedding in March 2018.
In 2020, the singer opened up saying it was hard to say YES to Sam West's proposal on live TV a few years ago.
"Today I want to be very candid... nataka niongee wazi... The world first met @samwestke when he decided to propose on the biggest tv show in the country.
I was shocked and this was unexpected for me. I couldn't say yes or no so I sat there in front of 40mill Kenyans hoping the world would swallow me but it didn't, so I smiled.
First, I have worked with Sam West and been his woman for 4 years," she shared.
Singer Vivianne with Hubby Sam West
Vivianne and Sam's rocky marriage
In Oct 2020, the singer disclosed that their marriage was on the rocks and was hopeful that the relationship would get better.
"...Our union has however taken a kick to the stomach. IG in-laws can attest to the fact that I haven't posted Sam on my feed for the past one month or so.
We felt it would be important to share the truth that marriage can get difficult..," read part of her post.
On the other hand, Sam asked their fans and Insta-In-laws to pray for his marriage so that they can overcome the challenges they are going through.
The couple parent their children from previous relationships and had revealed that it was not easy to introduce their children to a new parent.
They disclosed that they had both accepted each other's children and were raising them with unconditional love and not creating a rift between two.
Recommended articles
YY Comedian's mum shares untold story of how he suffered burns 7 times
Diamond pleads with Chege to release songs after unexpected reunion on stage
Mercy Masika expresses concern about modern pastors' fashion & modesty
Philosophy Fena Gitu applies in bold fashion choices
Nyako to take legal action against Brian Chira for defamation
It starts afresh every week! Georgina Njenga's response to body count question
Director Trevor & Eve Mungai announce baby plans, key dates revealed
Ndovu Kuu comes clean about relationship with TV presenter Claudia Naisabwa
10 Kenyan celebrities who've joined the singles club in 2023