Thicky Sandra showers love on Mike Sonko in heartwarming birthday message
Mike Sonko's daughter Sandra Mbuvi has penned a heartfelt tribute to her father on his birthday, thanking him for his support.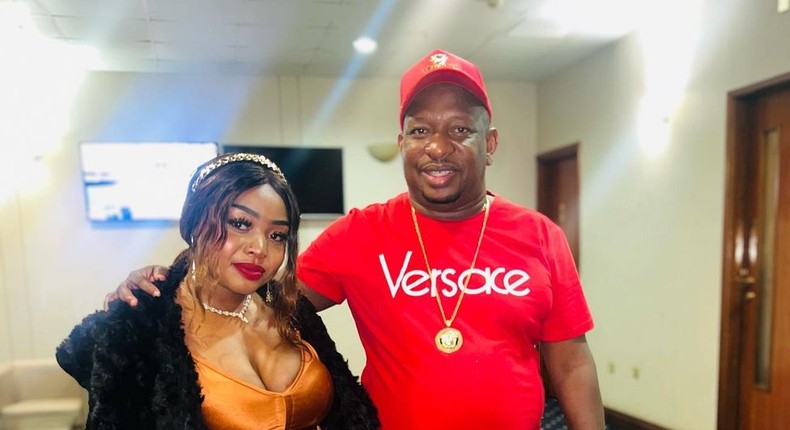 Mike Sonko's last-born daughter Sandra Mbuvi has showered her father with love in a sweet birthday wish on social media.
Taking to Instagram on March 3, Sandra penned a heartfelt tribute to her father, Mike Sonko, on his birthday, praising him for his strength, guidance, and unwavering support throughout her life.
"Daddy, you've given me so many invaluable things in life, and I will always be grateful for them. May your special day bring you plenty of wonderful surprises!" Sandra wrote.
Sandra expressed her love for her father and conveyed her gratitude for his constant love for her.
"I am lucky that I was given the best father in the world, a father who truly loves me with all of his heart. Happy Birthday, dad," She wrote.
Sandra has never been shy about acknowledging her father's pivotal role in her life, and she is always quick to express her gratitude for the lessons he has taught her and the love he has shown her.
Pulse Live Kenya
In March 2022, the family of the flamboyant politician celebrated him as he turned 47 years old.
Both his wife, Primrose Mbuvi, and his daughters sent shared sweet birthday messages on social media to show their love.
Thicky Sandra admired and appreciated Sonko on his birthday, citing him as her role model and a source of inspiration for never giving up.
"Dear papa, every year this day reminds me how lucky I am to have you as a father. Thank you for loving me unconditionally and for teaching me never to give up you are my biggest inspiration happy birthday, dad I love you," She wrote on Instagram.
Pulse Live Kenya
Judging by the posts made by their daughter Sandra on social media, it seems that the Sonko family is accustomed to a lavish lifestyle.
Sandra reveals she has never boarded a Matatu
Sandra recently revealed that she has never boarded a matatu.
In a conversation with YouTuber Vincent Mboya on February 13, the influencer conveyed her astonishment at the frequency with which strangers sit close to each other.
She also said that she's hardly been to a bustling marketplace but has had the chance to shop alongside her mother at a market.
Pulse Live Kenya
Furthermore, Sandra bragged about her family's impressive car collection, although she did not give the exact number.
Recommended articles
Former Aziza actor Luwi Capello narrates life-altering accident that affected brain & erased memories
From sin to salvation: Brendah Jons finds peace in Jesus
Anita Nderu takes on new challenge as she heads back to class, reveals future plans
4 professionals you should avoid in a partner, according to Oga Obinna
Vivian in mourning after losing her sister
New details emerge on pastor's death in singer Dishon Mirugi's house
Akothee opens up on escaping reality with sleeping tablets
Should celebrities show receipts? Cebbie Koks weighs in amidst Vera & Amber's drama
Daughter of former Nation journalist found dead in the US