Azziad Nasenya acknowledges boyfriend's role in her journey to success
Azziad Nasenya speaks up for the first time about the big role played by her boyfriend, amid online accusations and trolls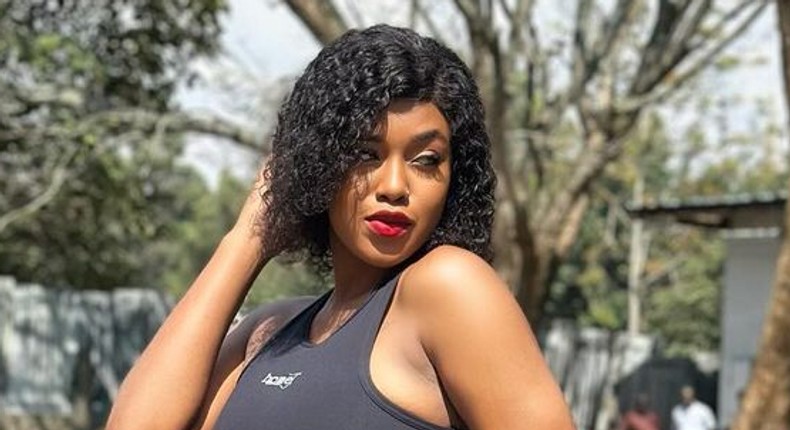 Kenyan content creator and media personality Azziad Nasenya has taken a stand to dispel misconceptions about her financial success.
Contrary to popular belief that she relies on 'Wababas' (wealthy sponsors) for income, Azziad asserts that she works diligently for her money and is supported by a strong network, including her family, friends, and online fans.
"In this life, there is nothing as bad as accusing someone falsely. A lot of people will make noise, and that's okay.
"One thing I've been able to appreciate and be grateful for is working hard. I am grateful I have favor," Azziad shared.
Azziad acknowledges the impact of false accusations.
During an interview with Eve Mungai on November 13, Azziad addressed the recurring online trolls and false accusations that have targeted her.
Azziad acknowledged that facing false accusations can be hurtful, but she finds comfort in the fact that those who truly matter in her life recognize her efforts.
Her friends and brands she collaborates with understand the hard work she puts in, providing a shield against the noise of online rumors.
"At the end of the day, yes, it will hurt me that all my efforts are being associated with a certain thing, but the people who matter never listen. My friends, my brands, they do not believe that because they know Azziad, they see how hard I work," she asserted.
Pulse Live Kenya
Azziad says she has a supportive boyfriend
The interview took an intimate turn when Azziad revealed the supportive pillars in her life. She spoke about having a very supportive boyfriend who remains unfazed by online naysayers.
Azziad also expressed gratitude for her parents and the supportive system she has cultivated both online and offline.
"I also have a supportive boyfriend whom I am grateful to. I have supportive parents. It feels bad - rumors - at the end of the day because you are human. But again let's go back to people who matter and do not care; they do not trust these people. I have a supportive system behind the internet that always has my back," she shared.
Pulse Live Kenya
Azziad: Behind every successful woman there's a man
In a lighthearted moment, Azziad challenged the traditional notion that success is attributed to the women behind successful men. She humorously pointed out the lack of recognition for men who support successful women, deeming it a backward mentality.
"Crazy!! What I say is this, okay, this is a joke. Last time I checked it is behind every successful man there's a woman. I've never seen a behind every successful woman there is a man. I think that is a backward mentality, I don't even know what to call it," she remarked.
Azziad gives a glimpse of her private life
This interview marked the first time Azziad opened up about her private life, revealing the presence of a supportive man by her side.
Pulse Live Kenya
In previous interactions with the media, she consistently emphasised her preference for keeping her love life and family matters private.
Recommended articles
Pastor Ng'ang'a surprises hawkers with Sh410K cash donation and business tips
MPs shower TV47 presenter Lizah Mutuku with cash at graduation after-party [Video]
Ruth K recounts Mulamwah's reaction to news of unplanned pregnancy
Destiny's Child reunited at Beyoncé's 'Renaissance' film premiere — take a look
Diamond hangs out with Shakib as Zuchu shares moments with Zari [Video]
Basketmouth is leaving comedy in 5 years to focus on music, filmmaking
Betty Bayo teams up with hubby to throw exquisite birthday for son Danny
Trevor Noah talks cancelling Ugandan show
Daddie Marto & Koku Lwanga considering vasectomy & tubal ligation after 3 babies