Joe Mwangi's 4 damning allegations against Wendy Waeni and her mother
The last time Wendy performed was 2 years ago - Joe Mwangi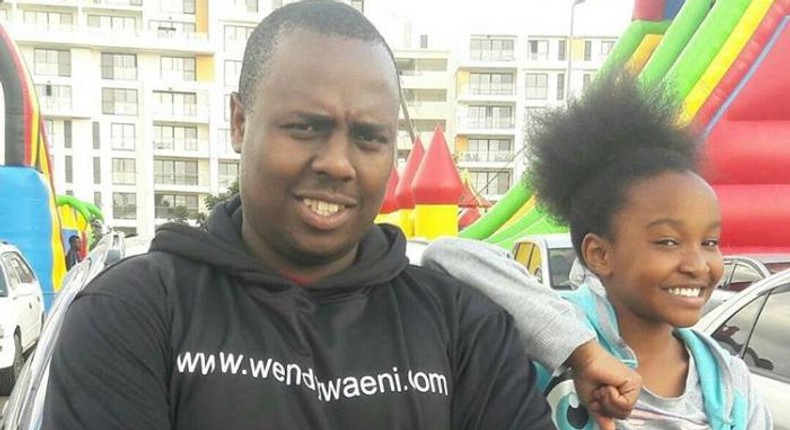 Gymnast Wendy Waeni's ex-manager Joe Mwangi on Monday night made damning allegations against the young gymnast's mother Magdalene Syombua.
Appearing on the Chipukeezy show, Mwangi insisted that he is innocent and he needed to clear his name from the accusations made by the gymnast and her mother, stating that the problem began when he took away Wendy's phone.
Mama Wendy was given Sh500, 000 by Kagame
Joe said that he only accompanied Wendy and her mother to Rwanda to meet President Paul Kagame, who according Joe gave the mother USD5, 000 and asked her to go and start a business.
"Kagame gave Mama Wendy Sh500, 000 cash on her hand then as manager, mama Wendy gave me Sh100, 000. Haikuwa story na kulipwa, it was just a token from the President," he said.
He denied traveling the world with Wendy and his passport only has one stamp.
Pulse Live Kenya
Wendy's last performance was 2 years ago
Joe Mwangi made it clear that there was no money taken from the young girl because the last time Wendy performed was two years ago. They agreed with her mother to let her concentrate on Standard 8 studies because she was a candidate.
 "As an artiste you can only get paid when you perform, so the question is, when was the last time Wendy performed? The last time she performed is over two years ago," he said on the show.
Pulse Live Kenya
Ms Syombua used Wendy's school fees
The ex-manager said that in December last year, he gave Wendy's mother money for her form one school fees, but was surprised when the gymnast reached out two days to reporting day saying that her mother did not have any money, and the deadline for reporting was fast approaching.
Pulse Live Kenya
He also disclosed that Ms Magdalene Syombua is a drunk and must have spent all the money on alcohol.
"I remember ilikuwa December date 2, from my own pocket I gave Mama Wendy Sh100, 000 and I told her weka hii pesa ya mtoto anafaa kuingia shule January. The deadline for joining school was January 8 and on date 6, Wendy texted me on whatsapp, then she is like Joe naingia shule lini and I'm like fine nilipeana pesa mnaniuliza nini mambo ya shule. Then nikamuuliza hata tooth brush ya 20 bob hamjanunua kwa nini? She said mum alisema hana pesa lakini ni ulevi… ni mlevi mbaya sana," said Joe Mwangi.
Pulse Live Kenya
He insisted that Wendy's mother had misused all the money and he was only being used a scapegoat to fool the public.
He also promised to give his side of the story with evidence on everything that transpired leading to the recent accusations made by Wendy.
Joe Mwangi's words come days after the 14 year-old gymnast exposed him on Citizen TV's #JKLive show, saying that he was taking all the money they were paid from all her performances.
Recommended articles
5 songs topping charts in Kenya this week
Mike Sonko surprises Lava Lava in his Upper Hill office with gifts [Video]
Zuchu postpones Nairobi and Eldoret shows
No harmony! Kajala posts a creepy message on her Instagram account
Singer-producer Pheelz explains how church influenced his career choice
Harmonize deletes 'Weed Language' from YouTube days after release
Nadia Mukami confirms breakup with Arrow Bwoy
Zari threatens to sue blogger for circulating false information
Mark Masai announces his next move after leaving NTV