Meet Maureen Muthoni: The mediator of 'Becky' series fights
Maureen Muthoni is popular for her role Sally in the hit TV series 'Becky'. Sally, who is currently in Canada, has fans buzzing with excitement, but her return to the show is not certain.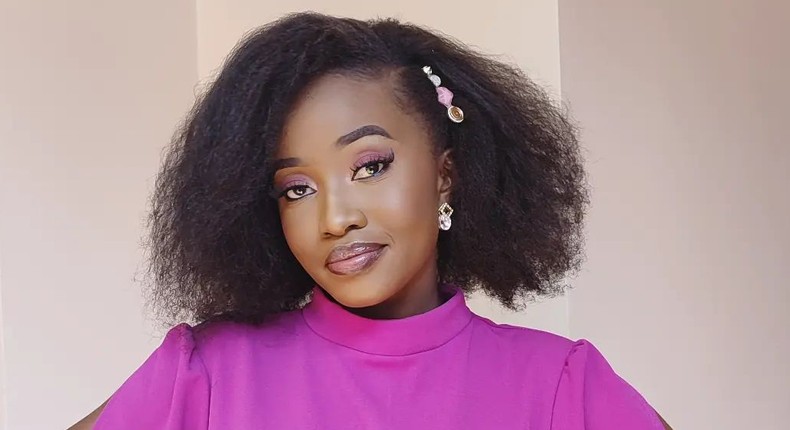 Kenyan television has witnessed a fresh and captivating addition to its lineup with the hit TV series 'Becky'.
The show introduces viewers to the character of Becky, a charismatic and determined woman from the ghetto who unexpectedly becomes a part of a prestigious royal family
Among the standout performers is Maureen Muthoni, a gifted actress who breathes life into the character of Sally, the young sister of the main character, Junior, in the love triangle drama.
Her performance reflects not only her passion for acting but also her commitment to delivering exceptional work on-screen.
Maureen Muthoni's background & education
Born and raised in Nairobi's Kisumu Ndogo Donholm area, Maureen is the firstborn in her family with two siblings, a boy, and a younger sister named Kendi.
Pulse Live Kenya
She attended St. Mary's Donholm for primary school and later Moi Girls in Nairobi for her high school education.
After completing her KCSE, she enrolled at the Technical University of Kenya (TUK) to study Journalism. It was during her time at TUK that Maureen discovered her passion for acting and production.
Maureen Muthoni's debut into acting
Maureen Muthoni's journey into acting commenced within the church community, where she actively wrote scripts, directed, and acted.
Pulse Live Kenya
However, the path to recognition was not without its challenges. Muthoni spent a significant period as a professional extra, even working on advertisements to make ends meet. Her breakthrough came with a role on KBC's 'Biggy', which continues to air to this day.
Reflecting on her early struggles, Muthoni shared, "Before I got the show, I was an extra as a mama wa kanisa. I felt amazing."
Sally in 'Becky'
In 'Becky', Maureen Muthoni's character, Sally, has touched the hearts of many viewers. Despite the differences in social backgrounds between Sally and Becky, Muthoni skillfully portrays Sally's kindness and efforts to make Becky feel at home in the palatial residence of the royal family.
Pulse Live Kenya
Sharing her journey to securing the role, Muthoni revealed, "I saw an audition poster and sent my details. I was auditioning for the role of the main character Becky but I got Sally."
Working with the cast has been a delightful experience for Muthoni, as she expressed, "It's amazing working with the guys on set. We have bonded with them."
Maureen expanding horizons with 'Zari'
In addition to her role in 'Becky,' Maureen Muthoni has also made her mark in the drama series 'Zari', a modern Cinderella story that premiered on Maisha Magic in September 2023.
Playing the character Kyler, Muthoni shares her surprise at being offered the role without an audition. "I think bosses waliona wakasema hapa huyu anawezana."
Pulse Live Kenya
Working alongside prominent actors like Brenda Wairimu and Sarah Hassan has been a fulfilling experience for Muthoni, who looks up to them as role models.
Navigating early challenges & family support
Maureen's journey into acting wasn't without its challenges. Initially, her parents were not supportive of her career choice, urging her to seek an office job. However, her unwavering determination and success in the industry eventually won them over.
"With my parents, it has been a battle. Especially after giving birth, you know you have responsibilities. I was very stubborn about pursuing my dream. They wanted me to look for an office job, but I refused. Right now, they've accepted it because they've seen what I do."
Pulse Live Kenya
Apart from her career, Maureen embraces the joys of motherhood. With a four-year-old child in playgroup, she acknowledges the challenges of balancing her professional and personal life.
"Motherhood is amazing. It is my greatest gift. Although, when I'm shooting, sometimes I feel guilt because we shoot till late," she said in an interview with Trudy Kitui.
Maureen Muthoni's future aspirations
As 'Becky' and 'Zari' mark the turning point in Maureen Muthoni's career, she envisions a future where she not only continues to act but also ventures into directing.
Her ultimate goal is to have her own shows and make a mark in Hollywood. Muthoni acknowledges that while acting pays, there are aspects of the industry that can be improved.
Pulse Live Kenya
Maureen Muthoni's message to aspiring actors
Muthoni offered advice to young aspiring actors, urging them not to give up, even if success takes time. "Ile role unapata hata kama ni ndogo just give it your best."
As an extrovert on low battery, Muthoni enjoys laughter, movies, and adventures, with her greatest fear being the prospect of dying without accomplishing her goals.
Recommended articles
DJ Kalonje talks about his side hustles after 12 years in the industry
Karen Nyamu declares war on 'Aluta Sunday' entertainment joints
Kenzo steps ahead of Cindy as he talks copyright with Museveni
Busta Rhymes describes working with Burna Boy as an incredible experience
Pastor Ng'ang'a surprises hawkers with Sh410K cash donation and business tips
Laika says Harmonize slid into her DMs; paid for Zanzibar, Dar trips
MPs shower TV47 presenter Lizah Mutuku with cash at graduation after-party [Video]
Ruth K recounts Mulamwah's reaction to news of unplanned pregnancy
Destiny's Child reunited at Beyoncé's 'Renaissance' film premiere — take a look