10 Gengetone hits with most YouTube views
Here are 10 Gengetone hits with most views on Youtube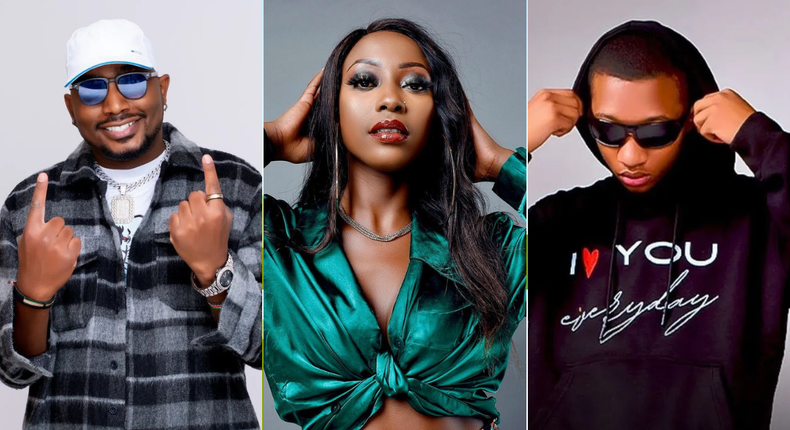 When Gengetone emerged as a mainstream genre in 2019, it immediately sparked a wave of divided opinions among industry gatekeepers.
This unique subgenre of Kenyan hip hop pushed boundaries, not only with its sometimes abrasive and noisy delivery but also in its unapologetic advocacy for unpopular subjects.
Despite the disapproval it faced, Gengetone has managed to solidify its position in the Kenyan music scene.
Here is a list of ten major hits raking in over 1 million YouTube Views and still counting
Kuna Kuna
'Kuna Kuna' by Vic West featuring Furthermore, Savara, and Brandy Maina, released on October 10, 2022, has garnered an impressive 18 million views.
This collaboration showcases the fusion of Gengetone with other musical styles, creating a unique and catchy sound.
Cheza Kama Wewe Remix
Trio Mio's 'Cheza Kama Wewe Remix featuring Mejja, Exray, and Nellythegoon, released in November 2020, has gained popularity with over 12 million views.
This collaboration demonstrates the genre's ability to captivate listeners and create infectious party anthems.
Sipangwingwi
Exray Taniua's 'Sipang'wing'wi' featuring Trio Mio and Ssaru, released on October 30, 2021, has amassed 8.8 million views.
The song showcases the versatility and creativity within the Gengetone genre, capturing the attention of fans with its unique blend of energetic rap verses and melodic hooks.
Pandana
Ethic, the group that burst onto the scene with the viral hit 'Lamba Lolo' in 2019, continues to make waves with their song 'Pandana,' which has garnered 7.3 million views.
Ethic's ability to consistently produce well-received tracks has solidified their place in the Gengetone movement.
Kishash
Lil Maina's 'Kishash,' featuring Ndovu Kuu has been a recent hit, amassing 7 million views within a short period.
The catchy and infectious nature of this song has contributed to its rapid rise in popularity.
Kaskie Vibaya Uko kwenu
'Kaskie Vibaya Uko kwenu' by Fathermoh and Ssaru, released in February 2023, showcases the genre's continuous growth and evolution.
This track combines hard-hitting beats with captivating vocals, demonstrating the genre's ability to push boundaries.
Wabebe
Gwaash and 34Gang's 'Wabebe,' released in 2019, continues to enjoy popularity with 6 million views.
This early Gengetone hit resonates with listeners, showcasing the genre's ability to create memorable and enjoyable tracks.
Mathogothanio
KRG The Don's 'Mathogothanio,' featuring Boondoks Gang and Dj Lyta, released in November 2022, has gained 3.8 million views.
The fusion of reggae, dancehall, and Gengetone elements in this track highlights the genre's versatility and ability to cross musical boundaries.
Miondoko (kale Kadance)
Rico Gang and Mbuzi Gang's 'Miondoko (kale Kadance),' released in December 2022, introduced a new dance that took social media by storm.
The track's infectious rhythm and catchy lyrics have contributed to its popularity among Gengetone enthusiasts.
Recommended articles
4 things to know about 60-year-old arrested for Tupac's murder
Fireworks as Arap Uria takes to social media with placard & gift for Peter Drury
Njoki Chege makes comeback to media with appointment to serve as CEO
Fans did not like how Zzero Sufuri was interviewed on 10/10, here's why
Meet the Rwandese man who has clinched date with Vera Sidika after her breakup
How Editi Effiong delivered a global hit with 'The Black Book' [Exclusive]
Nigerian producer Hitsound kicks off attempt to set new Guinness World Record
'Manifest is a better rapper than Sarkodie' – Samini
Alikiba embroiled in controversy as alleged ex-mistress accuses him of exploitation