Brown Mauzo's comeback & 5 other songs released this week
#PulseHotandFresh - here is a list of 6 fresh songs released this week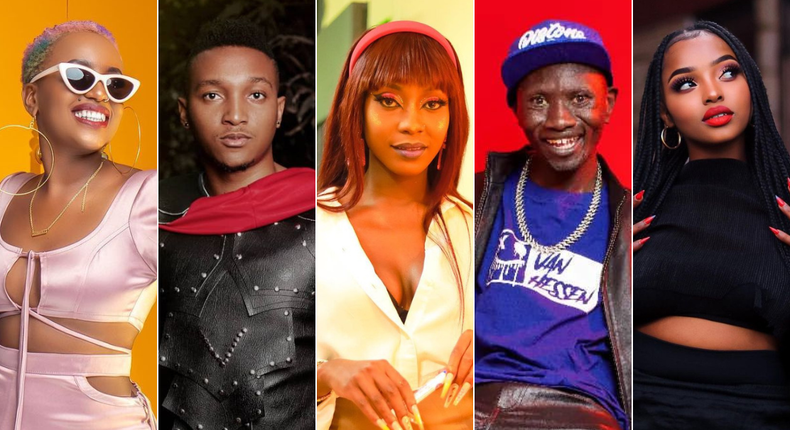 It's yet another week, and your favourite East African artists have released some fresh hits to blow up your playlist.
Here is an updated list of hits released this week!
Sitaki - Femi One fit Domani Mkadinali
Kenyan Hip Hop starlet Femi One has teamed up with driller Domain Mkadinali to bring you the perfect rap of the month!
The latest release, 'Staki', fuses modern trap and bongo-flava genres, creating an invigorating sound that encourages listeners to persevere in pursuing their aspirations despite challenges.
The track emphasizes the importance of staying committed to one's dreams. It was released on February 27 and has already garnered over 133,000 YouTube views.
Inabamba(Aii Wewe) - Stevo Simple Boy
Stevo Simple Boy, a Kenyan artist, songwriter, and producer, has released a new afro-pop single titled 'Inabamba (Aii Wewe)', which pays tribute to the richness and diversity of Kenya's culture and people.
Dropped on March 2, the song met a warm reception and already has over 87,000 views on YouTube.
Now - Brown Mauzo
Talented Kenyan musician Brown Mauzo has released a new romantic hit song called 'Now', which expresses feelings of love and affection towards someone special.
The track is Mauzo's first single of the year and proof that he still holds a spot among the best at the table when it comes to dishing out perfect love songs.
Kaskie Vibaya Uko - Fathermoh fit Ssaru
Former member of the Shamrashamra hit band Fathermoh has featured Gengetone queen, Ssaru to produce a one-in-a-lifetime hit song, 'Kaskie Vibaya Uko'.
The song loosely translates to 'go and feel bad somewhere else'. It is a back-and-forth argument between two lovers who are not on good terms.
About (Around) - Yviona fit Bueno
Vocal artist, musician, TV host and former NRG Radio presenter Yviona has released a new song, 'About(Around)', featuring Bueno.
The song beats are a mixture of Afro beats and soft Hip Hop with heavy love melodies and a sweet rhythm.
Far Away - Seme Coolest fit Mercury & Ditoz WorldWide
'Far away' is a sing-and-dance-along tune released on February 24.
Featuring some of the great musicians in Kenya, the track's Amapiano sound sets the mood for body movement, even if you are bored.
Recommended articles
Terence Creative & Milly Chebby speak out after shocking act of vandalism
Former Aziza actor Luwi Capello narrates life-altering accident that affected brain & erased memories
From sin to salvation: Brendah Jons finds peace in Jesus
Anita Nderu takes on new challenge as she heads back to class, reveals future plans
4 professionals you should avoid in a partner, according to Oga Obinna
Vivian in mourning after losing her sister
New details emerge on pastor's death in singer Dishon Mirugi's house
Akothee opens up on escaping reality with sleeping tablets
Should celebrities show receipts? Cebbie Koks weighs in amidst Vera & Amber's drama