Condition causing Esther Passaris to lose her hair
Passaris' hair shedding has been a cause of concern among some of her followers, who expressed their worries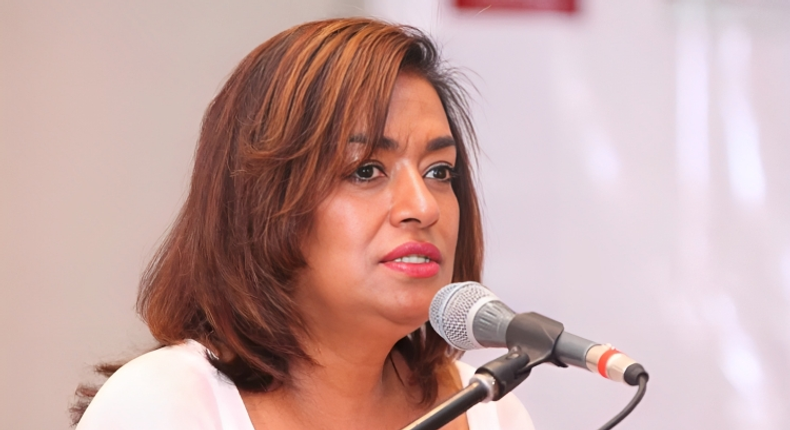 Even in her late 50s, Passaris continues to exude an enviable radiance that leaves many in awe. However, as of late, concerns have been raised among her followers, noting a change in her hair.
In response to the growing concerns, Passaris candidly addressed the condition causing her hair to thin, shedding light on a lesser-known aspect of her health.
The mother of two revealed that besides her growing age, she has a thyroid condition, which affects her thyroxine levels, leading to occasional hair thinning.
"Oh yeah, my hair is thinning. And the reason it's thinning is one, I don't have a thyroid. And sometimes my thyroxine levels get low, and my hair, of course, thins.
"I'm also gonna be 60 next year. So if you're going to be 60, obviously, you'll have to lose some hair," Passaris explained.
Nairobi Woman Representative Esther Passaris
How lacking a thyroid causes hair thinning
The hair thinning that Passaris experiences is a symptom commonly associated with Hypothyroidism, a condition where the thyroid gland becomes underactive.
When the thyroid gland fails to produce enough thyroid hormone it can lead to various health issues, including high cholesterol which leads to weight gain and heart complications.
Amidst her pursuit of overall well-being, Passaris has been diligently working out in the gym since November 2022, announcing her intention to lose weight.
Nairobi Woman Representative Esther Passaris Pulse Live Kenya
This commitment to fitness not only reflects her dedication to a healthy lifestyle but also serves as a proactive approach to managing her thyroid condition.
Passaris' message of self-love and acceptance
However, beyond discussing her hair struggles, Passaris shared an inspiring message of self-love and acceptance.
Pulse Live Kenya
For Passaris, self-love is the cornerstone of overcoming life's challenges and embracing personal growth.
"But this is the thing, no matter what you're going through in life, you've got to love yourself. You got to look in the mirror every morning and just say to yourself, I love you, no matter what.
"Cause once you love yourself, then you can pick up any other pieces and move on with it," Passaris passionately shared.
JOIN OUR PULSE COMMUNITY!
Recommended articles
Lessons for sub-Saharan Africa from a malaria-free Belize [Contributors Opinion]
4 African countries are responsible for 70% of the chocolate in the world
Hungarian Recipe: How the famous Jókai bean soup is made
7 reasons women don't get wet even when aroused
4 diet changes that may help ADHD symptoms, according to a dietitian
Speaker Wetangula bans MPs from wearing Kaunda suits in Parliament
10 green flags women ignore in men when watching out for red flags
Meet Mathias Kavita, China-trained acrobatics coach behind successful acts at Sarakasi Dome
7 advantages of having children in your 30s