Oliver Mathenge, Ferdinand Omondi discuss milestones in Kenya's media space
May 3 is dedicated to celebrating World Press Freedom Day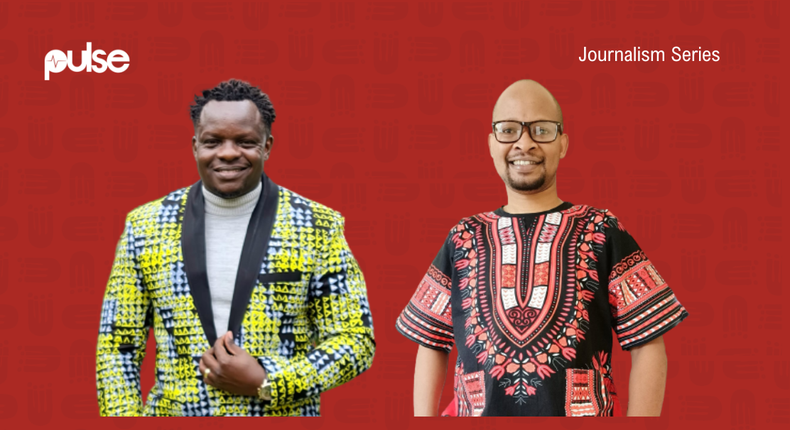 Journalism has undergone significant transformations in recent times and achieved several notable successes.
In Kenya, journalism has contributed to greater transparency, accountability, and social change. The proliferation of digital media platforms and citizen journalism in Kenya has provided opportunities for more diverse perspectives and independent reporting.
This allows for more alternative views and critical reporting of important events and issues.
Data-driven reporting has also emerged as a significant gain in Kenyan journalism. Journalists are increasingly using technology to collect and analyze data, leading to more accurate and impactful reporting.
Data visualization tools are also being used to present complex information in a more understandable way, allowing for greater public engagement and awareness.
This writer spoke to Ferdinand Omondi and Oliver Mathenge, both well-established journalists in the country. Omondi works with the British Broadcasting Corporation (BBC), while Mathenge is the audiences and engagements managing editor at Nation Media Group.
According to Omondi, there are many successes to be celebrated in the media space. Journalism has played its role in exposing corruption and other forms of malpractice within government institutions.
Investigative journalists have uncovered numerous scandals, including those involving misappropriation of public funds, land grabbing, and abuse of power by public officials. Omondi says this is a result of the bravery of journalists who stay true to their profession despite the hostilities presented in their line of work.
"One of the successes of journalism in Kenya is continuously telling the truth to power and staying true to their work in the face of increasingly hostile government policies. This is true of many honest, hardworking journalists. Special mention to regional correspondents who try to make sure we know what's happening even in the remotest parts of Kenya," Omondi says.
Pulse Live Kenya
How digital platforms have improved journalism and storytelling
Mathenge, on the other hand, praises the digital front journalism has taken, which he says has been crucial in telling stories better.
"Social media has become a major platform for distributing news content, and it has changed the way that news is consumed and shared. Smartphones have changed how people live their lives, and most organizations are now moving to mobile-first designs for their platforms.
"With the availability of large amounts of data, data journalism has become more prevalent. Journalists are using data to tell stories and provide insights that wouldn't be possible with traditional reporting methods," he says.
Journalism in Kenya also prides itself on being at the forefront of championing human rights and social justice. The industry has given a voice to marginalized and vulnerable members of society and brought their plights to the forefront.
The role of journalism in promoting democracy and transparency
In the socio-political corridors, journalism has contributed significantly to the development of the country's democracy by promoting free and fair elections. The industry has played a crucial role in educating the public on the importance of elections and the need to participate in the electoral process.
During the 2022 General Elections, the media provided extensive coverage of campaign rallies, debates, and election results, promoting transparency and accountability in the electoral process. Furthermore, the media played a vital role in monitoring and reporting cases of electoral malpractice, which led to the nullification of the presidential election by the Supreme Court of Kenya.
Pulse Live Kenya
Changes that need to be made to improve journalism in Kenya
While the profession boasts of these successes, a lot more can be done to improve how information is delivered to the public.
Ferdinand Omondi says there is a need for media independence as many newsrooms continue to be under the control of the political class, as well as harassment of journalists.
"We cannot ignore the harsh reality that Kenyan newsrooms, many times, are politically remote-controlled. We also have challenges with brown-envelope journalism. And there's the lingering matter of sexual harassment. These have no place in a civilized newsroom," Omondi notes.
Pulse Live Kenya
Mathenge on the other hand notes there is a need for journalists to collaborate more as well as increase transparency by disclosing their sources, methodologies, and any potential conflicts of interest.
"We have a lot of journalists embracing digital journalism faster than we have seen in the past. There is more collaboration among journalists which will also help ensure journalism remains respected," he adds.
Additionally, Mathenge says there is a need for media houses to undertake audience engagement to improve the quality of information given to the public.
JOIN OUR PULSE COMMUNITY!
Recommended articles
Eric Omondi & fiancée Lynne announces 2nd pregnancy
Dressing your toddler with style & comfort, according to AI
The smelly side of using a public gym - and what to do about it
What you should know about the Museum of failure
5 ways to protect your hair from heat damage
5 unique ways to use leftover fruit and vegetable peels
Burna Boy wears gender-neutral outfit, twins with Tracee Ellis Ross at his record-breaking concert
6 best home remedies to clear ugly pores
Why Rachel Ruto's Sh500K bicycle is a favourite for cyclists
Faith Kipyegon makes special dedication after shattering world record in Italy
Fred Arocho, Eric Njiru thrill fans as football season concludes [Photos]
Unleashing the power of M-PESA & its impact on mobile banking and sports betting
Comedian Arap Uria received by Senator Mandago after cycling from Eldoret to Nairobi
Thika Sports Club, next stop for NCBA golf series
Big Ted's inspiring message to Kenya's rugby community
Fitness influencer Shiv Simani joins fight against sports neglect by gov't
Kipchoge wins Sh7.4M prize in Spain
Ombachi shares how career-threatening injury pushed him into content creation