Akorino model Carey Priscilla welcomes 2nd child, shares cute photo
Congratulations Carey Priscilla and Benito Muriu!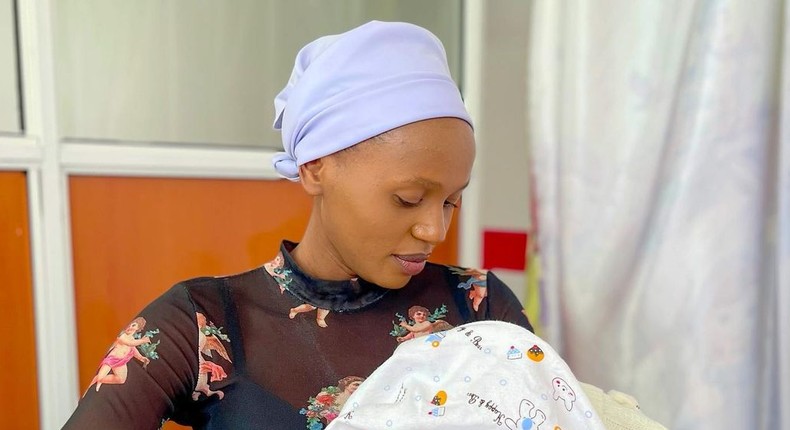 Akorino model Carey Priscilla and her fiancé Benito Muriu have welcomed their second child.
The couple announced the birth of their second child on their social media pages, only identifying the newborn as Baby M.
Carey revealed she broke her water while at her salon which her husband assumed to be a prank.
The content creator received congratulatory messages from fans and online.
breshykui Congratulations 🔥🔥🔥🔥🔥 God bless you and may Baby grow in Favor of God and Man
monicakirigomwangi Just love the way you carried that pregnancy so beautiful and with grace. I wanna be pregnant if it's like this😍😍😍
naomynaow Congratulations!! Slaying hadi kwa hosi??okay...
Carey Priscilla's pregnancy announcement
On October 12, 2022, the Instagram model and makeup artist announced that she was expecting her second child at a beautiful party in a Machakos hotel and invited some of their friends.
Among those that attended the event were singers Arrow Bwoy and Nadia Mukami.
Carey Priscilla and Benito Muriu
The couple welcomed their first child Sky Muriu in 2021 and kept his face off social media for six months before they finally shared it with the public.
The couple revealed that after discovering they were pregnant, they kept it a secret and didn't tell their family and friends about the pregnancy until she started wearing maternity dresses.
JOIN OUR PULSE COMMUNITY!
Recommended articles
Miracle Baby's girlfriend treated to surprise baby shower [Photos]
Badagry Slave Route: Slaves passed these 5 notable stops on their journey of no return
Here's why sleeping with your phone in bed can affect your health
6 ways to be an amazing boyfriend when your girl is on her period
7 weird things men find attractive in women
9 feminine hygiene tips every girl should know
10 outdated gadgets that will make you nostalgic
Fashion designer Diman Mkare announces expecting first child [Photos]
6 tips to enjoy rest when struggling to slow down