Mukhisa Kituyi deletes Twitter account amidst video scandal
Dr Kituyi has trended on social media for two consecutive days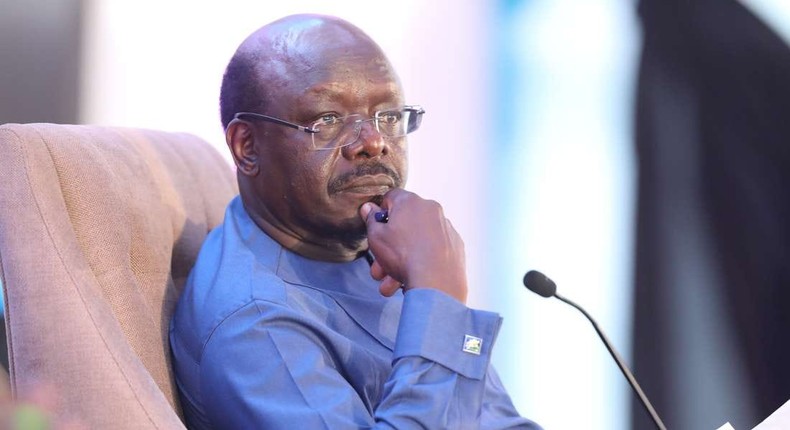 Dr Mukhisa Kituyi has deleted his Twitter account, Pulse Live can confirm.
The former UNCTAD Secretary-General made his unceremonious exit from the social media platform as a video alleged to be of him nude made rounds and went viral.
The handle that was formerly ascribed and verified under his name "Dr Mukhisa Kituyi" went dark with Twitter reporting: "This account does not exist".
It would seem that the diplomat was overwhelmed by the attention his Twitter handle was receiving with various users tagging him on their comments.
The account which mainly tweeted details of his political and professional opinions had thousands of followers before he deactivated it.
Dr Kituyi has remained mum even as his political allies condemned the publication of such a compromising video of the former Member of Parliament (MP).
The circulating video showed a man who appeared to be the former UN envoy stripped to his birthday suit and seemingly asleep.
The video elicited wild reactions among Kenyans online, some who estimated that it would affect his declared presidential aspirations and some who insisted that they still believed in his bid.
Presidential aspirant caught up in leaked nude video scandal
Dr Kituyi confirmed that he would be vying in the upcoming General Election in a statement posted on January 3, 2021.
"We should not confuse political tactic with political purpose, people should not tell us why they want to be president but tell us the reason they want to win power," he stated at the time.
Only a week ago, Dr Kituyi was reported to the police by a woman in Mombasa who claimed that he had assaulted her.
In the incident report, one Diana Opemi Lutta claimed that the presidential hopeful is her boyfriend.
She went on to narrate that on May 22, 2021, Dr Kituyi pushed her out of bed at a hotel in the Coastal county and she fell to the ground.
Diana went on to elaborate that the former UNCTAD Secretary-General also kicked her while she was on the ground which allegedly resulted in grievous harm to her left knee.
When reached for a comment on the incident, Dr Kituyi dismissed it saying that it is not true.
"I am aware of the said report. It did not happen," he stated and added in a separate interview, "I've never beaten any woman in my life nor do I intend to ever do it at any given time. We sorted out the case and it was withdrawn."
JOIN OUR PULSE COMMUNITY!
Recommended articles
It is troubling & unacceptable – eyes on Azimio as Martha Karua gives update
5 dead, 10 rushed to hospital in tragic Kericho-Nakuru highway accident
David Ndii explains why UDA MPs are rebelling against Ruto
CS Murkomen speaks on dropping out of Ph.D. course twice
Paul Mackenzie handed 2 sentences without option to pay fine
Is U.S. probing Uhuru links to $2B Eurobond? Ex-CIA correspondent responds
Karen Nyamu educates senators on hidden meaning of 'Aluta' club trend
Senate to probe 2023 KCPE discrepancies before students join secondary school
Itumbi defends Raila-diehard Nuru Okang'a after his arrest