Kitui County
Kitui County constitutes eight constituencies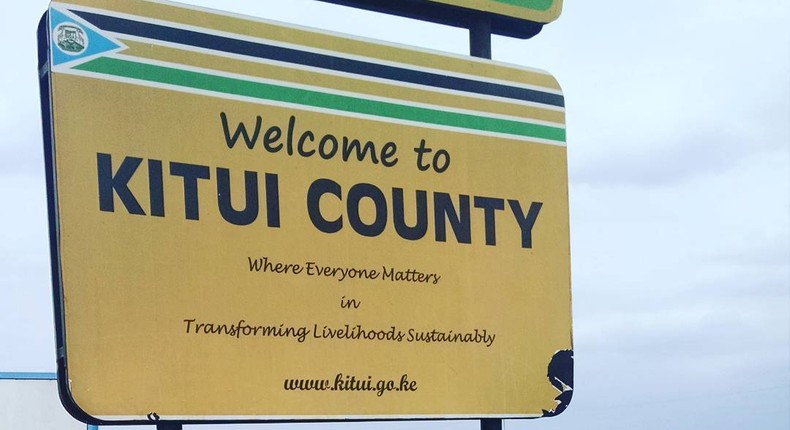 Kitui County is located in the former Eastern Province of Kenya, about 160 km east of Nairobi.
It is one of the largest counties in the country covering an area of 30,496.5 square kilometers.
Kitui shares its borders with seven counties; Tharaka Nithi County and Meru County to the north, Embu to the northwest, Machakos and Makueni to the west, Tana River to the east and southeast, and Taita Taveta to the south.
The name Kitui means 'a place where iron goods are made'. The Kamba iron-smiths who settled in the county many years before the colonial period are the ones who named the area Kitui.
Kitui County constitutes eight constituencies: Mwingi North, Mwingi West, Mwingi Central, Kitui West, Kitui Rural, Kitui Central, Mutito and Kitui South.
The county's top leaders are Julius Malombe (Governor), Moffat Kangi (County Commissioner), David Musila (Senator) and Nyiva Mwendwa (Women Representative).
Other top leaders in Kitui County include Mati Munuve (MP-Mwingi North) , Bernard Kitungi (MP-Mwingi West), Joe Mutambu (MP-Mwingi Central), Francis Nyenze (MP-Kitui West), Charles Nyamai (MP-Kitui Rural), Benson Mulu (MP-Kitui Central), Marcus Muluvi (MP-Mutito) and Rachael Nyamai (MP-Kitui South).
About the People of Kitui County
1,012,709 people (male - 48% and female - 52%) call Kitui County home according to the 2009 National Census. The main residents are Kambas - the fifth largest tribe in Kenya - making about 11% of the country's population. Kambas are famous for their wood/soapstone carving and basket weaving skills. They are also involved in livestock rearing, subsistence farming and hunting.
Other communities who live in the county in small numbers include Ameru, Tharaka, Aembu, Kikuyu and Somali, who primarily do business or are in formal employment.
Religion and Traditional Culture in Kitui County
Majority of the people living here are Christians, with Roman Catholics making about 15% of the county's population. Other Christian denominations in the county include the African Inland Church (AIC), Redeemed Gospel Church, Independent Presbyterian Church (IPC) and many others.
Kitui has a significant number of Muslims and several mosques can be spotted around the county's urban centres.
Few Kambas still hold on to traditional beliefs. They believe in a god called Mulungu or Asa - the creator of life on earth. Traditionally, the role of the Kamba men was hunting, cattle herding, carving and other manual activities. Women raised the children and tended to the farms.
Major Towns in Kitui County
Located about 180km from Nairobi, Kitui is the headquarters of Kitui County. The town is a moderately busy commercial centre with shops selling foodstuffs and farm inputs.
Among other commercial centers, it has a cotton ginnery where cotton farmers in the county can sell their produce.
Located along the Thika-Garissa road, about 210km from Nairobi, Mwingi is a stopover on the way to Garissa. In the past few years the town has enjoyed rapid expansion, thanks to the rising traffic to and from Garissa, which has seen supermarkets, hotels and banks increase in number.
Other urban centers in Kitui include Kabati, Migwani and Ikutha.
Climate and Weather in Kitui County
Kitui County is mostly dry and hot with temperatures ranging between 14°C during the coldest months (July-August) and 34°C during the hottest months (January-March).
The county receives between 500mm and 1050mm of rainfall annually, with average rainfall of 900mm a year. It has two rainy seasons; May-June (long rains) and September-October (short rains).
Economic Activities in Kitui County
Agriculture is the backbone of Kitui County. In the highlands of Kitui, farmers are involved in subsistence agriculture - mainly growing cotton, tobacco, sisal, mangoes, maize, beans, cassava, sorghum, millet and pigeon peas. These crops are well adapted to the climatic conditions of Kitui. Crops produced are consumed locally with the surplus being sold to traders from Nairobi and neighbouring towns.
In the lowlands, farmers keep livestock - mainly cattle, sheep, goats and chicken - as a means to supplement crop farming as their source of income.
Tourism is a low-key economic activity with some of the residents building hotels and lodges that serve visitors coming to the main towns for business and leisure, Mwingi National Reserve, South Kitui National Reserve as well as the Tsavo East National Park.
These tourist attractions also offer a thriving market for local artefacts such as baskets and soapstone/woodcarvings - another major source of revenue to the people of Kitui.
Health Facilities in Kitui County
Kitui County has several hospitals and health centers to meet the health needs of residents, among them Kitui General Hospital, Kitui Nursing Home, Nema Hospital, Jordan Hospital, mission-run hospitals such as Muthale Mission hospital and some private health centers.
Education in Kitui County
There are 1,096 primary schools and 181 secondary schools in Kitui County, serving 328,528 pupils and 46,100 students respectively. The county's Teacher to Pupil Ratio is 1: 41 for public primary schools and 1:34 for public secondary schools.
Some of the top high schools in Kitui include St. Charles Lwanga School, Kitui High School, Muthale Girls Secondary School, Mulango Girls High School, Matinyani Secondary School, Mutonguni Secondary School and Kisasi Secondary School.
Institutions of higher education in the county include Nairobi University (Kitui Campus), Kenyatta University (Kitui Campus) and the Kenya Medical Training College (KMTC-Kitui).
Notable Personalities in Kitui County
Famous people who hail from Kitui County include the first black Chief Justice of Kenya Kitili Mwendwa, the current Chief Justice and President of the Supreme Court of Kenya Dr. Willy Mutunga, former Vice President of Kenya Kalonzo Musyoka, politicians Charity Ngilu and Nyiva Mwendwa.
Others include 1992 IAAF World Half Marathon Champion Benson Masya.
Places of Interest in Kitui County
The main tourist attractions in Kitui are the South Kitui National Reserve and the Mwingi National Reserve. Located to the north of Tsavo East National Park, the 1,833 sq km South Kitui National Reserve is a celebrated sanctuary for primates. Some of the animals that can be found here include elephant, leopard, lion and giraffe among many other animal species.
The 745sq.km Mwingi National Reserve is one of the four parks that form the Meru Conservation Area. The reserve is home to a significantly low population of wildlife including buffalo, hyena, warthog and hippopotamus.
JOIN OUR PULSE COMMUNITY!
Recommended articles
Pilots fall asleep before landing, watch what happened next [Flight Track Video]
Why Uhuru is silent on Ruto's win - Lawyer Steve Ogolla explains
National Assembly gives way forward on first sitting of 13th Parliament
Police hunt for duo in connection with murder of IEBC returning officer
US Congress delegation meets Raila Odinga in post election visit
Sakaja and Igathe's lunch meet elicits positive reactions
Jaguar, Sabina and Mbadi get tickets to parliament
Dying is illegal in these 7 places
Ruto's swearing-in will go on without Uhuru, Gachagua asserts