Kenyans give verdict after MP Salasya fumbled on explaining climate change
Kenyans pointed out how Salasya struggled to convey his message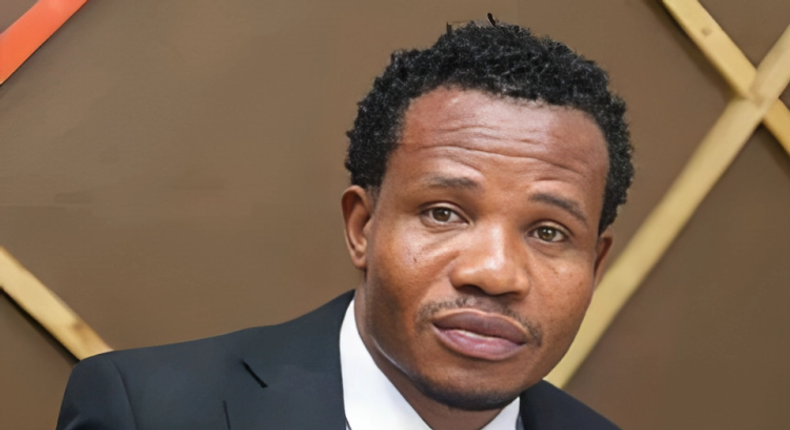 Mumias East Member of Parliament found himself trending after an interview about climate change was uploaded online.
Initially, Salasya was asked why people had gathered at KICC, to which he explained it was due to climate change, emphasising its reality in light of global warming.
Salasya went on to share an example from his recent trip to Mombasa, where he inquired about the unseasonably cold weather. He was told that the sun's intense heat was causing the ice to melt.
Mumias Easter Member of Parliament Peter Salasya
"I think I was in Mombasa last week and it was so cold and I asked them what was not happening.
"They told me it's because of...ati jua imekua mingi, ice inamelt. Ikishamelt so nini inakua baridi, hio nini," Salasya said.
Salasya was then asked how he was championing climate change, to which he responded by highlighting his role as the representative of rural constituencies.
He explained that in these areas, many people rely on firewood, but he was advocating for more environmentally friendly alternatives.
Mumias Easter Member of Parliament Peter Salasya Pulse Live Kenya
"Being from the rural constituencies, they use most of the time kuni and now we are advocating for use Koko Jiko and other things like those ones," Salasya said.
Those who interacted with the video of Salasya being interviewed had varying reactions, with the majority calling him out for struggling to construct complete sentences while explaining his points.
Social media reactions
_rodojodo_ How to say 'stay in school' without saying stay in school.
otao_alex Kizungu watu wangu😂..eeeee aaaaa weeee wiiiii kuuuuu wowowowo
prezzo254 Next time ur not sure of ur answer sema "No comment, No comment" it works wonders.
faimadrip Pilau is the leading cause of deforestation in the coastal region 😭cause hizo vijiti zote kwa mchele surely.
MP Peter Salasya Pulse Live Kenya
baby__ras Sasa warrathis😂How can someone be a leader but can not make a single sensible statement? Does he even know the difference between weather and climate? Not to mention kuni, government, gas, tax zinaingilia wapi? Jesus
djmashagram Sijui kwanini anafanana na msee wa the gods must be crazy movie.
eye_candy_kev He actually talked sense..kweny what do you people know about climate change...he said there is change in weather patters...talk about kuni.. deforestation..talked abou Mombasa kuna baridi..that's increased precipitation..ama what are your points guys...?
JOIN OUR PULSE COMMUNITY!
Recommended articles
Waititu's Sh2B assets & bank accounts frozen as EACC scores another victory
Senator Cherargei's radical proposal to extend presidential term limit to 7 years
Ruto's chief of staff sides with PS against CS Alice Wahome
Jalang'o reveals the millions that Raila splashed on him
CS Murkomen catches NTSA staff unawares during impromptu visits [Video]
How Sh160M disappeared from NIS staff sacco
TSC fires 73 teachers amid disciplinary issues
Irvo Otieno's family gets Sh1.2 billion settlement after his death
Nairobi County Gov't announces temporary closure of Railway Matatu Terminus