It will end in premium tears - Fans React to Huddah's engagement to a Persian
Huddah Monroe sends shockwaves through social media with her surprise engagement announcement to a Persian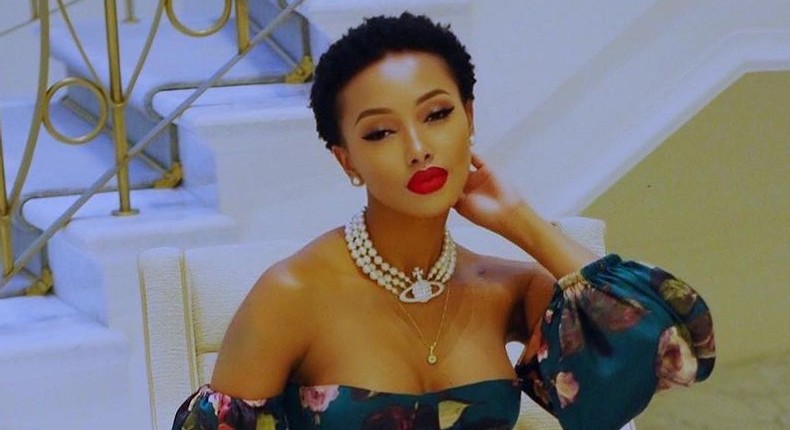 Renowned businesswoman and socialite Huddah Monroe recently sent shockwaves through social media with her surprise engagement announcement on November 14.
The Instagram sensation posted pictures capturing an unidentified person seemingly proposing to her, accompanied by a caption expressing her unexpected journey to finding love, especially with someone of Persian descent.
"Never have I ever thought a Persian man would take my heart & run off with it," she wrote.
Huddah's low-profile love
Known for her bold and outspoken personality, coupled with a lavish lifestyle, Huddah has kept her private life under wraps lately. This engagement marks a significant departure from her usual discretion.
In the past, Huddah's public relationships, notably with rapper Prezzo after participating in Big Brother Africa, have been a subject of public scrutiny.
Fans' reactions to Huddah's alleged engagement
Despite the seemingly joyous occasion, Huddah's engagement stirred mixed reactions among her fans. Some congratulated her, while others expressed skepticism, suggesting that it might be another staged publicity stunt.
Drawing parallels to Akothee's short-lived marriage, a section of fans predicted a brief duration for Huddah's newly announced engagement, questioning its authenticity.
Pulse Live Kenya
Here are some of the reactions
thetrendymood_254 You cannot domesticate a wild animal that has tasted the wild. It will end in premium tears
girl_sobey Always the ones with stable relationships telling us to fear men
king_acarpel Huyu ameamua kununua gazeti saa kumi na mbili jioni.
mez_modelo Hata mimi naamini soulmate wangu sio mkenya
mghoi1963 Na ndio alikua anadanganya watu juzi ati waolewe na 35
Marriage Advice from Huddah
Pulse Live Kenya
She often advises young women against rushing into early marriages and emphasied that the foundation of a marital union should go beyond physical intimacy or responding to a cheating spouse.
Instead, she advocates for the importance of building a family as the primary motive for entering into matrimony.
Huddah's Persian connection
The revelation that her prospective fiancé is Persian adds an intriguing cultural dimension to Huddah's love life.
Pulse Live Kenya
The unexpected nature of the engagement and the partner's cultural background have added fuel to the speculation surrounding the authenticity of the announcement.
Recommended articles
Karen Nyamu declares war on 'Aluta Sunday' entertainment joints
Kenzo steps ahead of Cindy as he talks copyright with Museveni
Busta Rhymes describes working with Burna Boy as an incredible experience
Pastor Ng'ang'a surprises hawkers with Sh410K cash donation and business tips
Laika says Harmonize slid into her DMs; paid for Zanzibar, Dar trips
MPs shower TV47 presenter Lizah Mutuku with cash at graduation after-party [Video]
Ruth K recounts Mulamwah's reaction to news of unplanned pregnancy
Destiny's Child reunited at Beyoncé's 'Renaissance' film premiere — take a look
Diamond hangs out with Shakib as Zuchu shares moments with Zari [Video]