Karen Nyamu back with Samidoh, Matubia lands new leading role & more stories on #PulseUhondoMtaani
#PulseUhondoMtaani - Sanaipei Tande reveals why she left drama series 'Kina'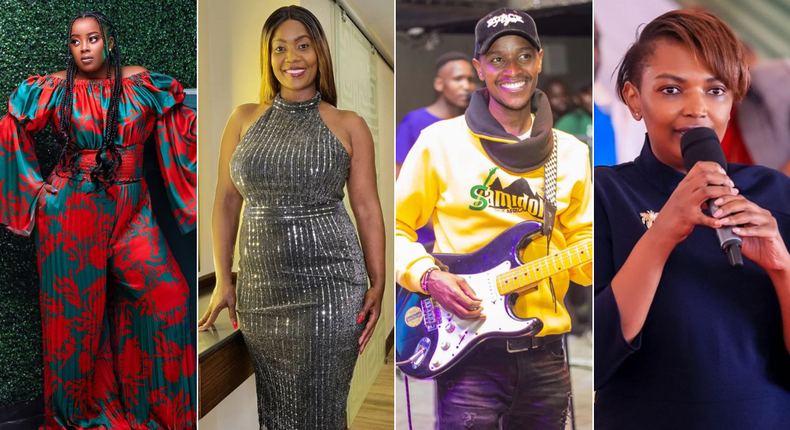 Mugithi singer Samidoh Muchoki and his baby mama have caused a conversation online after they were spotted together again.
The last time the two were together was during a Dubai concert where drama erupted. This and more stories make the stories that made headlines this week. Here are the stories that made headlines this week:
Karen Nyamu, Samidoh leave fans guessing after being spotted together
Mugithi singer Samidoh Muchoki and Senator Karen Nyamu have left their fans with questions after being spotted together again.
Nyamu and Samidoh's relationship has been a topic of discussion in Kenya's online space, and the two have had their ups and downs as they navigate their love life.
The two were all smiles in the pictures shared by Karen Nyamu on her social media pages.
This appearance comes months after a publicized fracas between Nyamu and Samidoh's wife Edday Nderitu during a club concert in Dubai.
After public outrage over the drama, the senator had announced she had broken up with the mugithi artist.
Nyamu said she was not ashamed of her actions but vowed not to be caught up in similar predicaments in the future.
Edday Nderitu speaks after Samidoh was spotted with Karen Nyamu again
Mugithi singer Samidoh's wife Edday Nderitu has finally broken her silence after photos of her husband with nominated senator Karen Nyamu surfaced on social media.
In a statement she wrote on her social media pages, Edday poured her heart out about the pain and humiliation she has been experiencing in their marriage.
Edday expressed her disappointment and frustration with her husband's actions. She revealed that their marriage has been full of ups and downs over the past 15 years and that the past three years have been particularly painful.
"It has been exactly 15 years of marriage full of ups and down, it was a humble beginning where little was enough for us, but for the last 3 years it has been nothing but pain, I have remained faithful to you regardless of disrespect, humiliation and being trolled on social media, you've made me look dumb and took my silence for granted," Edday said.
Pulse Live Kenya
Edday went on to relay her disappointment with her husband's behaviour despite supporting his talents and how it has affected her and their children. She made it clear that she will not tolerate a polygamous marriage.
"I have helped you nature your talent and supported you through it all, but one thing I have said to you and I am saying here again I will not raise my kids in a polygamy family, especially with a woman who is older than me by more than 10yrs, has no morals and zero respect to my family.
"I have asked God every day to give me strength to pray for you but today I have nothing to tell God about you, you have drag and put me and my kids in an ocean of pain may you remember this," Edday said.
Radio Maisha unveils new faces after departure of key presenters
Beatrice Maganga and Hassan Ali Kauleni both quit Standard Group recently after being employees of the company for 13 years.
Standard Media Group has unveiled a number of presenters as Radio Maisha tries to bounce back from the setback.
The following are some of the changes that have taken place at the company.
Anthony Ndiema
Anthony Ndiema has been appointed by Radio Maisha head of the station as the new after making a comeback at the Mombasa Road-based station.
Ndiema who had been away to pursue further studies at Daystar University will oversee how all programmes are run at the station.
Ndiema who was elated after his appointment in the top office stated that he is happy to be back on board and that he will help the station to realise its dreams.
Pulse Live Kenya
"I never left, really, as I have been doing the graveyard shift on Radio Maisha even as I pursued other interests. All in all, I am happy to be back on the saddle working with the great Tom Japanni to steer Radio Maisha to even greater heights," he said.
True to his words, Ndiema's Instagram page shows that he has been in contact with the Standard Group from the videos and photos that he has been posting occasionally.
Solomon Zully and Kassim Mbui
Solomon Zully and Kassim Mbui have joined Radio Maisha after working in Mombasa. Zully worked as a presenter at Radio Kaya.
The duo will be joined by Wycliffe Okumu who was a presenter at Baraka Radio, which is also in Mombasa.
Nzula Makosi
Former Switch TV and MediaMax presenter Nzula Makosi will be part of the new team that has been unveiled at Radio Maisha.
Pulse Live Kenya
A joyous Nzula expressed her gratitude to the Standard Group company for giving her a chance to do what she loves most, broadcasting.
"I am coming back to what I love, radio. Thank you Standard Group for giving me this chance to reconnect with Kenyans on the biggest radio station," she said.
Back in action, Jacky Matubia lands lead role in new project
Award-winning actress Jacky Matubia has revealed that she will be gracing the screens soon after landing a lead role in a new project.
The mother of two shared the good news through a video on her Instagram stories on Thursday.
In the video, Jacky is sitting comfortably, going through several scripts.
Pulse Live Kenya
Matubia, who indicated she was at the actor's lounge at the time, did not give the specific dates when the project will drop or the title.
However, she has told her fans to expect something hot. Jacky said she is working on something that her fans will love.
"At the actor's lounge, going through my scripts. Hii nayo mtapenda! Your girl is finally a lead actor!" she captioned the post.
Cebbie Koks sets record straight on Rue Baby's graduation
Cebbie Koks Nyasego has defended Akothee's daughter Rue Baby amidst a rumour that she did not graduate from Strathmore university in 2021.
The businesswoman has stated that Rue indeed graduated from Strathmore University, and there is enough evidence to prove it.
"Rue Baby is a graduate! Self-evidence is self-explanatory, and you can also google her name from the 2021 class. What is so difficult?" Cebbie Koks wrote on her Instagram stories.
According to Cebbie, the Okeyo family is educated, and they do not have to explain that to anybody who thinks otherwise.
Pulse Live Kenya
Do we even have to explain to you? We go to school, and when we do it, we don't stop till the end! Cebbie stated.
Cebbie Kok's remarks come a day after her sister Akothee posted comments from some fans who accused Rue baby of making up her graduation.
According to the comments shared by Akothee, some of her fans believe that Rue baby wore the gown that her sister Vesha Okello used when she was graduating in 2020 from the same school.
Frasha announces final performance, ending 23-year career in music
Francis Amisi, alias Frasha, of P-Unit on Thursday morning announced his retirement from music after being in the industry for 23 years.
Frasha, who also dabbles as a licensed physiotherapist, said that he will be performing for the last time today, which also happens to be his birthday.
"23 is a magical number for me, 2023 is a magical year for me and 23rd is when I bid the game goodbye officially.
"Thursday 23rd, 2023 will be my last public show and also my birthday party. Come join me as I give the last bow and celebrate my musical career. It's a new dawn. Making moves 2023," wrote Frasha.
Pulse Live Kenya
Gabu and Bon-eye have not commented yet on the news that Frasha is quitting music after 23 years.
Frasha who has been in the game for a long time, has always been at the forefront to fight for musicians' rights and this is evident from the interviews he has attended and the video clips he has shared on his social media platforms.
The veteran musician vied for the Athi River Member of the County Assembly in 2022 but he failed to clinch the seat despite being vocal during the campaigns.
Eric Omondi's time with the state for staging demonstrations
Comedian Eric Omondi on February 21 staged demonstrations decrying the high cost of living.
A shirtless Omondi in chains chanted 'Bado mapambano' at the gates of Parliament, saying the cost of basic amenities had gone way up.
Accompanied by over a dozen protestors, Omondi blocked Parliament Road as they raised plackcards detailing the issues they were complaining about.
The protests were however cut short by police who lobbed teargas to disperse the them, as officers arrested Omondi.
Speaking after being released on a Sh10,000 cash bail by the Milimani Law Courts, Omondi made it clear to the public that he won't keep quiet until the government comes through for Kenyans.
Pulse Live Kenya
"Calling on all Kenyans with CVs but without a JOB to print their CVS and have them ready, PARENTS without School fees to print fee structures, and Families without Basic needs to write down a list of what they need.
"Anyone without rent ask your LANDLORD to give you a printed copy of your Areas. We will take all this to STATEHOUSE," read Omondi's caption.
Omondi clarified in the video that he shared on his socials that he is not part of any political outfit and that his main agenda is the livelihood of Kenyans.
"I want to clarify that I'm not part of any political outfit. I am not part of Azimio or UDA. Our agenda is Kenyans, the livelihoods of Kenyans.
"Our agenda is unga [maize flour], kerosene, taxes, and money in the pockets of Kenyans. Hunger does not discriminate. Hunger does not care about your tribe and your landlord does not care about your political party and that is why we need food on the table of every Kenyan," stated Omondi.
Omondi shifted his speech to President William Ruto by saying that he went to parliament but he was not received as expected.
I don't take your negativity to heart - Wahu responds to body shaming remarks
Kenyan musician Wahu Kagwi has responded to body-shaming remarks posted under a photo she shared on her social media pages.
The mother of three expressed disappointment at her fans who are busy checking out her weight instead of focusing on the importance of the journey ahead on her new milestone at the Talanta Hella Initiative.
'So yesterday I posted a picture of myself during the first joint committee meeting under the Talanta Hela initiative, saying how excited I was about where we're going....but, what took precedence on that is the amount of weight that I've gained.
The 'Sweet Love' hitmaker has acknowledged that she has indeed added weight, but it is a natural thing that happened when she was pregnant with her third-born daughter.
Pulse Live Kenya
"Sure, I have added a lot of weight. 22.5 kgs to be exact actually, for those who know me, I always add weight. When [I was] pregnant with Tumiso, I added 27kgs," she explained.
The 'Sitishiki' singer took issue with women who she expected would have understood her but were the first people to throw negative comments on the post.
"In the first couple of minutes of the post, there were quite a number of distasteful comments. Unfortunately, many of these were by women.
"These were overtaken by an overwhelming number of +ve comments, again, the majority being by women," she wrote.
Lil Maina announces grandfather's death in emotional post
Jeremy Maina populalry known as Lil Maina, a rising star in the rap scene, has shared an emotional message on his Instagram page announcing the passing of his beloved grandfather.
The rapper expressed his love and admiration for his grandfather, whom he called Babu, in a touching tribute that has since garnered an outpouring of support from his fans and fellow artists.
"I don't know what to say babu, I will always have you in my heart. It is not the same without you, it will never be. The best grandfather to me and to everyone. I will miss you so much," Lil Maina wrote.
Pulse Live Kenya
The rapper went on to thank his grandfather for his unwavering support and for being a positive influence in his life.
"Thank you for making me who I am today. Thank you for the support, thank you for raising me," he wrote. "I love you babu. Till we meet again," the rapper added.
The young creator has featured his grandfather in many of his videos, making a popular figure among his fans. Lil Maina did not reveal the cause of his grandfather's death.
Sanaipei Tande sets record straight on her departure from drama series 'Kina'
Singer, and actress, Sanaipei Tande has explained why she is leaving the TV series 'Kina', putting an end to the speculation surrounding her departure.
"Many of you are aware that I am no longer playing the role of Nana Tandala in the ongoing series KINA. There has been a lot of speculation as to why this is, with an array of reasons being thrown around.
"For clarification and accuracy, I chose to leave due to exhaustion and consequently much-needed rest," Tande said.
Tande went on to explain that, due to the nature of the show, it was necessary to find a replacement to allow viewers to continue enjoying the series. She expressed her gratitude to her fans for their support and messages of concern.
Pulse Live Kenya
"I thank each and every one of you who has shown great love, support and concern through numerous messages, comments and compliments. I assure you I have read ALL of them," Tande said.
Despite her departure, Tande expressed her fondness for the character of Nana Mandi Tandala and all that the role entailed.
"I thoroughly enjoyed my time as 'The Great Nana Mandi Tandala' and all facets of this phenomenal character. I will surely miss it," Tande said.
She also thanked the cast and crew of 'Kina', which she called her family, as well as the production companies that made the show possible.
Recommended articles
Anne Kiguta's Biography: Age, education, career, net worth, husband & children
Nadia features Arrow Bwoy in 'Mi Nawe' & 7 other fresh releases this week
Njoro of 'Papa Shirandula' hospitalised after car overturned
Vigeugeu - 6 Kenyans in a dance of contradictions
Meet Mwanaasha Johari: The fearless blind protagonist of 'Sultana' series
Eric Omondi jets off to the U.K. for lunch after CS Kuria's remarks
Jalang'o exposes lavish lifestyles of creators opposing 15% tax
KTN News loses its 1st sports presenter in mass exit
Wilbroda & Alex Mwakideu clash over education on air
Faith Kipyegon makes special dedication after shattering world record in Italy
Fred Arocho, Eric Njiru thrill fans as football season concludes [Photos]
Unleashing the power of M-PESA & its impact on mobile banking and sports betting
Comedian Arap Uria received by Senator Mandago after cycling from Eldoret to Nairobi
Thika Sports Club, next stop for NCBA golf series
Big Ted's inspiring message to Kenya's rugby community
Fitness influencer Shiv Simani joins fight against sports neglect by gov't
Kipchoge wins Sh7.4M prize in Spain
Ombachi shares how career-threatening injury pushed him into content creation