It starts afresh every week! Georgina Njenga's response to body count question
Georgina Njenga has also revealed some of her celebrity crushes, including Butita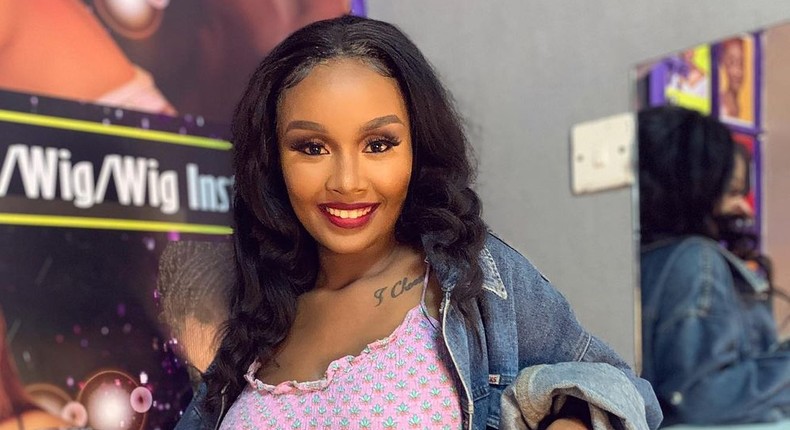 Tyler Mbaya's ex-girlfriend, YouTuber Georgina Njenga, has cleverly answered the question about her body count.
In an interview with content creator Flossy Tukid on Sunday, Georgina also opened up about other aspects of her life, including her ideal man and financial expectations.
Georgina Njenga's body count
One of the most intriguing moments in the interview occurred when Georgina was asked about her body count — a term often used to inquire about the number of previous sexual partners.
Initially, she responded with a seemingly straightforward three. However, as the interviewer probed further, Georgina humorously revealed that her body count starts counting every week.
"Kila msichana body count inakuanga three. Yangu nayo per week we start afresh," Georgina said.
Georgina Njenga's ideal partner & financial expectations
The mother of one directly expressed that she could not date a broke man, stating that her ideal man should earn at least Shs100,000 or more.
Pulse Live Kenya
When asked about the most significant amount she had ever spent in a single day, Georgina disclosed that she had splurged Shs50,000 on a wig.
However, when questioned about the source of the funds, she playfully laughed it off, keeping that detail to herself.
Georgina Njenga's celebrity crush
Georgina revealed her celebrity male crushes in Kenya, including Tukid and Eddie Butita. Notably, Eddie Butita responded to Georgina's comment requesting her to love him more with actions, not just words.
Pulse Live Kenya
Georgina introduces new bae after breakup with Baha
Georgina Njenga and Tyler Mbaya, popularly known as Baha, had been in a relationship since 2020.
When asked how this new relationship differed from her previous one. Georgina revealed that she had never experienced such deep affection before. She noted that she was currently in a positive space emotionally.
Pulse Live Kenya
Georgina and her mysterious new partner even went ahead to get matching tattoos shortly after publicly acknowledging their relationship.
Despite her breakup with Baha, the two have been successfully co-parenting their child, Astra Kamau.
Recommended articles
MCA Tricky shares his master's grades as he enters final year of study in engineering
John Allan Namu's brainchild marks 8 years, he reveals major lessons learnt
10 male singers who immensely benefitted from collaborating with Sheebah
Kate Actress outshines 9 top African thespians to be crowned Actress of the Year
Sonnie Badu criticises absentee fathers, says they are 'useless'
Wakadinali biggest winners as Spotify unveils most streamed artists in Kenya [List]
Proud mummy moment for Pierra Makena as daughter's talent secures her a movie deal
Iyanya advices happily married couples to keep off social media
Yvette Obura recalls pre-birth struggle as she marks daughter's 8th birthday