Wahu and Nadia discuss mom struggles that can't be solved by fame & money
Singers Wahu Kagwi and Nadia Mukami spoke to this Pulse writer about how they approach motherhood, despite being in the public limelight.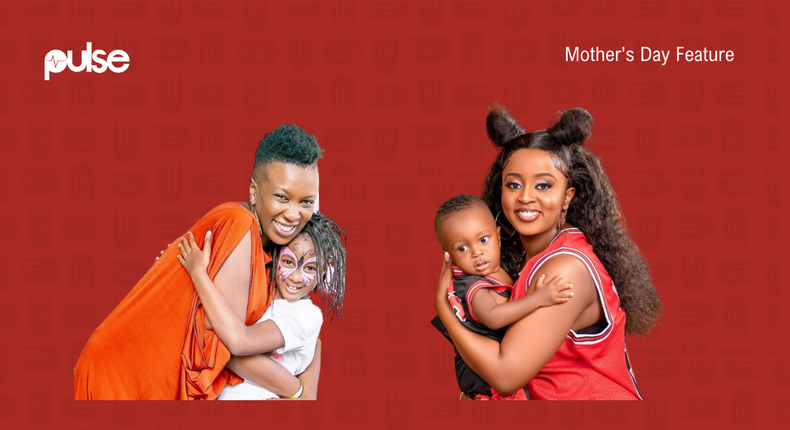 In the era of the internet and social media, celebrity moms are often portrayed as epitomes of perfection.
Their flawless appearances on red carpets, lavish lifestyles, and seemingly effortless juggling of careers & family life can create an illusion that fame and fortune shield them from the trials ordinary mothers encounter.
However, motherhood is a journey that transcends all boundaries of fame, wealth, and status.
Behind their perfect Instagram posts, celebrity mothers face challenges that cannot be solved by their societal status, like trying to keep their children safe & healthy, navigating the ups and downs of their children's education & social lives, and trying to find time for themselves amidst it all.
This writer had the opportunity to speak with singers Wahu Kagwi and Nadia Mukami, who shared the challenges they face in the public limelight while striving to be the best mothers to their children.
Wahu prioritises raising socially responsible children and healthy emotional attachment to children
Wahu, a mother of three, is among the few celebrity mothers whose children's and family's lives have been fully exposed to the public eye.
Despite the constant scrutiny, Wahu has managed to achieve tremendous success in her career while still juggling the responsibilities of raising her children and prioritising her family with hubby David Mathenge (Nameless).
Wahu, Nameless and their children Tumiso and Nyakio
She emphasizes the importance of raising socially responsible children who will fulfill their purpose. A value that cannot be instilled through fame and influence alone.
"The most important thing for me is to raise kids who are going to be productive and balanced in life and achieve their purpose.
"Mine is to ensure they are not affected by the attention they receive wherever they go because it can be a problem," says Wahu.
The 'Sweet Love' crooner also values an emotional connection with her children and understands the significance of connecting to their emotions and feelings.
She believes that this connection does not depend on a mom's societal status or financial capability, adding that fame and money cannot guarantee a parent this connection with their children.
"What a kid remembers in their life is not about how famous their parent was, it's about how they related," Wahu emphasises.
Nameless & Wahu holds an exquisite party for daughter as she turns 8 [Photos] Pulse Live Kenya
Wahu acknowledges the abundance of information available regarding celebrity parents, some of which may be true or untrue, and she recognises that this is something beyond her control at times.
Nadia Mukami on creating memories with Kai
For songstress Nadia Mukami, time is a precious commodity that cannot be bought with fame and wealth.
Therefore, she emphasizes the need to be intentional about creating lasting memories with children.
"Once you lose proper bonding with your child, even if you are busy when they are growing, no matter how famous or wealthy you are, you can't buy that back. Create memories with your children," says Nadia.
Pulse Live Kenya
Nadia also highlights that status and wealth cannot substitute good parenting nor should they determine how one raises a child.
Like all other parents, raising children is a process that has no precise formula. The 'Kai Wangu' singer advises taking it one day at a time, following motherly instincts, and avoiding comparisons with other children.
"One day at a time has worked for me, I learned that kids are different and following motherly instincts is important. Don't get caught up in comparing your own children to other children," Nadia advised.
In the age of the internet, Nadia emphasises the importance of parents protecting their children from excessive exposure to gadgets and social media.
She cautions that these factors can significantly influence their development and have irreversible effects on their lives.
Recommended articles
Comedian Duncan Ochonjo's wife and son turn up for his funeral [Video]
TikToker Nyako apologizes to Lulu Hassan after online outburst
Terryanne Chebet introduces special person as she marks 44th birthday
Celestine Wakavinye brought to tears in sold out 'TTNT 4' show at the KICC
Linda Oguttu addresses mjengo reports, why Auntie Jemimah is not ready for marriage & more stories on #PulseUhondoMtaani
MCA Jane Waruguru's glamorous baby shower [Photos]
Netizens divided after video of Mustafa asking for Sh1.5M goes viral
TikToker Nyako lectures Lulu Hassan over 'shosh' comments
Zari Hassan reveals Shakib's simple bride price that she asked for
Thika Sports Club, next stop for NCBA golf series
Big Ted's inspiring message to Kenya's rugby community
Fitness influencer Shiv Simani joins fight against sports neglect by gov't
Kipchoge wins Sh7.4M prize in Spain
Ombachi shares how career-threatening injury pushed him into content creation
Ruto donates millions after AFC Leopards beats Gor Mahia for 1st time in 7 Years
Ulinzi Stars midfielder returns from four-month injury layoff
Kenya's thriving sports culture: A deep dive into the country's passion for sports betting
The 8 largest events in Las Vegas 2023