Maureen Waititu reacts after Baby Daddy Frankie quashed reports of being a deadbeat father
Taking care of his kids isn't a favour. It's his responsibility- Maureen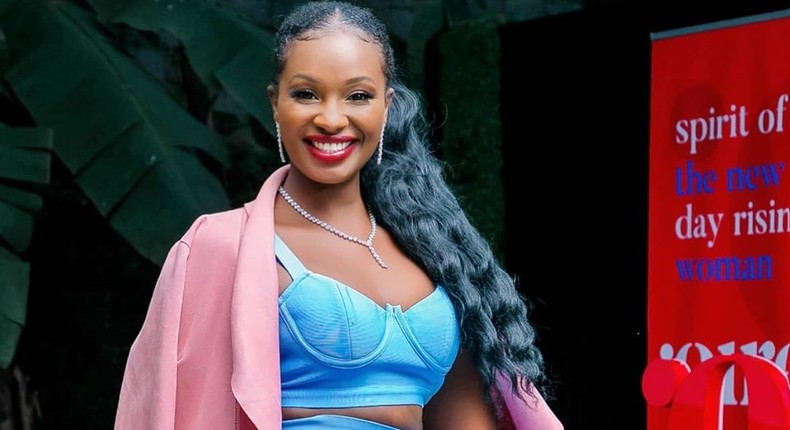 Responding to a DM directed her way, Ms Waititu said that Frankie taking care of his kids is not a favour but his responsibility as a father.
"Ask him to show you a receipt of the last shirt, haircut, entertainment or trip he took his kids. Ask him then you can come here and attack me. And taking care of his kids isn't a favour. It's his responsibility . You don't hear me going around telling the world what I do for me children. You should be ashamed of yourself," reads Maureen Waititu's reply that was made public by Blogger Edga Obare.
Frankie Flirting with Kwamboka
The mother of two went ahead to reveal that her Baby Daddy used to flirt with his currently girlfriend Corazon Kwamboka even when they were still together. She added that she has covered a lot of things Frankie put her through at the time they were still an item.
"Excuse me? Who are you to think that you know me? Do you know what I do for my kids? Do you know anything about what being a father is? Should I speak all the unspeakable things he's done to me for you to understand how much I have covered for that man? Di he or Kwamboka send you? You seem to be an advocate of theirs. Don't even think about coming at me without knowing the other side of the story.
Ps if by screwing around with a socialite who he was flirting with when we were still together and knocking her up is what you call getting a mate, I pity your kind of thinking.
You must have a very perfect life to be minding other people's business. Women like you are why the society has a problem… I wish you everything that man has put me through and you will remember why a person like me is maintaining her silence. Don't try me," replied Maureen Waititu in part.
Pulse Live Kenya
The response comes days after Frankie quashed reports of being a deadbeat Dad, saying he sends his baby mama Sh6k every week, pays Sh150K school for his son and on top of that Maureen stays in a house that belongs to him in Westlands.
"Each week I send money for my children's upkeep. Let me just be candid and say I send Sh6, 000 each week. Personally, I spend like Sh2, 500 on myself and I'm a fully grown man. I pay school fees, he goes to Montessori, he loves it there it's a private school. The school fees is not cheap at all, it's about Sh150k per semester. Paying 150K is not easy and there's a reason why he went to that school which I'm not gonna touch on. The arrangement I have right now is that my mom helps me out with a percentage of that school fees. We split it down the middle, up keep and school fees. My children had two nannies and I was paying for them until recently. My baby mama and I had an agreement on how we were going to be splitting the nannies fee. I pay a significant amount and then she tops it up and that's what we've been doing for the past year," Frankie said in a video he shared on his YouTube channel.
Pulse Live Kenya
JOIN OUR PULSE COMMUNITY!
Recommended articles
Benzema survives nasty road accident [Photos]
Singer Dela and Dr hubby announce they are expecting their first child [Photos]
Rev Lucy Natasha engaged to bae she's been seeing for 1 year [Photos]
Rick Ross posts teaser about Hamisa Mobetto's birthday after saucy Dubai trip [SCREENSHOT]
Rick Ross and Hamisa Mobetto video, Vera Sidika steps out looking snatched month after giving birth & other stories on #PulseUhondoMtaani
Kanye West shares photo kissing Kim Kardashian after admitting he wants her back
'I never said donate money to me' - Davido clears air on largess received from fans during CNN interview
Rema goes on a Twitter rant, after DJ Neptune presumably releases his song without his consent
Rick Ross & Hamisa Mobetto's Dubai vacation makes headlines in US [Video]