Eric Omondi & fiancée Lynne announces 2nd pregnancy
Kenyan comedian Eric Omondi and his long-time girlfriend Lynne are expecting a child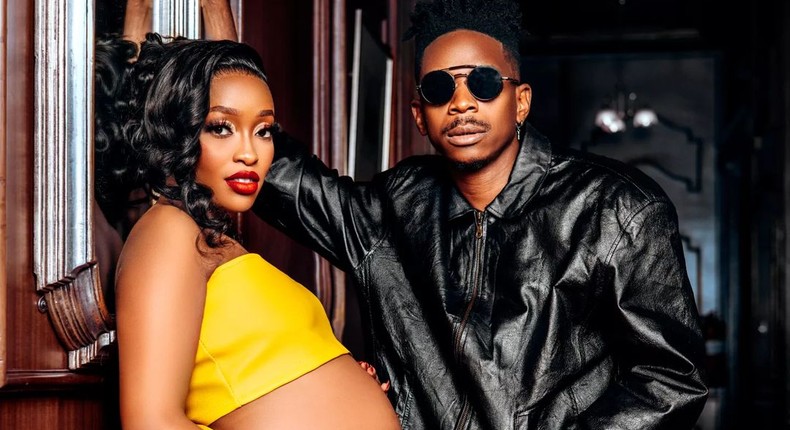 Kenyan comedian Eric Omondi and his long-time girlfriend Lynne are expecting a child together.
Taking to Instagram on Thursday, the excited Omondi expressed his gratitude to God for this blessing and thanked his fiancée, Lynne, for making him a father once again after the couple experienced the loss of their first child.
At the age of 41, Omondi is overjoyed to finally become a father. In his Instagram post, he likened his experience to that of Sarah from the Bible, who patiently waited her entire life for a child of her own.
The comedian expressed his deep appreciation to his partner, acknowledging her role in bringing this happiness into their lives.
The couple's journey hasn't been without its challenges. They previously suffered the loss of their first child, making this pregnancy announcement even more special.
Pulse Live Kenya
Omondi expressed his gratitude to God for returning their baby to them, emphasizing the significance of this blessing.
"It has taken me 41 years but finally God has blessed me with my own. The Fruit of my loins. I feel like Sarah of Abraham of the Bible, she waited all her life for a child of her own.
"Thank you baby for making me a father. And to God thank you for returning our baby to us. Write a 300 words article using information above," Eric Omondi wrote.
Pulse Live Kenya
Eric Omondi & Lynne's relationship
In September 2022, Lynne posted a video of her and Eric smooching on a boat cruise, stating that she loved doing life with Eric.
She later revealed through a Q&A session with her fans that Eric Omondi was her man, confirming they were in a relationship.
Eric Omondi announces Lynne's miscarriage
In November 2022, Eric Omondi shared a video of Lynne crying beside a hospital bed and announced that she had suffered a miscarriage.
"Last night was one of the Longest nights in my life .We fought for over 5 hours to try and save our little Angel but God had other plans," Eric wrote.
"We never met you but we sure felt you and will forever love you. Respect to all the women, no man on earth has that kind of strength. Lynne, stay strong...It is well," he continued.
Pulse Live Kenya
The couple has since received congratulatory messages from friends and colleagues
JOIN OUR PULSE COMMUNITY!
Recommended articles
Umlungu: Colourful history of a word used to describe white people in South Africa
Sarah Jakes Roberts stuns in Nigerian fashion brands for ministration in Lagos
5 great ways to look stylish with short hair, inspiration from Kambua
Here's why buying a car may not solve all your problems
4 lifestyle changes you should adopt to reduce risk of heart disease
10 simple nighttime beauty habits to practise before bed
Why you keep attracting emotionally unavailable men
Living in Nairobi's slums, you are 35% more likely to get high blood pressure than those in rural areas
3 things you should do if you plan on going through your partner's phone