DP Ruto's hecklers eat dirt, allies left flapping in the wind
This week on Pulse Opinion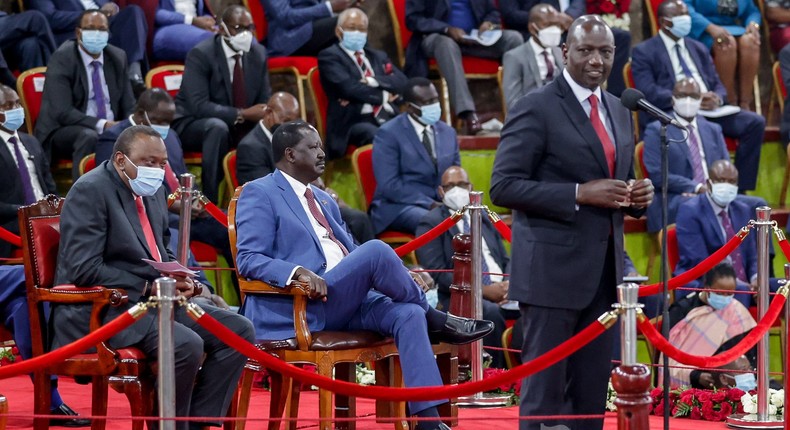 One of the most commonly used political quips goes: "There are no permanent enemies or friends only interests."
Perhaps one William Clay phrased it best as quoted by Forbes: "This is quite a game, politics. There are no permanent enemies, and no permanent friends, only permanent interests."
Monday October 26, 2020 was a perfect case study for this phrase as President Uhuru Kenyatta, his handshake partner Raila Odinga and their perceived rival Deputy President William Ruto came together to launch a report that the DP had reservations about.
Speaker after speaker hailed the report as the document that will finally resolve all political problems that have been plaguing our nation.
As protocol would have it, DP Ruto spoke right after former Prime Minister Odinga and before President Uhuru Kenyatta.
During the DP's speech, the whole room turned hostile with dignified honourables joining the crowd in "disagreeing loudly" with Dr Ruto for his outright dissatisfaction with the BBI report.
However, these hecklers would "eat dirt" when the President rose to speak and shared hearty moments with his deputy.
In fact, President Kenyatta trivialized their reported "irreconcilable differences", dismissing it as just an overeager push towards 2022 by his deputy.
"Lakini my brother William hapa amepinduka ameanza kukimbia nyuma," the President stated.
Throughout the event, known DP Ruto defenders were online criticizing every second of the BBI launch.
Making frivolous claims such as: "Someone is launching his presidential campaign using state resources," in response to a headline that was carried by the day's Standard newspaper.
But their rallying calls against the BBI movement soon halted after the President's light moment with the DP.
If you ask me, the major lesson to be learned from the events of October 26, 2020 at the Bomas of Kenya is the quote up there.
Interests may sometimes be misaligned so in that case politician and politician end up acting like enemies.
While the DP is fixated on his next political office, the President and his elder - the special AU envoy - are more concerned with scoring "brownie points" with those who will write history.
So maybe, fellow patriots, we should hold back on picking a side this early.
Perhaps the twittering on Twitter with sponsored hashtags should be treated with the contempt it deserves.
If Monday is anything to go by, it will be embarrassing for the die-hards if their chosen side will fold into the rival's outfit because their interests will finally align.
The views expressed in this article are those of the author and do not necessarily reflect the position of Pulse Live Kenya.
JOIN OUR PULSE COMMUNITY!
Recommended articles
Isaac Mwaura named gov't spokesperson, here's how much money he'll get per month
Ruto reshuffles 8 CSs among them Mudavadi, Moses Kuria, Alfred Mutua
Kenyan Netflix users to lose free access as paid plans take center stage
Millions KDF soldiers' families receive if they die in battle within & outside Kenya
CS Murkomen gives way forward after multiple accidents along Southern Bypass
Watch: Bipartisan talks come to a near halt after Kalonzo & Hassan Omar clash
Al Shabaab militants die after IED backfires on them
Education ministry temporarily closes Eregi Girls High School
Face masks may be reintroduced as diphtheria spreads to 18 states including Lagos, FCT