KRG reveals woman behind his fortune
KRG quashed rumours of being involved in money laundering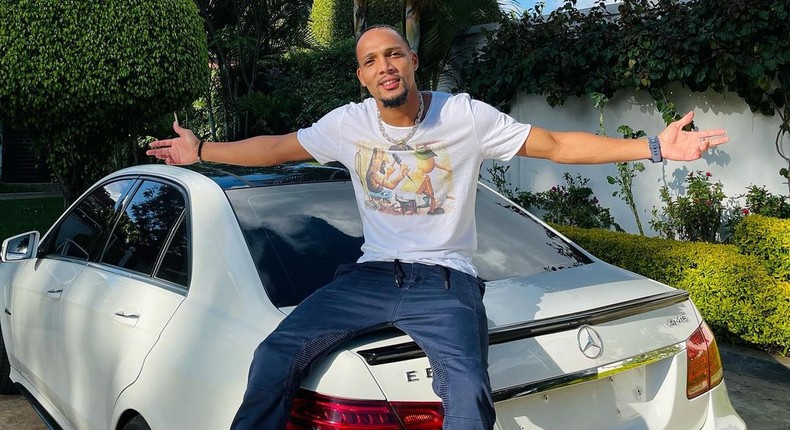 Kenyan singer and businessman KRG The Don has finally lifted the veil on his source of wealth.
With his luxurious lifestyle and flashy persona, fans have long been left to speculate on how the artist made his millions. However, in a recent interview, KRG finally revealed the truth behind his financial success.
"I inherited all my grandparents' wealth. My grandmother gave my mother her blessings and told her that the child that would be born after her death would inherit all her wealth," KRG said.
This revelation sheds light on how the singer was able to make his first million at the young age of 17.
According to KRG, the money he makes from music is just peanuts compared to what he earns from his other businesses.
KRG the Don showers son with bundles of cash as he turns 10 [Video]
In addition to his inheritance, KRG has also ventured into various business ventures, including supplying sand and ballast for the construction of the Standard Gauge Railway (SGR). KRG's involvement in the SGR project gave him the opportunity to build his wealth even further.
"I was given a tender to bring sand and ballast from Makindu to Kiwi, and I built all that," KRG said.
KRG has built an impressive portfolio of properties and businesses, spanning industries such as transport, construction, and tourism. In a past interview, he spoke candidly about his various ventures.
"My money comes from business. I am into construction. I have a company that builds roads and buildings together with my partner. I also have a tour and travel business where we do ticketing, safaris, and car hire," KRG revealed.
Alex Mathenge throws shade at KRG the Don after flaunting Sh10M M-Pesa transactions Pulse Live Kenya
In addition to these ventures, KRG also owns a transport business that specializes in commercial lorries like trailers and tippers.
According to KRG, the key to making money is having a deep hunger for it.
"The secret of making money is first dependent on the level of hunger for the money you have. It depends on what you want in your life and how much you want to achieve in life," he explained.
Alex Mathenge throws shade at KRG the Don after flaunting Sh10M M-Pesa transactions Pulse Live Kenya
KRG credits his father with instilling in him a strong sense of business acumen from a young age. This early exposure to diverse business ventures has undoubtedly contributed to KRG's success as a businessman today.
Recommended articles
Former Aziza actor Luwi Capello narrates life-altering accident that affected brain & erased memories
From sin to salvation: Brendah Jons finds peace in Jesus
Anita Nderu takes on new challenge as she heads back to class, reveals future plans
4 professionals you should avoid in a partner, according to Oga Obinna
Vivian in mourning after losing her sister
New details emerge on pastor's death in singer Dishon Mirugi's house
Akothee opens up on escaping reality with sleeping tablets
Should celebrities show receipts? Cebbie Koks weighs in amidst Vera & Amber's drama
Daughter of former Nation journalist found dead in the US