#PulseUhondoMtaani: Ciru Muriuki's engagement, Juliani on co-parenting with Brenda & more stories
If you missed the biggest stories of the week, #PulseUhondoMtaani has conveniently compiled all of them for you.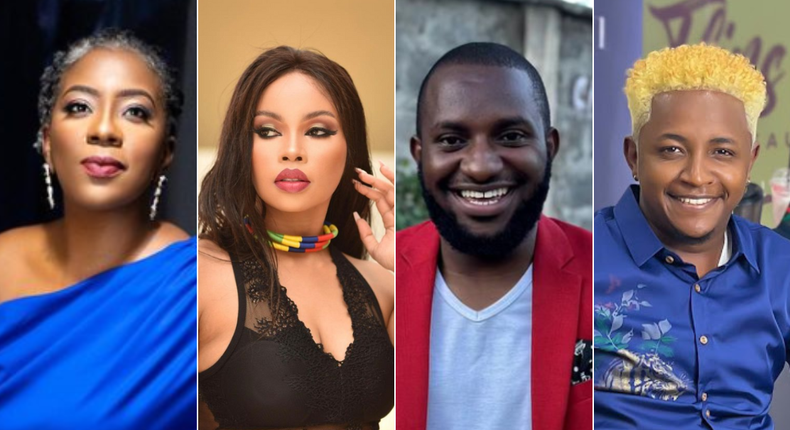 Akothee over the moon after her 'son' graduates
Kenyan musician and businesswoman Akothee took to her social media platforms to extend heartfelt congratulations to Eng Evanda Ochieng Onyango, affectionately referred to as her "son."
Akothee congratulated him on his graduation, expressing that she was proud of his achievement.
"Standing ovation for my son Eng Evanda Ochieng Onyango. I call him baba. My son in life you have only two things, reasons or results. Results are what you get when you put on hard work. Reason is what you cultivate when you blame everyone for everything until you have yourself to blame," she said.
Akothee celebrates the graduation of Eng Evanda Ochieng Onyango
Despite Evanda not being her biological child, Akothee's endearing term "son" reflects the close bond they share.
Akothee praised him for his determination to succeed in spite of his background and commended his strong work ethic and self-driven approach to success.
Google Africa's Dorothy Ooko breaks silence on Andrew Kibe's YouTube channel
In responding to a query from a fan on September 19, Ooko said that Kibe violated the platform's policies.
She explained that the creator was initially barred from uploading videos but maintained access to his channel.
Google Head Of Communications & Public Affairs, Africa Dorothy Ooko and Andrew Kibe Pulse Live Kenya
"Kibe violated YouTube's Terms of Service. While he was restricted from using YouTube features, including uploading videos on his channel, he used another channel to get around these restrictions aka circumvention, resulting in the termination of all his channels," she stated.
However, Kibe dismissed the explanation and asked why he did not receive formal communication about the termination of his channels and what terms he had violated.
Juliani acknowledges baby mama Brenda Warimu's support in raising their daughter
During an interview on TUKO Extra, Juliani emphasised that successful co-parenting greatly depends on the personalities and attitudes of the individuals involved.
He described Brenda as a good person who prioritises the well-being of their child. Juliani believes that because Brenda wants the best for their child, she goes the extra mile to ensure he gets quality time with their daughter Amor.
Pulse Live Kenya
"It's a people thing. Mother wa mtoi wangu is a good person. She wants the best for her child, and I don't think she wants the worst for me.
"Because she wants the best for her child then it's automatic that she will go the extra mile to make sure that I see the child and hang out. Some things if I can't do she does," Juliani said.
He emphasised that the success of co-parenting ultimately depends on the mental, physical, and spiritual well-being of the individuals involved.
Juliani believes that when one is in a good place emotionally and mentally, everything around them begins to fall into place.
How Tom Daktari developed the unique comic style that made him popular on TikTok
If you're an avid social media user, you've likely encountered the rib-cracking videos of Tom Daktari.
One distinctive aspect of Tom Daktari's online presence is his memorable sound bytes, often used by other social media users to enhance their own videos.
Comedian Tom Daktari Pulse Live Kenya
Behind the comedic persona of Tom Daktari is Andrew Wambua, a multifaceted talent who is successfully balancing medicine with the world of online entertainment.
"I think it was just a change in style. I did this once, and people loved it. Since then, I switched my style to creating more similar content. However, we also adapt constantly to keep people happy," Tom explained.
Before achieving widespread recognition with his viral videos, Tom Daktari collaborated with comedian Sammy Kioko, creating content that also gained substantial online visibility.
Their partnership, rooted in friendship and shared talent, allowed them to make a significant impact in the world of comedy.
Media personality Ciru Muriuki announces engagement to actor Charles Ouda
Ciru Muriuki, known for her low-key approach to her personal relationships, surprised her followers with the news of her engagement.
On the other hand, Charles Ouda is a familiar face in the entertainment industry. He has appeared in numerous film projects, including 'Makutano Junction,' 'The First Grader,' 'Count It Out,' and many more.
Charles is not just an actor; he is also a talented film director, scriptwriter, and events manager.
His outstanding skills and dedication have earned him several prestigious awards, including the Best Director at the 2016 Asian American Film Lab 72 Hour Shoot Out and multiple awards at the NYC Indie Film Awards.
Kate Actress and husband Phil Director confirm end of their 5-year marriage
Award-winning actress Catherine Kamau and Director Phillip Karanja announced the end of their over 5-year marriage.
According to a joint statement released by the lovebirds on their Instagram stories on Tuesday, September 19, the couple decided to end their marriage a while ago but decided to keep it private.
Pulse Live Kenya
"We came to a conclusion to end our marriage a long while ago and separated. We sincerely request everyone to honour our wishes for privacy for us and our children. Signed Kate and Phil," the joint statement read.
Phillip Karanja also joined the conversation to affirm that indeed they have gone their separate ways and people should now allow them to proceed with their lives separately.
Thee Pluto expresses disappointment after losing TikTok account with 977K follower
Popular Content Creator Thee Pluto shared some disheartening news with his followers.
The creator, known for his engaging content on various social media platforms, disclosed that his TikTok account boasting a substantial following of 977, 000 followers had been banned.
In a YouTube video posted on Wednesday, Thee Pluto expressed his disappointment but assured his audience that he's taking it in stride.
Pulse Live Kenya
Thee Pluto shed light on the reason behind the sudden ban. He revealed that the ban stemmed from a seemingly innocent action, which he was unaware was against TikTok's policies.
He mentioned that in one of his TikTok videos, he had casually shared his phone number in response to requests from a few friends. Unbeknownst to him, this violated TikTok's guidelines.
Family of producer Byron Papi discloses that artery burst was the cause of his death
The family of the late Gengetone music producer and artist Byron Papi, known by his real name Byron Kivisi, revealed the tragic cause of his unexpected passing.
According to Leonard Aluda Muhali, a close family member, Byron Kivisi, a multi-talented creative force behind some of Kenya's most prominent music hits, such as 'Sipangwingwi' and 'Usherati,' suffered a fatal arterial rupture.
His sudden demise has sent shockwaves throughout the entertainment space, leaving his family, the entire music industry, and his fans in grief.
The late Producer Byron and President William Ruto Pulse Live Kenya
While eulogising the producer, President Ruto said he was introduced to Byron by Tony Kinyanjui alias Exray who sang the hit song that became a big part of his presidential campaign.
"I recall with fondness his calm and collected demeanour, but more importantly his immense talent that made him an acclaimed music producer.
"It is disheartening that we have lost Byron at a prime age. We are comforted by the fact that his works of art will live on," President Ruto said.
Christina Shusho praises Diamond's creativity after making stage entry in coffin
Tanzanian gospel artist Christina Shusho lauded Bongo Flava star Diamond Platnumz for his unconventional stage entrance, where he appeared while being carried in a coffin.
When asked about her opinion on Diamond's entrance, she initially stated that she had no prior knowledge of the incident, as she wasn't closely following the matter.
However, she expressed her respect for Tanzania's music industry and its creative artists.
Diamond Platnumz Pulse Live Kenya
She further emphasised her support for their endeavors, particularly when it comes to creativity in the music scene.
"Sijafuatilia kwa sababu nadhani nilikua busy kidogo. Lakini naheshimu kwa tasnia nzima ya sanaa ya Tanzania, they are very creative. So anything they do, kama ni creativity, mm nakubali creativity.
"[I haven't been keen because I was a little bit busy. However, I respect the Tanzanian music industry for they are creative. I agree with them in anything they do as long as it's creativity]," Shusho said.
FBI-trained Evans Okeyo joins JSC as Director of Complaints and Investigations
Judicial Service Commission (JSC) announced the appointment of Evans Okeyo as the Director of Complaints Management and Investigations, effective September 1, 2023.
According to the statement by JSC, Okeyo will be responsible for the coordination, management and investigation of complaints and petitions lodged with the commission.
Evans Okeyo joins JSC as Director of Complaints and Investigations Pulse Live Kenya
One of the key functions of JSC is to receive complaints against, investigate and remove from office or discipline registrars, magistrates, judicial officers and other staff of the Judiciary.
Okeyo brings a wealth of experience, including training from the Federal Bureau of Investigation (FBI) in the United States.
Recommended articles
MCA Tricky shares his master's grades as he enters final year of study in engineering
John Allan Namu's brainchild marks 8 years, he reveals major lessons learnt
10 male singers who immensely benefitted from collaborating with Sheebah
Kate Actress outshines 9 top African thespians to be crowned Actress of the Year
Sonnie Badu criticises absentee fathers, says they are 'useless'
Wakadinali biggest winners as Spotify unveils most streamed artists in Kenya [List]
Proud mummy moment for Pierra Makena as daughter's talent secures her a movie deal
Iyanya advices happily married couples to keep off social media
Yvette Obura recalls pre-birth struggle as she marks daughter's 8th birthday