Avril, Mark Masai to feature in new drama series 'Faithless' [Trailer]
The 10-part series is scheduled to premiere on July 6.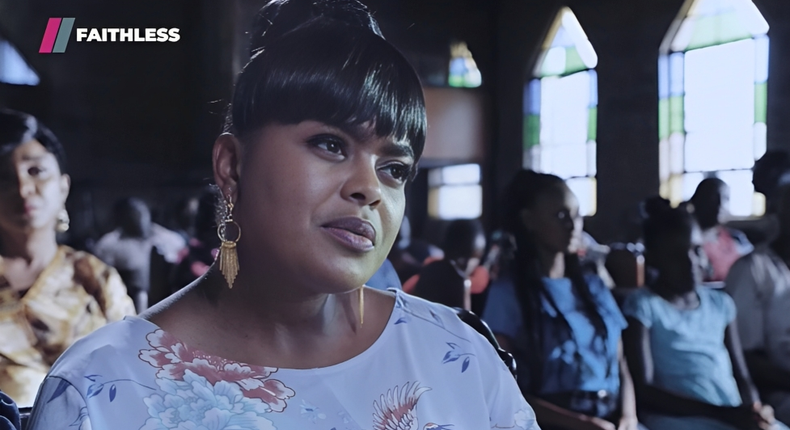 Movie streaming service Showmax is set to captivate audiences with its latest Kenyan original series titled 'Faithless.'
This gripping 10-part crime drama delves into the aftermath of a failed heist, intertwining the lives of four church members entangled in a world of crime and violence when their women's guild, known as 'chama,' is transformed into a money laundering operation by a ruthless crime lord.
The story primarily follows Esther, a struggling waitress, who stumbles upon the stolen loot and uncovers the shocking revelation that her brother, Benja, played a pivotal role in orchestrating the heist.
Simultaneously, Cain, a cold-hearted criminal who suffered significant losses during the failed robbery, employs his vast resources to track down the money and seek retribution from those responsible.
As a result, Esther, together with her church friends Ruth, Hope, and Deborah, find themselves caught in a moral dilemma that challenges their core values.
The series boasts a talented cast, with Rosemary Waweru taking on the role of Esther. Avril Nyambura, Beatrice Mwai, and Fatma Mohammed portray Esther's church friends.
The ensemble is joined by Aleks Kamau, Morris Mwangi, Peter Kamau, Arabron Nyyneque, Abubakar Mwenda, Brian Ngaira, Antony Kyule Njuguna, Ashley Kareez, Steve Matias, Kennedy Luyali, Zawadi Kayyoh, and media personality anchor Mark Masai.
Faithless S01 Church choir Pulse Live Kenya
Produced by Live Eye TV and helmed by Abdi Shuria, King Muriuki, and Janet Chumbe, who also directed the Showmax thriller 'Igiza,' 'Faithless' offers a unique twist by exploring the involvement of devout churchgoers in criminal activities.
"It's also a relatable show with women at the center of the story. It speaks to our everyday lives, and most importantly, the lives of our mothers, sisters, and wives, and the challenges they face," says Auka Gecheo, the executive producer.
Denise Mwende, Showmax Content Specialist in East Africa describes 'Faithless' as film that depicts the realities of our daily lives.
"Faithless is an interesting story because it delves into our inner conflicts as human beings and the constant battle between faith and money. It examines how we justify our actions and sins as being for the 'greater good," Mwende said.
'Faithless' marks the fifth Showmax Original series to be released in Kenya in 2023, following the second season of the drama series 'Single Kiasi,' 'Second Family,' and the reality series 'The Real Housewives of Nairobi' and 'Kyallo Kulture,' which was elevated to an original series in its second season.
Recommended articles
4 things to know about 60-year-old arrested for Tupac's murder
Fireworks as Arap Uria takes to social media with placard & gift for Peter Drury
Njoki Chege makes comeback to media with appointment to serve as CEO
Fans did not like how Zzero Sufuri was interviewed on 10/10, here's why
Meet the Rwandese man who has clinched date with Vera Sidika after her breakup
How Editi Effiong delivered a global hit with 'The Black Book' [Exclusive]
Nigerian producer Hitsound kicks off attempt to set new Guinness World Record
'Manifest is a better rapper than Sarkodie' – Samini
Alikiba embroiled in controversy as alleged ex-mistress accuses him of exploitation