Sheila Kwamboka joins Radio Africa Group
Sheila Kwamboka's move from Vybes Radio to Radio Africa has fuelled speculation that she might replace an exiting popular radio presenter.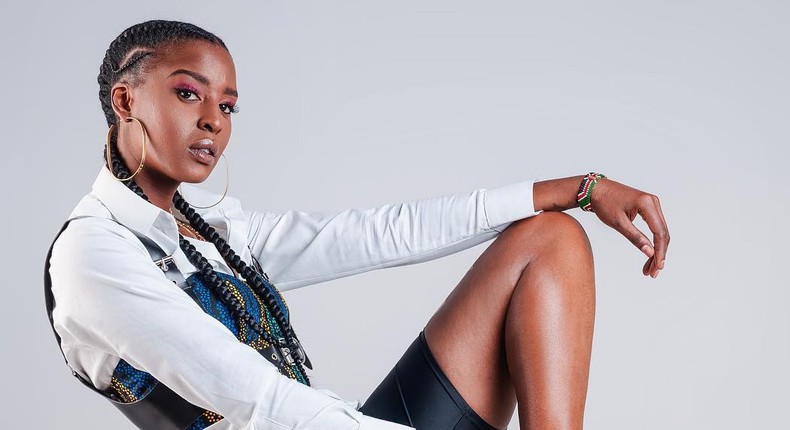 Media personality Sheila Kwamboka has joined Radio Africa Group after leaving Vybez Radio which is owned by Standard Media Group.
The news was announced by Group Chief Operating Officer, Martin Khafafa who was excited to receive the radio host.
"Our quest for continuous improvement is tremendous. Sheila Kwamboka better known as Kwambox has joined Radio Africa Group," he said.
"I'm hoping that Kwambox as an addition will not only give listeners a chance to enjoy bigger, better, more engaging radio but also give advertisers a chance you know to get products articulated and well connected to consumers," Khafafa added.
The media executive did not say which of Radio Africa's stations Kwambox will be joining, saying he would leave it to the program controllers.
Days before signing the contract, Kwamboka had teased that she was expecting to make a big announcement in the coming days.
"I know I've been quiet. I was recharging. This year I am ready to give my very best. I'm almost battery full. And I have a BIG announcement because you know we start the year BIG!!!!" she posted on her social media.
Pulse Live Kenya
She media personality has also previously worked for HomeBoyz Radio.
Kwamboka's move to Radio Africa has fuelled speculation that she might replace an exiting radio presenter.
Speaking to a local media house about the reports of her departure, Kamene said she did not understand why that would be news.
"I don't have anything to say, but again how is my leaving news?" the media personality told NN.
"You people should know leaving is not an easy thing, and you should let people be," she added.
Pulse Live Kenya
Kamene joined the station in 2019, after an extended battle with her previous employer, who had filed a court case preventing her from taking up the Kiss FM job before the lapse of the non-compete period in the contract she had signed.
Recommended articles
Flaqo gifts girlfriend Keranta new car for her birthday [Photos]
Ephantas Safari finally reveals real reason Kawira left their 6-year marriage
NTV's Susan Grace tearfully narrates how stepdad ruined her teenage years
Willis Raburu shares his opinion on new host of 10 over 10 show
Gidi's 'Patanisho' call ends abruptly as furious man accuses him of collusion with wife
Fans question Diamond's statement about Naseeb Junior, his last child
Seun Kuti struts his stuff on the Paris Fashion week runway
Akothee drops 'Mrs Schweizer' title from Instagram bio
BBC's Ian Wafula elevated to continental role in latest promotion