Anerlisa Muigai calls out Ben Pol, Holy Dave in the dock & more stories on #PulseUhondoMtaani
If you missed the biggest stories of the week PulseUhondoMtaani has conveniently compiled all of them for you;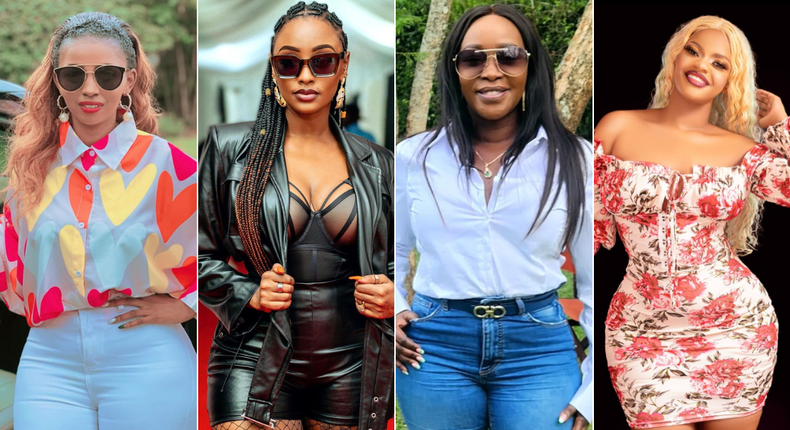 Anerlisa Muigai calls out Ben Pol after failed marriage remarks
Businesswoman Anerlisa Muigai has called out her ex-husband Ben Pol over what she has termed as a growing habit of him taking advantage of her silence.
Anerlisa on her Instagram page said the Tanzanian singer has constantly used interviews to paint her in bad light which was different from what he sent her in texts.
"Ben I see you have really taken advantage of my silence for weakness... You've always had the right to tell the interviewer not to ask about me, why are you always making me look bad, yet you send me different from what you talk?" Anerlisa posed.
The Keroche heiress further dared the singer to share screenshots of their communication adding that she has had a lot to say except she chose to keep silent.
"If you are really a man I dare you to screenshot what you have been sending me since December 25 to January 4, I have a lot to say but I choose to be a lady, Its simple, stop talking about me!" Anerlisa said.
The reaction by Anerlisa was invoked by comments Ben Pol made in an interview where he said despite being married earlier he has not had an opportunity to enjoy marriage, unlike other couples.
Besides the cool photos and the good times on Instagram, I have not really enjoyed marriage like other couples.
Trio Mio speaks on expectations ahead of KCSE results announcement
Days after rising rapper Trio Mio wrote his final examination, the rapper has exuded confidence in the results which are due to be announced.
Trio has been receiving questions about what it feels like to complete school and whether he feels anxious about the results. He said he is prepared for whatever comes and is not under any pressure.
"Let the results come as they will, I am not lacking sleep because of that," Trio told a concerned fan.
The rapper also recently responded to comments by comedian Ty Ngachira who said he was not going to produce any more hits because he had nothing to put him under pressure anymore.
Trio Mio Pulse Live Kenya
"I'm afraid that Trio Mio will no longer release bangers akimaliza shule, no prep, no exams. There is a certain spice that suffering adds to content," Ty said.
In response, Trio said he was more focused on music now that he is out of school, noting that he currently has more time to find content to spice up his music.
The youngster's first track after clearing school 'Achia' is among the top songs released in the last week.
Nation journalist Elias Makori in mourning
Nation Media Group's Managing Editor for Sports, Elias Makori is in mourning following the loss of his mother.
Makori, on his social media pages, announced the passing of his mother Mwalimu Lucy Kemunto Obanyi, saying she passed on after battling an undisclosed illness.
"This one is too painful... Rest in Peace Mum. You fought hard and we tried our best. But God's time cannot be faulted. Sleep well, Mwalimu Lucy Kemunto Obanyi. We love you so much," he wrote.
Nation journalist Elias Makori in mourning Pulse Live Kenya
The Nation journalist recalled the moments he had with his mother, noting painfully what he was going to miss as he paid gratitude for all she had done for him.
"I'm still struggling to accept the fact that we're not gonna chat and laugh again... But it's God's will. Thanks for everything," he noted.
Makori also thanked people who held the family's hand during the period his mother was ailing.
"We wish to thank the medical teams, the clergy, family members, relatives, friends and all of you who have been with us in thoughts and prayer during our mum's medical journey. It is God's will and we thank Him for our loving mum's life," he wrote.
The journalist described his mother as a great woman who faced the illness bravely despite the pain.
Mama Zuchu doesn't acknowledge Diamond as her son-in-law
Mother to Bongo Flava songstress Zuchu, Khadija Omar Abdallah Kopa has revealed that her daughter is single despite word that Zuchu is seeing her boss Diamond Platnumz.
Khadija Kopa in an interview with Mbego TV, said her daughter was yet to formally introduce anyone to her, adding that she was expecting any man, not just Diamond.
"Zuhra is a woman, if any man happens to want her hand in marriage and who she is ready to marry not just Diamond, then I have no issue, after all, I want a son-in-law," Kopa remarked.
The legendary Taaarab singer further dismissed claims that a secret wedding between Zuchu and Diamond took place.
Pulse Live Kenya
"This is news to me. It is not true, my daughter is not married nor has she introduced anyone to me for marriage," Mama Zuchu added.
This was seen during Zuchu's birthday when she sent her wishes describing her as her daughter-in-law.
"I wish you a long life filled with blessings daughter-in-law Zuhura Othman Soud," Mama Dangote said.
Rev Cathy Kiuna: Submitting to your husband does not make you inferior
Traditionally, societies have placed the husband in a position of authority and leadership within the marriage. This has been based on the belief that men are providers and protectors of their families.
However, in recent years, there has been a shift away from this traditional view of marriage. Many people now believe that both partners should be equal in terms of power and decision-making.
This is majorly due to the fact that women have been empowered and now play a more active role in providing for their families.
Rev Cathy Kiuna of the Jubilee Christian Church (JCC) however shares a deeper view on a husband and wife's place in a marriage union.
Rev Allan Kiuna and wife Cathy Kiuna Pulse Live Kenya
According to Rev Kiuna, both husband and wife are equal, however for the marriage to function properly the wife should submit to the husband's authority in obedience to God's word.
Rev Kiuna says that submission does not mean the wife is inferior to her husband instead it fosters order and gives direction in the marriage.
"Everything that God created follows a pre-established order. Nothing that God does is haphazard or chaotic. Being in order doesn't mean that you are inferior, it means you understand that for anything to function properly, there must be order.
"As a wife, I understand that I'm not inferior to my husband, we are equally created in the image and likeness of God. But I also understand that for the sake of our marriage to function properly, I willingly submit myself to my husband's authority in obedience to God's word," Rev Kiuna says.
Michelle Ntalami gushes over Fena Gitu in beautiful post
Beauty entrepreneur Michelle Ntalami has gushed over singer Fena Gitu in a beautiful post.
Ntalami who has been spotted together with Fena on numerous occasions said she has experienced mixed reactions since the year began when with her company.
"I've had one of my most memorable new years with this beautiful woman right here. In just 10 days we've seen and experienced so many new things together.
"We've laughed until we've cried and we've cried until we've laughed. Fena from the bottom of my heart thank you," Ntalami wrote.
Michelle Ntalami and Fena Gitu Pulse Live Kenya
Ntalami and Fena Gitu's moves have left many guessing the two are item.
During the December 2022 Sol Festival, Ntalami shared photos of her and her long 'term friend', looking all cozy and captioned it "No more blurry nights, only starry nights."
The two also recently shared photos of them wearing rainbow hats, at a beach all smiles and touchy, with the caption, 'Clean Slate' and love emojis.
Terryanne Chebet announces TV comeback
Renowned business journalist Terryanne Chebet has announced making a TV comeback after two years off screens.
Chebet whose last stint was at Metropol TV where she was the general manager shared the news saying she is headed to CNBC Africa where she has also previously worked.
At CNBC she will be a senior correspondent as well as lead business development in Kenya.
"I'm excited about going back to where it all began. I've joined Africa's Leading Business News Channel @cnbcafrica as a Senior Correspondent as well as leading Business Development in Kenya," Chebet said.
Chebet has had a stellar media career that has seen her rise to the position of general manager which she quit in 2020.
Pulse Live Kenya
She started her career at the Kenya Broadcasting Corporation (KBC) before moving to CNBC Africa, and later to Royal Media Services-owned Citizen TV in 2010.
Chebet was fired from Citizen TV in 2018, she joined Fanaka TV before she left to join Metropol TV where she was the general manager.
Terryanne said that losing her job at Citizen TV was necessary because it helped her become stronger and follow the path God had predestined for her.
Nadia teases upcoming project with filmmaker Eugene Mbugua
Self-named African pop star Nadia Mukami is expanding her reach in the entertainment industry, having announced that she will be working with filmmaker Eugene Mbugua.
In photos posted to their fans online, both Mukami and Mbugua highlighted a meeting they had on Wednesday to discuss their collaboration.
Pulse Live Kenya
Top Kenyan series Eugene Mbugua has produced
Between 2020 and 2021, the award-winning producer followed the lives of Sauti Sol and Sol Generation stars; Nviiri and Bensoul, in two seasons of their Showmax series 'Sol Family'.
The docu-reality series went on to be nominated for Best Documentary in the 2021 Kalasha Awards.
'This Is Love' earned a nomination in the 2022 Africa Magic Viewers' Choice (AMVCA).
Gospel entertainer Holy Dave in the dock after brawl at city club
Former Bambika Show host David Muthengi popularly known as Holy Dave was on Thursday charged with assault at the Kibera Law Courts.
Holy Dave is accused of hitting businessman Keem David with an empty bottle of alcohol at a city club on Saturday, October 1, 2022, leaving Keem with dire physical injuries.
According to court documents, the incident which happened at 1:00 a.m. began when Keem, who was already in the company of two female friends, sought to invite a fourth person to their party - one Paul Odhiambo - but was barred by the club's security.
Intervention efforts by Keem to help Odhiambo were cut short by Holy Dave who questioned why Keem was defending Odhiambo.
Holy Dave in court Pulse Live Kenya
Holy Dave is alleged to have then reached for a bottle and struck Keem on the left side of his face, leaving the complainant with a deep cut.
The altercation forced security to send the two out before Keem was taken to the hospital for treatment.
During the court hearing, Holy Dave claimed to have also injured a finger during the brawl.
He denied the charges and was released on a Sh10,000 cash bail as the case is scheduled for mention on January 23, 2023.
Rapper Petra hospitalised, seeks financial assistance
Rapper Petra Yolanda Sonia Bockle, known better by her stage name Petra, is seeking financial assistance after she got admitted to hospital for emergency removal of a growth.
An appeal posted on her Instagram page indicated that she needs Sh100,000 to settle the balance on her hospital bill.
"Yesterday night Petra was rushed to hospital for an emergency growth removal surgery. She now needs help with the medical bill the balance remaining is Sh100,000," the post read, providing a PayBill number.
Petra Pulse Live Kenya
The rapper has been absent in the music scene having last released music in May 2022, a collaboration project with Jamaican singer Tommy Lee Sparta.
Besides Tommy Lee, Petra has also worked with jailed Jamaican dancehall star Vybz Kartel in a song titled 'Turn Off The Light' which has been among one of her biggest projects.
The collabo which has over 1.5 million views on YouTube put the rapper's name in history books as the first female African rapper to work with the Jamaican star.
Locally, Petra has worked with Khaligraph Jones on 'Rider' and has also worked with Mbogi Genje and Timmy T Dat. She rose to fame after being featured in the 'Ligi Soo' remix.
In 2012, she won the best female artist award at the Kenya Coast Music Awards and later in 2015 she received the award for best female hip-hop artist at the Pwani Celebrity Awards.
Recommended articles
Kevin Mboya finally speaks after trip to surprise girlfriend in Kwale
I have children but I have never married - Kamene Goro's lover clarifies
Useful Idioty's promise to anyone that returns his stolen iPhone
Why Abel Mutua and Judy Nyawira may be forced to redo their wedding
Veteran Radio Maisha presenter signs off in emotional farewell after 13 years
Cebbie Koks' advice to single ladies in search of husbands
Grieving Stevo Simple Boy honors late dad in birthday message as he turns 33
4 things Oga Obinna wants done in GBV against men petition
Why Kamene Goro has left Radio Africa, Mr Seed's baby mama & more stories on #PulseUhondoMtaani